​Results of The 2016 Epiphone Revolver Music Awards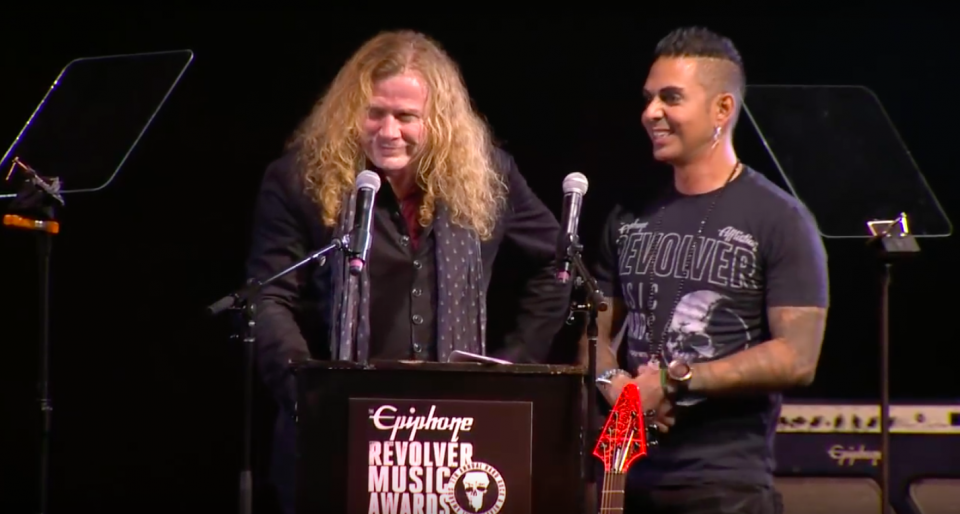 The Epiphone Revolver Music Awards took place on Tuesday, December 13, in New York City. The joint ceremony organized by themed music editions Revolver Magazine and Epiphone honored the musicians in the hard-rock/metal genre. The event was hosted by Megadeth's leader Dave Mustaine and SiriusXM's radio DJ Jose Mangin.

Its fan-voted categories include "Album of the Year", "Song of the Year", "Best Vocalist" and "Dimebag Darrell Best Guitarist". Nominees for album of the year are Deftones' "Gore", Megadeth's "Dystopia", Meshuggah's "The Violent Sleep of Reason", Metallica's "Hardwired… to Self-Destruct" and Volbeat's "Seal the Deal & Let's Boogie".
This year's winners
Best Live Band: Slipknot
Best Drummer: Chris Adler (Megadeth)
Best New Talent: Avatar
Paul Gray Best Bassist: Dick Lövgren (Meshuggah)
Innovator Award: Anthrax
Best Vocalist: Austin Carlile (Of Mice & Men)
Dimebag Darrell Best Guitarist: Dave Mustaine and Kiko Loureiro (Megadeth)
Lifetime Achievement Award: Dave Mustaine (Megadeth)
Most Dedicated Fans: Pierce the Veil
Best Film and/or Video: Gojira "Silvera"
Song of the Year: Ghost B.C. "Square Hammer"
Album of the Year: Metallica "Hardwired…To Self-Destruct"
Most Metal Athlete: Baron Corbin (WWE)
See also: