Oskorei – Midvinter festival 2017 to be held on December 2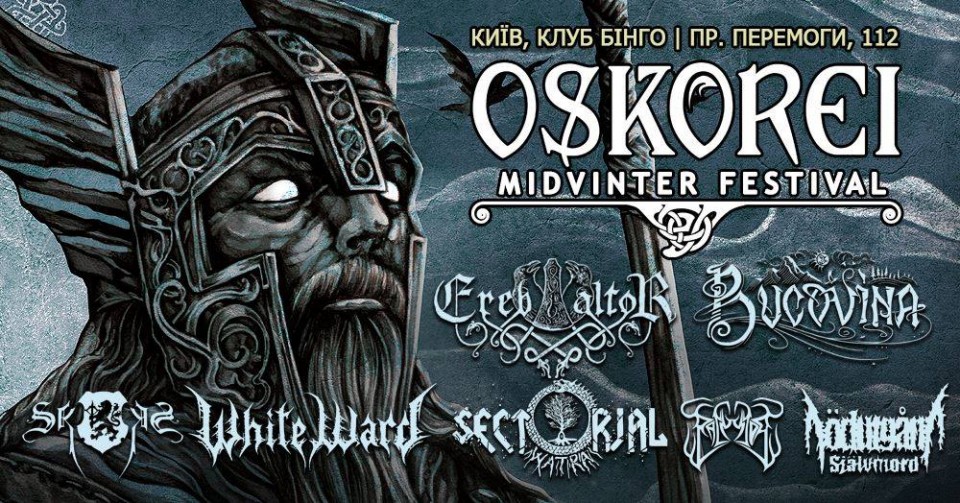 Oskorei, "a festival for all lovers of dark music" will be held at the beginning of December, "on the eve of the main holiday of Winter".
Among the participants are metal acts Bucovina (RO, folk pagan metal), Ereb Altor (SE, epic viking metal), Nödutgång:Självmord (UA, depressive post-black metal), Panychida (CZ, pagan black/death metal), Skogen (SE, black metal), Sectorial (UA, blackened death metal), and White Ward (UA, post-black metal).
Tickets information:
The first 20 tickets for 350 UAH (sold out)
Ticket price until November 19, 2017 inclusive — 400 UAH.
Ticket price from November 20, 2017 to December 1, 2017 inclusive — 450 UAH.
Ticket on the day of the event is 550 UAH.
VIP ticket — 700 UAH.
For ATO combat veteran — free entrance (war veteran identification card must be submitted).
Tickets can be purchased via https://www.concert.ua/eventpage/oskorei-midvinter-festival
Venue: Bingo Club, Kyiv, Ukraine, Peremogy Avenue, 112
Organizers contact address: Oskorei@email.ua