Check 'Em All: South African slam death bulldozer Vulvodynia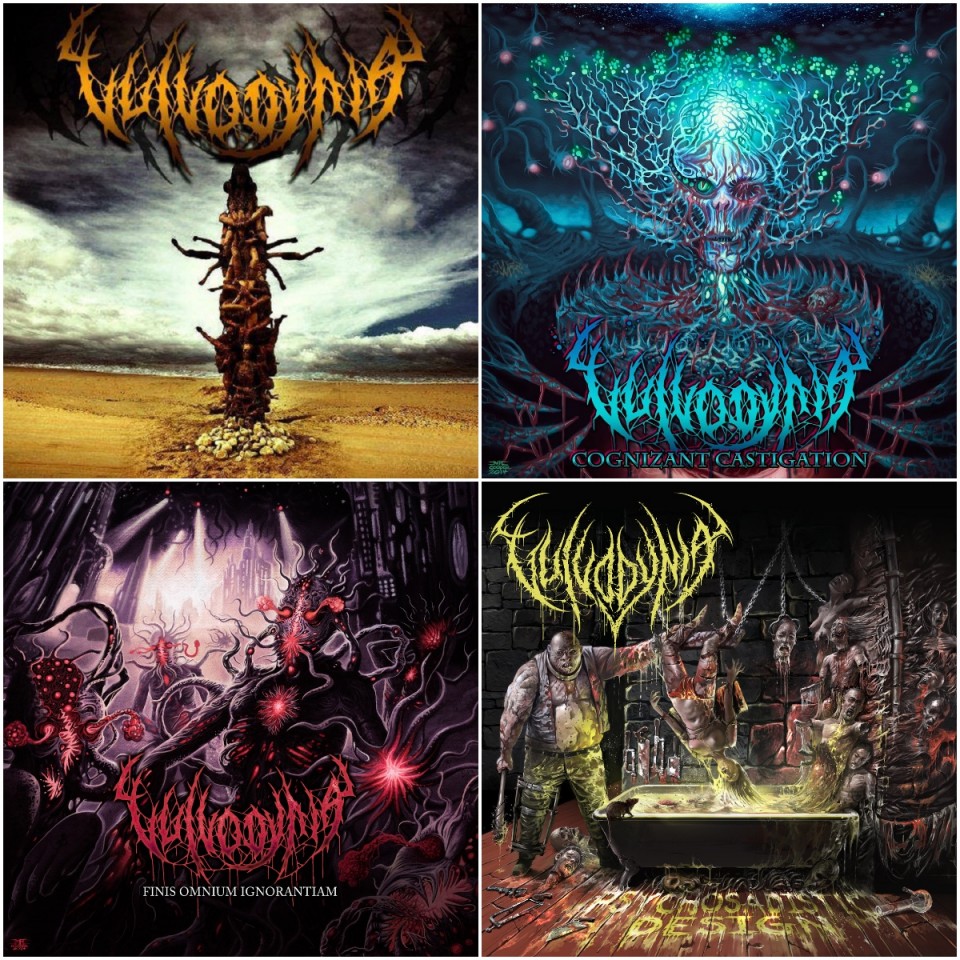 Noizr Zine's editorial team every week receives a lot of promos from beginners or little known bands. As you know, Check 'Em All articles are mainly dedicated to the most interesting releases of such performers. This time the "newcomers" of the column are the brutal death metallers from... No, this time it's not the band from the States or Europe. Today, we are to introduce you the South African group Vulvodynia. The metalheads are really newcomers on Noizr Zine's pages, but for the brutal death metal fans this "South African slam death bulldozer" had proved itself with a few good records and nearly thirty thousand followers on Facebook.
Here we could start with the words "the band was founded in 2014...", however, it's hard to say something better about Vulvodynia than its members did before.
"Looking in a medical textbook will tell you the following: Vulvodynia is a chronic, severe vaginal pain with no identifiable cause. What a medical textbook won't tell you is that Vulvodynia is also the pioneer in what is rapidly becoming South Africa's most eviscerating export: slamming brutal death metal. With lobotomizing, lurid riffs, skin-shredding blast beats Vulvodynia are a lethal plague, spreading throughout the flesh of today's heavy music scene — infecting one set of ears at a time, and leaving no survivors", — the musicians talk about themselves.
Well, if the band's sound really reminds you of all above features, so Vulvodynia's founders have achieved their goal. In 2014, the vocalist Duncan Bentley and the guitarist Luke Haarhoff formed a gang with the aim to work on extremely heavy sound. To much harder to blow listener's mind, surely.
So, the band's debut EP "Lord Of Plagues", in fact, consisted of three tracks, was recorded in a fairly short period of time. However, by date this particular release heads the list in Vulvodynia's discography for their many fans and it's often noted in the comments as yet the band's heaviest record.
The first associations are Cannibal Corpse, Aborted or Six Feet Under. However, further similar ones will be only vocals and genre, which can characterize all of these groups. Vulvodynia one by one will offer you various branded chips. First of all, it is the almost complete absence of any melody, pauses or rhythm changes. The wall of violent riffs and endless bursting blast beat will fall on you. And in order to protect your eardrums, the album tracks last just two and a half minutes. And how about goofing around again? The fun features are the various inserts which suddenly appear in the tracks. For example, well-known today, the phrase "suprise motherfuc*er", sounded in the series "Dexter", and then in the track "Drowned In Vomit".
Regarding technical skills, these guys definitely can compete with bigger bands. It is worth noting dark, deep vocals, skillful guitar solos, serious high speed and batshit heavy sound which, in fact, the band has gone for. The EP's tracklist also looks interesting, because its second part consists of the first three songs' instrumental version. If you're not a fan of brutal vocals, so start listening with the fourth track.
The band was appreciated by many fans of the genre, so the musicians started to think about improving their sound. Already in August 2014, Vulvodynia invited the producer Byron Dunwoody to take place of the second guitarist. Soon, they signed a contract for two albums with the Australian label Vicious Instinct Records, on which they released their debut full-length album "Cognizant Castigation".
According to the metallers, "Cognizant Castigation", with noticeably matured sound, helped the band to become approved by the fans of die-hard slam to dirty and dark brutal death metal riffs. Volvadynia worked on wall of noise and diluted it with missing elements of melody and rhythm leaps. It allowed them to avoid monotony and increase tracks duration. In the recording of the album, which is also distinguished by a very attractive cover artwork, participated fellow musicians, vocalists Luke Griffin (Acrania), Jason Evans (Ingested), Anthony Davis (Guttural Slug, Necrosectom, Exophagy), Aiden Zhang (Maggot Colony) and Alexander Eastman (Malodorous).
Today, Vulvodynia recall constant striving for something new, so improving their own style and sound didn't stop with "Cognizant Castigation". In July 2015, the band finished work on the second EP, successfully overcame all the obstacles on the way to a new mark of the material's heaviness and brutality. The EP "Finis Omnium Ignorantiam" wound up their cooperation with the label and the band set out on a search of new ideas and no less passionate colleague metallers for its implementation.
At this stage, Vulvodynia started work on the second LP, which was released on June 30, 2016 via Lacerated Enemy Records. The South African metallers pleased their fans with the really heavy record "Psychosadistic Design" release announcement, and a day later posted a short review on Facebook.
"After a year of endless blood, sweat and beers we've finally unleashed 'Psychosadistic Design'! This album contains all the elements that we've ever wanted in our dream SBDM album and feels like our most accomplished release to date. Blast this till your ears bleed and share the slam with your fam," the band's members state.
"Psychosadistic Design" with its first track takes you into nasty atmosphere of dark wet basement, which belongs to a sadistic psychopath. Such realistic hysterical cries of his victim, heavy breathing and the sounds of the bloody action send chills up your back, and then branded blast beat and brutally powerful riffs wall of eponymous track come in.
The first thing worth mentioning is the saturated sound and the guitar parts juiciness full of brutality. The album's tracklist includes the band's familiar tracks "Drowned In Vomit", "Lord Of Plagues" and "Forced Fecal Ingestion" from the first album, which satisfied their true fans. The good "old" songs, which the audience liked so much, now sound much more powerful. Endless blast beat, roaring vocals and tons of heaviness. The record also features the guests and this time there are much more of them, including the members of Acrania, Ingested, Crepitation, Slaughter To Prevail and others.
Vulvodynia's latest album reflects all the band's efforts to discover new horizons and loudly assert themselves for the genre fans. "Psychosadistic Design" combined the unsuppressed brutality pressure, eagerness to drown the listener into a bloodbath of heavy riffs, and, along with it, pleased with a variety of the tracklist, by which the debut album also has stood out.
The disc was appreciated by critics. The thematic zines included new Vulvodynia's release into the lists of recommended records among 2016's extreme metal albums. The journalists repeatedly note the distinction of ideas and skilled genre handling. "Psychosadistic Design" can be recommend to the fans of such bands as Acrania, Disfiguring the Goddess, Ingested, Infant Annihilator or Katalepsy.
Vulvodynia amuse with their approach to creativity. Despite the brutality of their songs and lyrics, it's easy to notice that the musicians do not have lack of a sense of humor. The band also has a wide selection of merch. The fans can enjoy themselves with various branded products, including (in addition to T-shirts and hoodies) shorts, caps, and even women's underwear — where ever one can do without it with such a name? Despite that today, typing "Vulvodynia" in Google Search or YouTube, you still find something like "how I recovered from this crap", the band is steadily moving into the ranks of the genre classics, gathering new fans who are ready to jump recklessly into the spotlight of a batshit slam. In general, blast this till your ears bleed and share the slam with your fam!
By Yuri Somov
Translated from Russian by Anastezia
Read other Check 'Em All compilations: