Check 'Em All: Fresh metal releases selection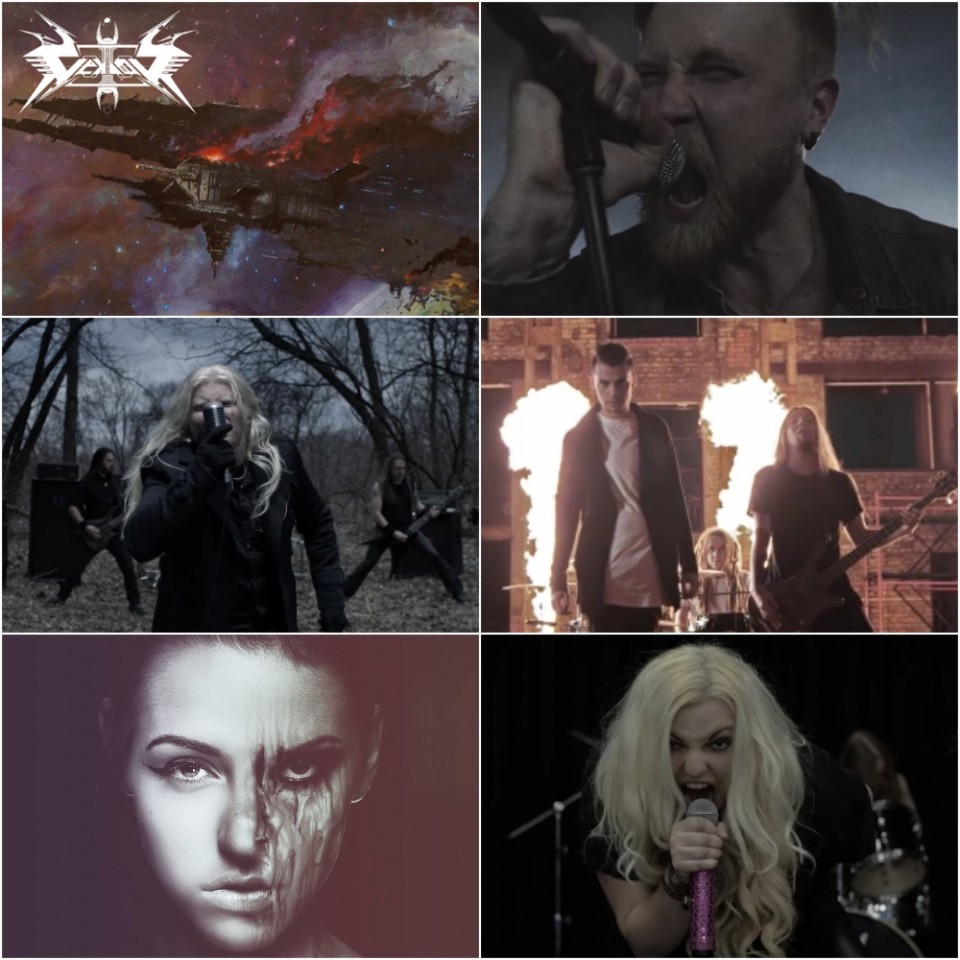 The new Check 'Em All selection includes new releases by metallers The Hypothesis, Nu-Nation, Sisters Of Suffocation and Vektor as well as the first singles taken from the upcoming albums by Chelsea Grin and new Joey Jordison's project Vimic.
Country: Finland
Label: Inverse Records
Release: May 5, 2016
Genre: melodic death metal, metalcore
Tracklist:
Shades To Escape
Leak
End Of Your Days
Scarface
Exit
Atonement
Eye For an Eye
Weak Story
Second Chance
Six years after the EP "Nightshade" release, the Finnish metallers The Hypothesis presented their debut full-length album "Origin". It should be noticing that all these years the musicians didn't sit idle and today give their audience the collection of so-called "Modern Melodic DM from deadly Winterlands of Finland". The album is harmonious work, full of powerful guitar parts and truly enchanting solos. The synth gives the record some mystical atmosphere which is complemented by strong main and backing vocals. "Origin" is a skilful game of melodic death metal and metalcore genres. The album reminds Killswitch Engage's last works, however, some of its songs sound much livelier and more variously due to keyboard and light electronic effects.
Nu-Nation — album "Insomnia"
Country: Russia
Release: April 13, 2016
Genre: nu-metal, hardcore, groove metal
Tracklist:
Flies
Make Them Bleed
No Way Out
Frost Giants
Trust My Rage
Insomnia
Nemesis
Rebel
We Are Revolution
Nu metal and hardcore fans definitely come to the right place this time because in our new selection you'll find very upbeat, imbued with rebellious mood album of the Russian metalheads Nu-Nation. The third full-length record pleases by its harmonious and skilful playing, in this respect, the musicians can easily compete with the big representatives of genres. Perhaps, in some parts guitar riffs devoid of originality, nevertheless the overall record's sound is quite delicious and rich. While guys are hitting the roads across Europe, let's watch their new video for the single "Make Them Bleed".
Chelsea Grin — album "Self Inflicted"
Country: USA
Label: Rise Records
Release: July 1, 2016
Genre: deathcore
Tracklist:
Welcome Back
Four Horseman
Love Song
Clickbait
Skin Deep
Scratching And Screaming
Strung Out
Broken Bonds
Life Sentence
Never, Forever
Say Goodbye
Chelsea Grin, after releasing their two singles "Skin Deep" and "Clickbait" from the upcoming album, ran into outpouring of criticism: the listeners noted the apparent lack of melody, associated it with the lead guitarist Jason Richardson's leaving. Meanwhile, finishing the big tour, the band is preparing to release the fourth LP in their traditional deathcore genre. Release is scheduled for July 1, 2016 via Rise Records which signed the band this January.
Vimic — video "She Sees Everything"
The former Slipknot's drummer Joey Jordison formed his own project named Vimic. Signing to Roadrunner Records, the newfound quintet is now actively working on the debut album "Open Your Omen" which release is planned for the coming year. According to the musician, the band's members have selected only the best tracks from forty demos, selling the rest to the label. Meantime, Vimic please their subscribers with official video to aggressive, gloomy single "She Sees Everything".
Country: The Netherlands
Release: April 22, 2016
Genre: death metal, black metal
Tracklist:
Brutal Queen
Tales Of A Martyr
F*ck It
Skinless Flesh
Host Of A Dead Fetus
The Netherlands' female quartet Sisters Of Suffocation released the debut EP "Brutal Queen", stood out by pretty heavy, high-speed classic-sounded death metal with a well-performed extreme vocals. Do not judge the record by seeing a pink microphone or the singer's lush curls. These girls will give odds to many bearded trashers.
Vektor — album "Terminal Redux"
Country: USA
Label: Earache Records
Release: May 6, 2016
Genre: thrash metal, progressive metal
Tracklist:
Charging the Void
Cygnus Termina
LCD (Liquid Crystal Disease)
Mountains Above the Sun
Ultimate Artificer
Pteropticon
Psychotropia
Pillars of Sand
Collapse
Recharging the Void
The American metallers Vector, who plays crushing thrash metal music, presented the third LP "Terminal Redux". Unlike its predecessors, this full concept album opens space threads of mysticism and legends associated with Cygnus constellation. The release is very good at performing technique: the listener would be impressed its strong riffs and interesting guitar solos which this album has a lot. Unlike the band's previous works, "Terminal Redux" has more black metal elements due to which the album's sound became more rich.
By Yuri Somov
Read other Check 'Em All compilations: