​Beyond the Gates festival announces complete line-up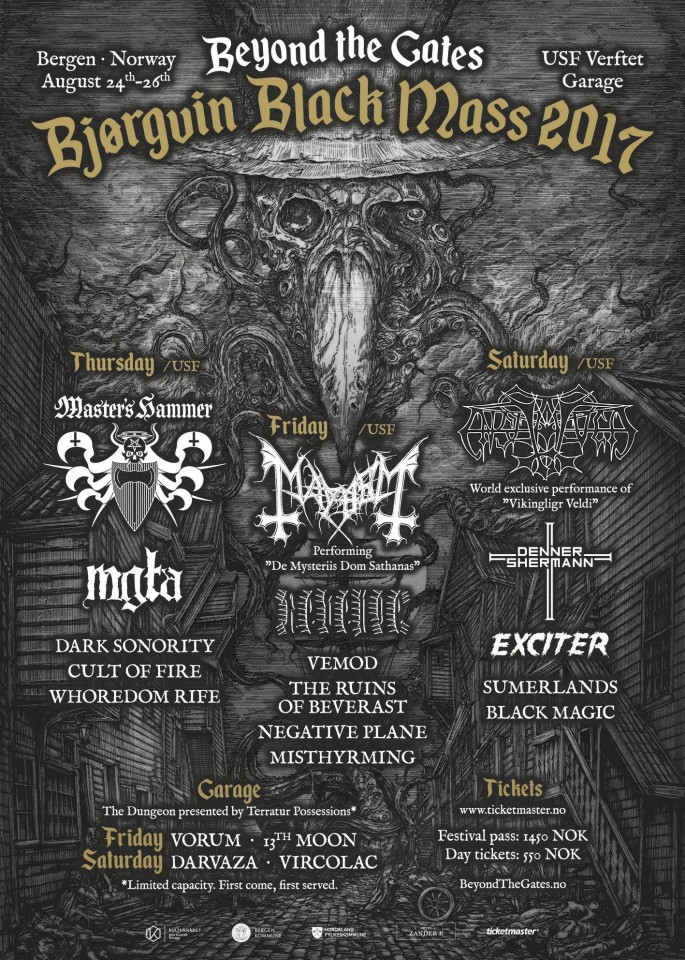 The sixth metal music festival Beyond the Gates, which dubbed this year as Bjørgvin Black Mass in 2017, is to take place on August 24-26 in Norway. The organizers have recently announced the complete line-up of the upcoming event.

Here is the message from the fest's promoters:
"We're incredibly proud to be able to announce the complete line-up for Beyond the Gates 2017. It has become everything we were hoping for and a little more.

For the first time in history the festival will take place at the recently rebuilt USF Verftet in Bergen. That doesn't mean we've forgotten about our roots — we will still arrange daytime activities at the Garage club in addition to a brand new concept of ours.

Over the course of three days 20 bands will perform live across the two stages, starting at USF Verftet on Thursday the 24th of Augst, wrapping up at the same place two days later with ENSLAVED's spectacular run through of their debut masterpiece, "Vikingligr Veldi". This will be the first and last time the band will play this groundbreaking album in full.

Before that you've been able to witness Czech legends, the highly influential MASTER'S HAMMER, play their first indoor show in 25 years with a set comprised of gems from their early albums, "Ritual" and "The Jilemnice Occultist" exclusively.

And there's more! What about being able to catch rising heavy metal stars, SUMERLANDS first ever European show? REVENGE, Mercyful Fate axemen, DENNER / SHERMANN and the speed metal pioneers, EXCITER will all play in Norway for the very first time.

In addition to this MAYHEM will perform their classic album "De Mysteriis Dom Sathanas" in its entirety, alongside premiere bands such as MGLA, NEGATIVE PLANE, VEMOD, THE RUINS OF BEVERAST, BLACK MAGIC and CULT OF FIRE. Underground stalwarts DARK SONORITY will play their last show ever during the opening night of Beyond the Gates.

Recently added to the bill are emerging Nidrosian black metal extraordinaires, WHOREDOM RIFE and Icelands premiere extreme metal band MISTHYRMING.

Last but not least we'd like to introduce our new concept; the Terratur Possessions presented THE DUNGEON. Friday and Saturday afternoon, before the concerts at USF Verftet start, we'll present two very special underground acts in a more intimate setting.

Scheduled for these events are VORUM, 13th MOON, DARVAZA and VIRCOLAC.

The concerts will not conflict with any of the other performances and free to those who own a three day festival pass.

The principle of first come, first served applies here.

We can't wait to welcome you all to what will be the greatest celebration of underground metal you will witness this year and beyond."
THURSDAY:
Master's Hammer
Mgla
Dark Sonority
Cult of Fire
Whoredom Rife
FRIDAY:
Mayhem – Performing "De Mysteriis Dom Sathanas"
Revenge
Vemod
The Ruins of Beverast
Negative Plane
Misthyrming
SATURDAY:
Enslaved – World exclusive performance of "Vikingligr Veldi"
Denner / Shermann
Exciter
Sumerlands
Black Magic
Also, Beyond the Gates organizers have previously commented on the upcoming event:
"The goal is to improve vastly on the aesthetics of the festival and to be able to give our audience and musicians an unique experience on every level. This include involving craftsmen and visual artists of different kinds. Beyond the Gates has always taken great pride in offering the best of the best the underground has to offer, be it death, thrash, doom, black or heavy metal. And we do indeed intend to continue that quest!"
Day tickets and festival pass available here: ticketmaster.no
More info at beyondthegates.no.