Arch Enemy's vocalist Alissa White-Gluz continues tour with broken ribs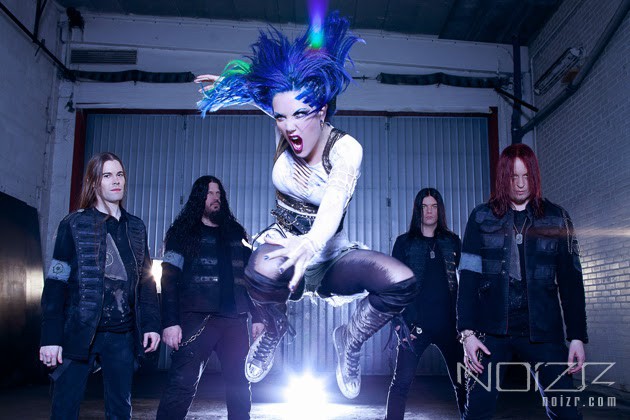 The new Arch Enemy's vocalist Alissa White-Gluz, who broke ribs after crashing into a stage riser during European tour, continues performing with the band.
Alissa White-Gluz spoke about the incident with OC Weekly:
"The first few days I thought it was fine, but a few days later it was really swollen and it hurt to breathe and move. I was still going on stage though. I had a friend there that was able to take me to the emergency room and translate everything for me. I got X-rays, an ultrasound and blood tests. The doctor wanted to give me injections of morphine and said I absolutely could not perform. There is also no organ damage, which is something I was worried about because the broken rib is right next to the liver. My head is fine; I don't have a concussion."
"You can't really do anything to heal the compound fracture in the rib other than just wait. I'm straight-edge and I'm really opposed to animal testing so I told them I didn't want any morphine. I know it's nearly impossible to find pharmaceuticals that are not tested on animals so I'm really trying to deal with the pain holistically."
"Adrenaline really numbs out all pain. When I'm on stage, I don't feel it unless I do a really stupid move. I'm diving into my yoga breathing and take a mind-over-matter approach to it. It's definitely some of the worst pain I've ever felt. It sucks because I can't move around the way I want to on stage; I can't be as energetic as I want to be. I can't work out."
"I never even considered canceling any shows. The band saw me fall and just told me not to slow down and keep going. I've been icing it in between songs and during guitar solos."
"Canceling shows is not really an option. It's not an injury that's going to heal overnight anyways so there is no point in canceling a bunch of shows. I'm just trying to give as good of a performance as I can."
Reminding, that Arch Enemy is touring for support of their new studio album "War Eternal" support. The band will perform in Kiev on September 23.