​Amon Amarth reveal new video "First Kill" and details of upcoming album
The Swedish death metallers Amon Amarth presented the music video "First Kill", filmed for the song from the upcoming album "Jomsviking". Shooting took place in Germany and Poland under the leadership of director Darek Szermanowicz.

"Jomsviking" is the band's first concept record, tells the tragic story of love and revenge, happened in the world of the Jomsvikings.
The vocalist Johan Hegg explains: "The Jomsvikings were a shadowy and legendary sect of Viking mercenaries, as shrouded in myth now as they were when they fought across Europe and the Middle East. Ruthless and deadly warriors who fought for the highest bidder, their code was simple: Show no fear. Never retreat. Defend your brothers, and when called upon, avenge their deaths. I felt we were finally ready to use their story as the jumping off point for an Amon Amarth album. The Jomsvikings and their world is the background for the story of a young man that is in love with a girl but unfortunately she's being married off. He accidentally kills a man when this happens and he has to flee – but he swears to have revenge and win her back. He can't let go of the past. He feels that he's been wronged and his life has been destroyed. The way the story evolves is not a happy story."
"Jomsviking" was produced by Andy Sneap, who previously worked with Megadeth, Testament and Accept. The album was recorded with session drummer Tobias Gustafsson from Vomitory. Also, one of the LP's tracks "A Dream That Can not Be" features the German singer Doro Pesch. The release of the tenth full-length album is scheduled for March 25 via Metal Blade Records and Sony Music.
In support of the new album, Amon Amarth give several shows in Europe and then go on the North American tour with Entombed A.D. and Exmortus. The band's all concert dates can be found here.
Amon Amarth's European tour dates:
March 22 — England, London
March 23 — France, Paris
March 24 — The Netherlands, Tilburg
March 25 — Germany, Berlin
Tracklist:

First Kill
Wanderer
On A Sea Of Blood
One Against All
Raise Your Horns
The Way Of Vikings
At Dawn's First Light
One Thousand Burning Arrows
Vengeance Is My Name (bonus track – for digibook, digital, LP, and viking ship editions)
A Dream That Cannot Be (Featuring Doro Pesch)
Back On Northern Shores
"Jomsviking" cover art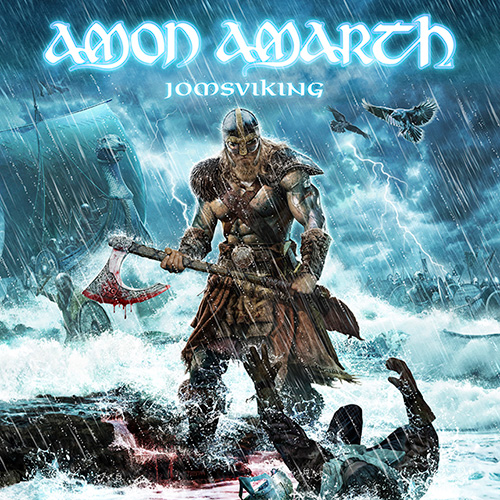 Read also: