8-11.08.2018 Brutal Assault @ Fortress Josefov, Jaromer, Czech Republic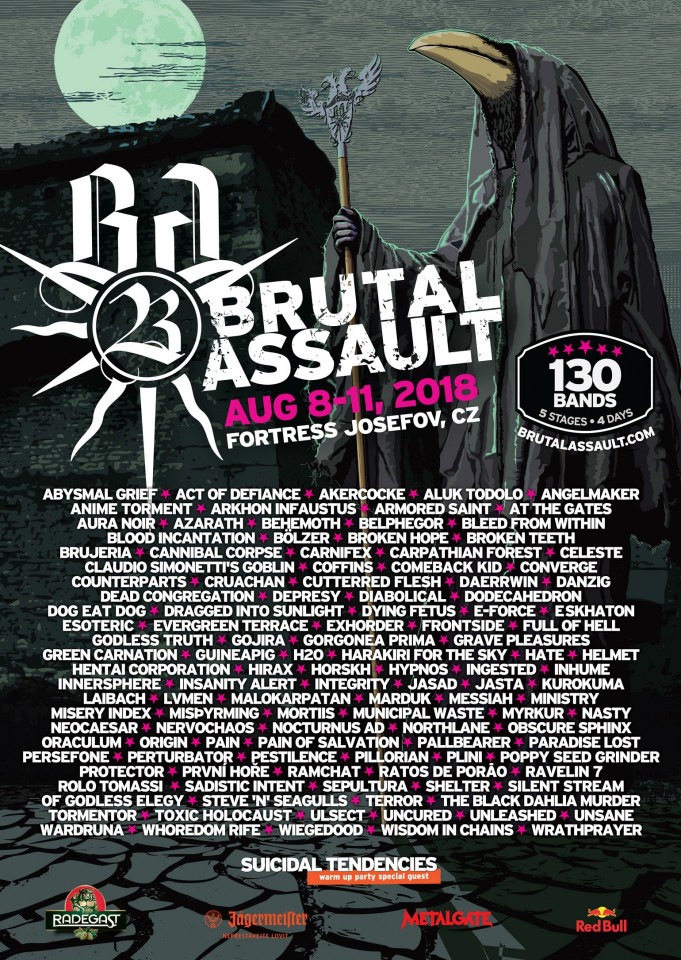 Brutal Assault Music Festival returns to Josefov Fortress for its 23rd edition. One of the biggest metal festivals in Europe is once again inviting a variety of more than 130 bands.

On the festival, after a long time, the well-known names of the metal extreme return, whether we are talking about Behemoth, Gateways, Unleashed or Broken Hope. Hardcore this time is represented by Converge, Northlane or Full of Hell. One of the main festivals will be the legendary Glenn Danzig horror-songwriter with his solo project — this is the first ever concert in the Czech Republic.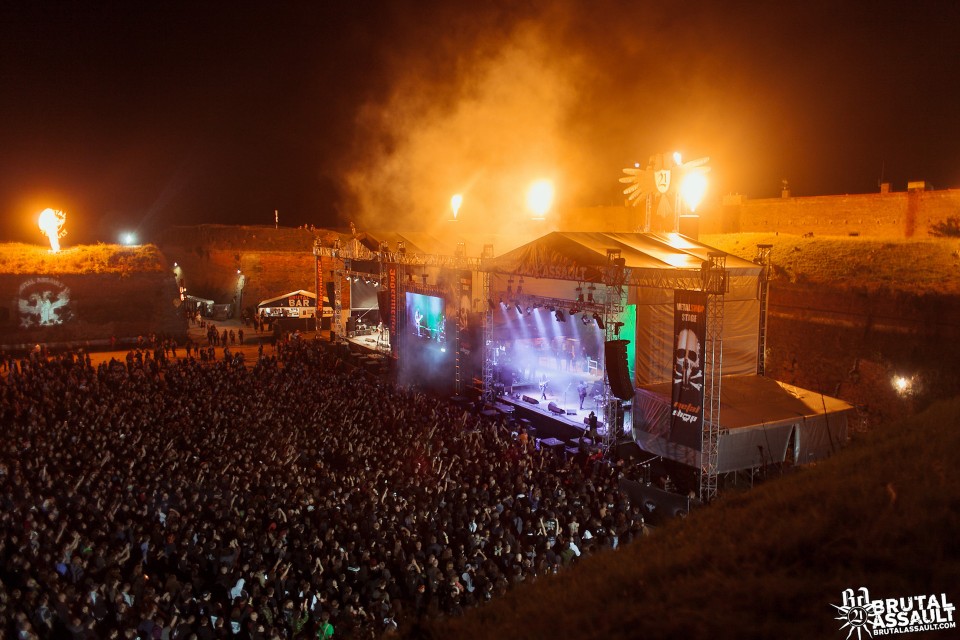 The festival in the middle of the Josefov fortress has traditionally built a program without emphasis on headliners. "Dramaturgy is about a balanced lineup, and growing attendance tells us that the fans of the festival trust," says organizer Tomáš Fiala.
After success in the previous years, this year's special "Fourth Stage" is dedicated to ambient and experimental music. Traditionally, Art-Brut-All Art Exhibition will show that the extreme is not limited to music.
Read also: 5 reasons to visit Brutal Assault festival

Brutal Assault is one of the biggest metal festivals in Europe. It was created in the mid-1990s as a small event in Moravia and often changed its place. The year 2006 saw the arrival of 7,000 people thanks to the attractive program in Svojšice near Přelouč. One year at the festival he moved to Josef where he stayed until the present. The last year of the festival, which was sold out for the first time in history, attracted 20,000 fans from around the world.
List of BA 2018 confirmed bands:
ABYSMAL GRIEF, ACT OF DEFIANCE, AKERCOCKE, ALUK TODOLO, ANGELMAKER, ANIME TORMENT, ARKHON INFAUSTUS, ARMORED SAINT, AT THE GATES, AURA NOIR, AZARATH, BEHEMOTH, BELPHEGOR, BLEED FROM WITHIN, BLOOD INCANTATION, BÖLZER, BROKEN HOPE, BROKEN TEETH, BRUJERIA, CANNIBAL CORPSE, CARNIFEX, CARPATHIAN FOREST, CELESTE, CLAUDIO SIMONETTI'S GOBLIN, COFFINS, COMEBACK KID, CONVERGE, COUNTERPARTS, CRUACHAN, CUTTERED FLESH, DAERRWIN,DANZIG, DEAD CONGREGATION, DEPRESY, DIABOLICAL, DODECAHEDRON, DOG EAT DOG, DRAGGED INTO SUNLIGHT, DYING FETUS, E-FORCE, ESKHATON, ESOTERIC, EVERGREEN TERRACE, EXHORDER, FRONTSIDE, FULL OF HELL, GODLESS TRUTH, GOJIRA, GORGONEA PRIMA, GRAVE PLEASURES, GREEN CARNATION, GUINEAPIG, H2O, HARAKIRI FOR THE SKY, HATE, HELMET, HENTAI CORPORATION, HIRAX, HORSKH, HYPNOS, INGESTED, INHUME, INNERSPHERE, INSANITY ALERT, INTEGRITY, JASAD, JASTA, KUROKUMA, LAIBACH, LVMEN, MALOKARPATAN, MARDUK, MESSIAH, MINISTRY, MISERY INDEX, MISÞYRMING, MORTIIS, MUNICIPAL WASTE, MYRKUR, NASTY, NEOCAESAR, NERVOCHAOS, NOCTURNUS AD, NORTHLANE, OBSCURE SPHINX, ORACULUM, ORIGIN, PAIN, PAIN OF SALVATION, PALLBEARER, PARADISE LOST, PERSEFONE, PERTURBATOR, PESTILENCE, PILLORIAN, PLINI, POPPY SEED GRINDER, PROTECTOR, PRVNÍ HOŘE, RAMCHAT, RATOS DE PORÃO, RAVELIN 7, ROLO TOMASSI, SADISTIC INTENT, SEPULTURA, SHELTER, SILENT STREAM OF GODLESS ELEGY, STEVE 'N' SEAGULLS, SUICIDAL TENDENCIES, TERROR, THE BLACK DAHLIA MURDER, TORMENTOR, TOXIC HOLOCAUST, ULSECT, UNCURED, UNLEASHED, UNSANE, WARDRUNA, WHOREDOM RIFE, WIEGEDOOD, WISDOM IN CHAINS, WRATHPRAYER

Details:
www.brutalassault.com
https://www.facebook.com/brutalassault.cz/