Robustfellow to celebrate its 5th anniversary with Mars Red Sky's show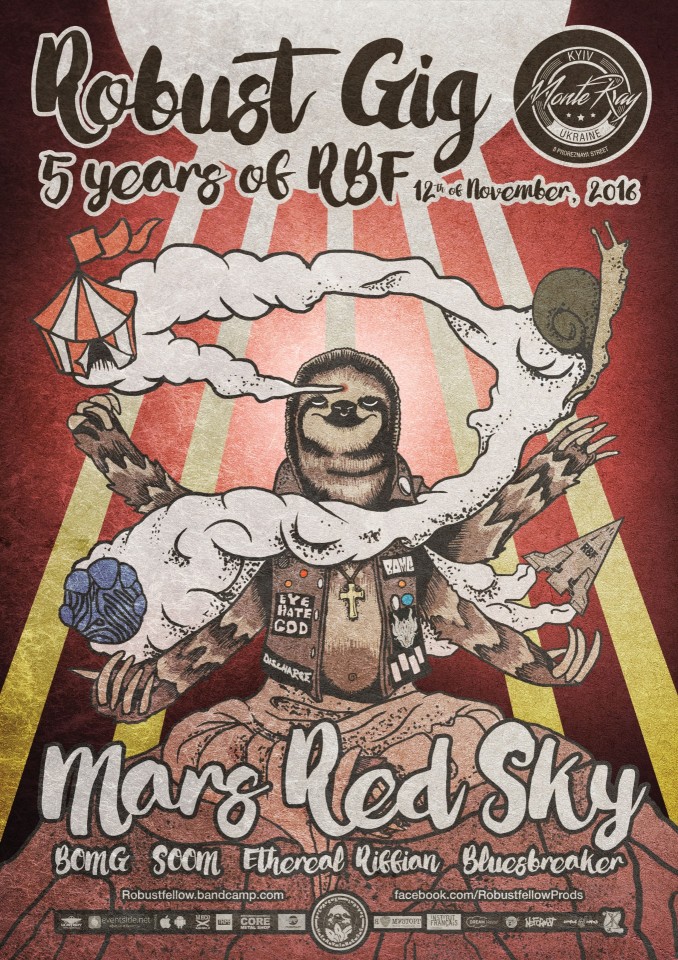 Kyiv's agency Robustfellow is to hold Robust Gig with five bands in honor of its 5th anniversary.
The main guests of the evening will be the French stoner band Mars Red Sky, which have released a new LP this year. The upcoming concert is to be also joined by Ukrainian groups BOMG (Stoner/Doom), Bluesbreaker (Stoner), SOOM (Lo-Fi/Noise/Sludge/Industrial/Doom) and Ethereal Riffian (Shamanic/Psychedelic/Stoner Rock).
The organizers comment:
"After 5 years, the French magical musicians Mars Red Sky are again in Kyiv!

During this time, the band managed to strengthen its line-up with a new drummer, leaving a proven alchemical formula: the magical vocals by Julien Pras, the rhythmic bass by Jimmy Kinast, and the hypnotic retro video projection by Pierre Fillon.

In Kiev, the group is to represent the third full-length album "APEX III (Praise For The Burning Soul)", which was released in 2016 via the milestone label Listenable. In October 2016, there is to be a premiere of the short film which based on the LP's first two songs."
The organizers assured that each of the performing bands is to prepare "something special this evening," and the promoters themselves are planning to arrange "an exclusive event in all respects". It's also reported that all holders of physical tickets will be able to take part in the quiz with a package from Robust Shop with the performing bands' releases and merch as a prize.
"It is recommended to attend for all the music lovers with experience, as well as for those who have recently unveiled a world of Robustfellow!"
Start: November 12 at 16:00
Venue: MonteRay Live Stage club, Prorizna st. 8, Kyiv, Ukraine
Tickets:
Fan Zone (up to 11.11.2016) — 300 UAH
Fan Zone at the Robust Gig's door (12.11.2016) — 400 UAH
VIP reserved seat on the balcony at the table (only 18 tickets are available in ROBUST SHOP) — 500 UAH
Buy tickets:

ROBUST SHOP
robustfellowship(dog)gmail(dot)com
Fan Zone (up to 11.11.2016) — 300 UAH
Fan Zone (including bonuses from RBF + delivery by Nova Poshta)
VIP reserved seat on the balcony at the table — 500 UAH
Buy ticket to Fan or VIP zone
EventSide — e-tickets
Fan Zone (up to 11.11.2016) — 330 UAH

Events in social medias: Facebook, VKontakte, Last.fm