​Holy Death Over Kyiv to take place on April 14, feat. Mgła, Bölzer, and Kaosophia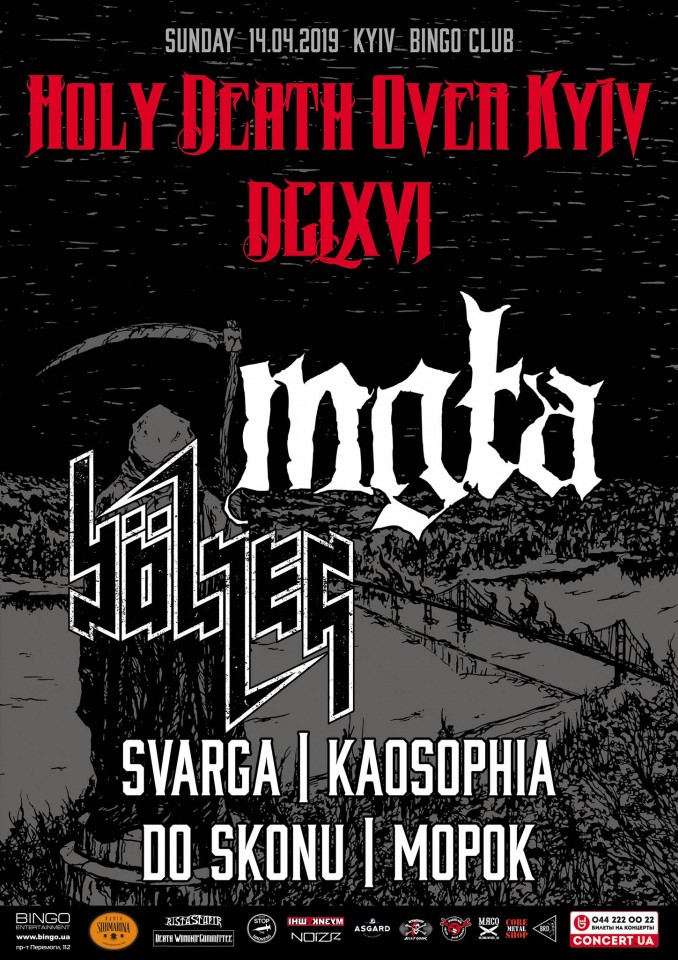 The one-day festival of black metal music Holy Death Over Kyiv will take place on April 14, 2019 in Kiyv, Ukraine. Among other performing acts are the Polish act Mgła, the Swiss duet Bölzer, as well as the Ukrainian bands Kaosophia, Svarga, Do Skonu, and Morok.

See also: Photos from Holy Death Over Kyiv V, feat. Acherontas and Kroda
Announcement from the organizers: "14th of April club's "Bingo" stage will gather the best representatives of Black Arts.

Mgła – legends of Polish Black Metal scene with the first performance in Ukraine. This is something that everyone has been waiting for so long.

Bölzer – is one of the best representatives of nowadays Death / Black Metal, the real primordial fury performed by this outstanding duo. First time in Ukraine.

Svarga – after 5 years of silence, this cult Ukrainian band decided to get out of the shadows and to raise a black storm over Kyiv.

Kaosophia – orthodox Black Metal in its most ruthless and sinister form who doesn't need any introduction.

Do Skonu – classic underground Black Metal with a completely new program.

Morok – the collective, headed by the multi-instrumentalist Severoth. This will be the first live performance of the project, so we advise you not to miss."
Ticket price:
666 UAH — Pre-sale before 31.12.2018
777 UAH — Pre-sale from 01.01.2019 to 13.04.2019
888 UAH — Door tickets at the venue

Tickets are on sale and can be purchased as per belovv coordinates:

Core Metal Shop http://coremetalshop.com.ua/
Direct contact with Committee crew via email — hdok616 (at) gmail (dot) com

Event on Facebook