​Dead by April to present new album in Kyiv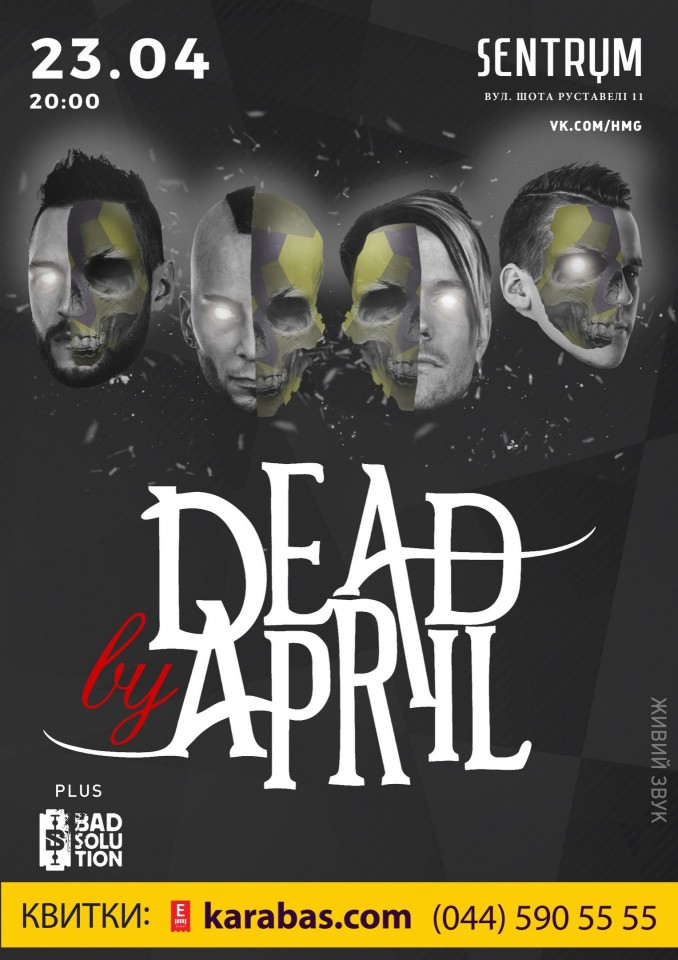 In anticipation of the new album release, the Swedish rockers Dead by April are going to give a concert in Kyiv.
Dead by April can hardly be called a classic metal stage representative. Nu metal, alternative and vocals with screams elements in their music are organically combined with pop melodies. The musicians themselves describe the genre of their band as: "Dead by April is a metal band, and boyband pop. Metal fans might not handle it properly."
Also, the band's image more positively than it should be for metalheads. Dead by April's shows always full of warmth and friendliness. After the concert, fans can expect chat, autographs and even gifts such as commemorative drumsticks or mediators from their idols. Sometimes, the musicians take their gadgets and film the audience on video from the stage. In response, the grateful fans start a "wave". Such moments became more touching because of phrases said by musicians in the native language of the host country, such as "Я люблю вас" ("I love you" in Russian), more like "Yellow blue bus".
With all this music Dead by April gives a powerful boost of energy and drive, both with their records and live performances. Not for nothing their song "Stronger" was chosen as Need for Speed soundtrack. This duality — a tandem of unrestrained power and touching melody — is reflected in the band's name. Founder and former vocalist Jimmie Strimell explained it as: "'Dead' is for the heavy parts and 'April' is for the nice parts."
It is worth noting that for the first 9 years of existence, the group has gone through many changes in its line-up: leaving and returning of the second vocalist Zandro Santiago, temporary replacement of the drummer Alexander Svenningsson, leaving and returning of guitarist Pontus Hjelm, which now combines guitar, second vocals and song writing. And, perhaps, the main metamorphosis is a vocalist replacement. In 2013, the band's founder Jimmie Strimell was replaced by Christoffer Andersson, the former lead singer of Sonic Syndicate. Finally, after all these changes Dead by April became the band of perfectly co-ordinated, clearly know their target musicians. The most eloquent proof of it will be the group's new album, which release the fans around the world are waiting in 2016, and which is going to be presented on April 23 in Kyiv.
Start: April 23 at 20:00
Venue: Kyiv, Sentrum club, Shota Rustaveli street, 11
Tickets: 450-900 UAH
Buy tickets: karabas.com
Links: VKontakte, Facebook