19.02.2016 God Is An Astronaut @ Sentrum, Kyiv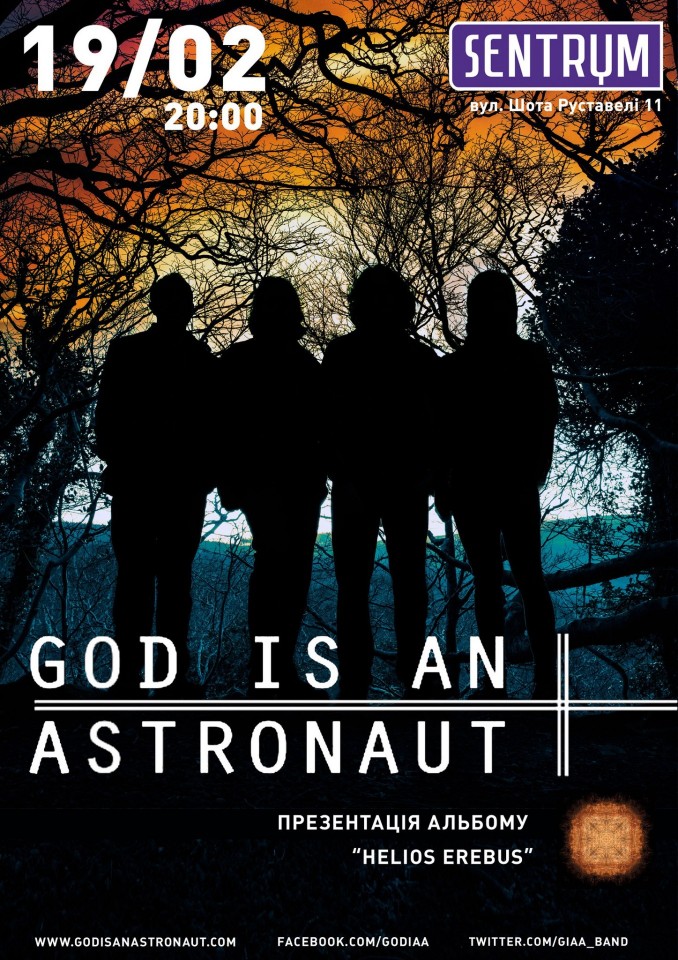 One of the most famous post-rockers in the world the Irish God Is An Astronaut to perform in Kyiv.
God Is An Astronaut is a rather original band formed by twin brothers Niels and Torsten Kinsella. The group's creativity defies comparisons, and certainly amaze many music lovers, who are going to listen to the musicians for the first time on February 19. Moreover, there is an important occasion to finally meet with the musicians — the presentation of their 8th album "Helios | Erebus".
The new release is an eloquent illustration of the eternal struggle between Light and Darkness, and tracks are a palette or a gradient between these two extremes. No wonder, that the album's release date the musicians chose June 12 — the longest day of the year, the day when the light is much more closer to victory over darkness.
GIAA creativity can not be called mainstream. Rather, it is the music for the sensitive and thoughtful natures. Wikipedia is quite rude and categorical attributes them to the post-rock, but in reality, and musicians are often trying to distance itself from this definition, and their fans can find in the "astronauts" works much more than just post-rock. Multilayer arrangements, ambient motifs, bright rhythm compositions and even space rock in an extreme degree of its aesthetics — all of this is skillfully performed on the stage during the unique show with psychedelic light effects. And this unexpected combination has a lot of fans: their videos are in rotation on MTV, and European tours are complete sold out. Thus, the musicians managed to consolidate their status as one of the most renowned instrumental ensembles in the world. Hopefully, Ukrainian music fans will only strengthen this status and the concert in Kyiv will be no less spectacular than its European predecessors.
Start: February 19 at 20:00
Venue: Kyiv, Sentrum club, Shota Rustaveli street, 11
Tickets: from 530 to 2000 UAH
Buy tickets: Kiev.karabas.com
Link: VKontakte, Facebook