1.12.2015 Apocalyptica @ Stereo Plaza, Kyiv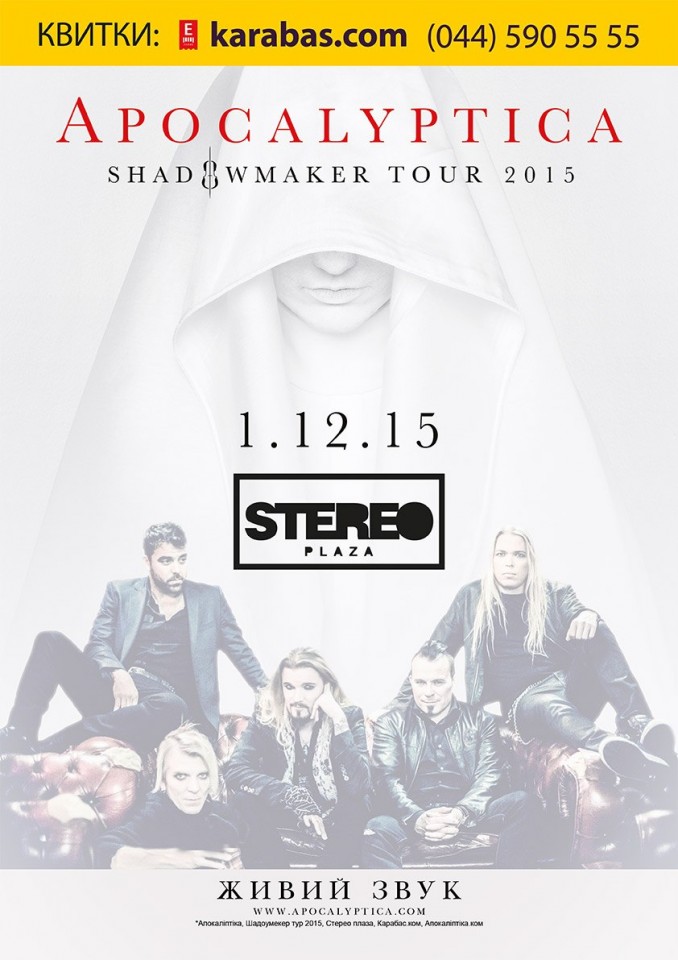 The famous Finnish band Apocalyptica is to come to Kyiv with its new album "Shadowmaker". The band is going to present the new songs on December 1 at the Stereo Plaza!
Apocalyptica is an extraordinary combination of metal music, cellos and bright expressive vocals. The group became famous its cover versions of legendary metal bands' songs: Metallica, Rammstein, Slipknot and other top music artists. Despite this, the talented cellists have achieved greater recognition, writing their own songs and successful albums, with millions of copies and awards.
In March 2015, Apocalyptica presented the new video for the song "Cold Blood" taken from the latest album "Shadowmaker", which the band released April 20. The group's new studio work became a follower of "7th Symphony", which achieved the second position in the Finnish charts. The LP was recorded with guest musicians Gavin Rossdale (Bush), Brent Smith (Shinedown), Lacey Sturm (Flyleaf) and Joe Duplantier (Gojira). Concert in Kyiv will be a worthy continuation of the 7th Symphony and a wonderful New Year's Eve.Beginning: November 7 at 15:30
Start: December 1, at 20:00
Venue: Kyiv, Stereo Plaza, Chervonozoryanyi avenue, 119
Tickets: 490-1200 UAH
Links: VK, Facebook
More info — Apocalyptica.kiev.ua, Melnitsa.org