Review for Anthrax album "For All Kings"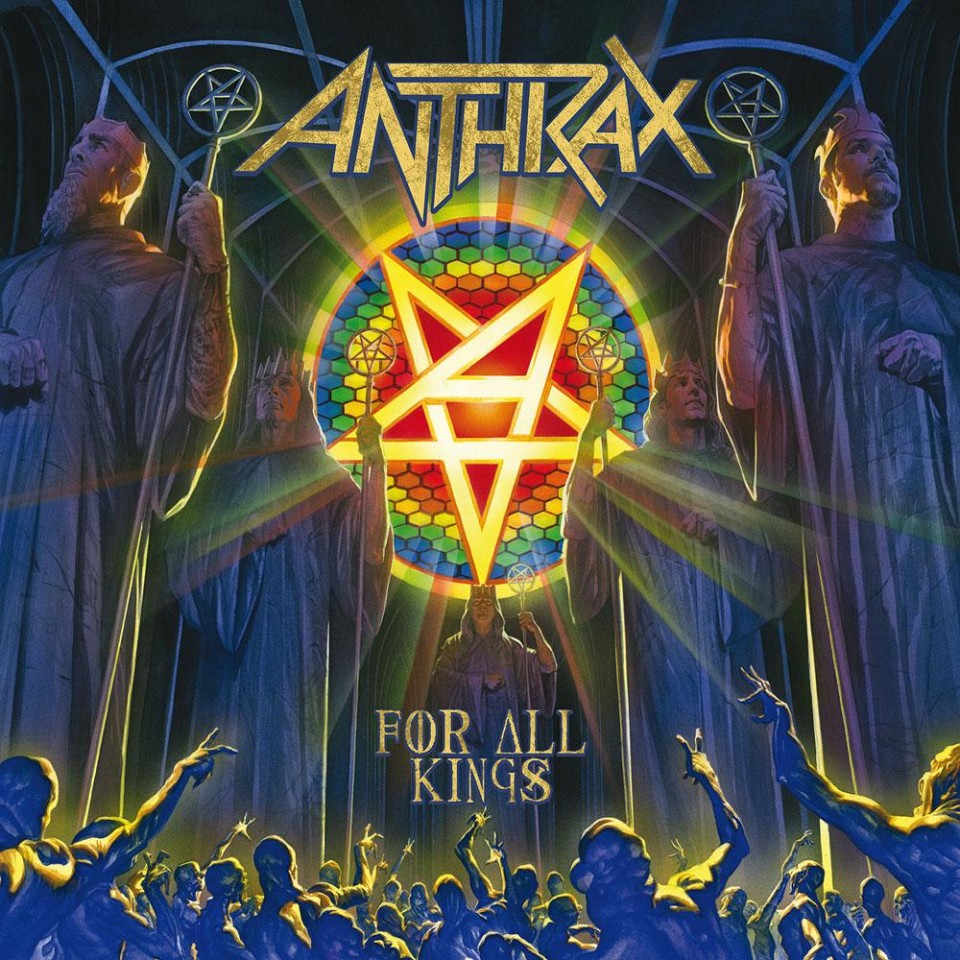 The tenth studio album "Worship Music" (2011) turned out to be a noticeable Anthrax's jerk after a series of less successful experimental records. Perhaps the long-awaited LP became the most harmonious work of the American thrashers since "Sound Of White Noise" (1993) era. In addition, many fans marked this CD as the band's return to the previous style and sounding because of Joey Belladonna's taking over the vocalist place again. Sure, there are a lot of those listeners who were less happy about the old frontman returning. The fans of John Bush's more progressive style met "For All Kings" with some discontent. The eleventh album came out on February 26 via Megaforce Records and Nuclear Blast.
"For All Kings", which signs the 35th Anthrax anniversary, will hardly surprise you with something special. Similar to the new trite works of Megadeth and Slayer, the LP seems quite stereotyped. At the same time the album is pretty vigorous and substantial, it clearly reflects the band's steady rising after a period of creative slump. Since the early 90's the musicians' experiments became noticeable transition to progressive metal, slower tempos, heavy melodic parts appearance or even such weird ideas as the metal-rap collaboration with Public Enemy.
However, with "For All Kings" Anthrax returned to their classic bold thrash riffs, skillfully combining them with heavy metal motives, slightly resembling Judas Priest. In other words, the band managed to create a cross between "Among The Living" (1987) and the aforementioned "Sound Of White Noise". In this way, you'll find some lively aggressive tracks "You Gotta Believe", the first single "Evil Twin", "Defend/Avenge" and powerful, melodic songs like "Breathing Lightning" and "Blood Eagle Wings".
Tracklist:
You Gotta Believe
Monster At The End
For All Kings
Breathing Lightning
Suzerain
Evil Twin
Blood Eagle Wings
Defend/Avenge
All Of Them Thieves
This Battle Chose Us
Zero Tolerance
CD 2 (bonus live tracks):
Fight 'Em 'Til You Can't
A.I.R.
Caught In A Mosh
Madhouse
As for Belladonna's singing, his voice certainly gives the album some fresh and vigor traits of usual Anthrax which were missing with John Bush. However, the same cannot be said of the dull vocal parts of the titled track "For All Kings" or a bit toneless "Suzerain". Tedious choruses create the impression of unsuccessful Dio imitation.
The lyrics cover various topics. By choosing to steer a middle course, the musicians created real mix of actions and comics, which often can be found in their discography and with curtain songs they touched some important, painful problems of nowadays. One of such tracks is the 8-minute "Blood Eagle Wings". Just a few days ago the composition was presented with the new gloomy and brutal video.
By Yuri Somov