​Non Serviam: How Rotting Christ's show in Kyiv was held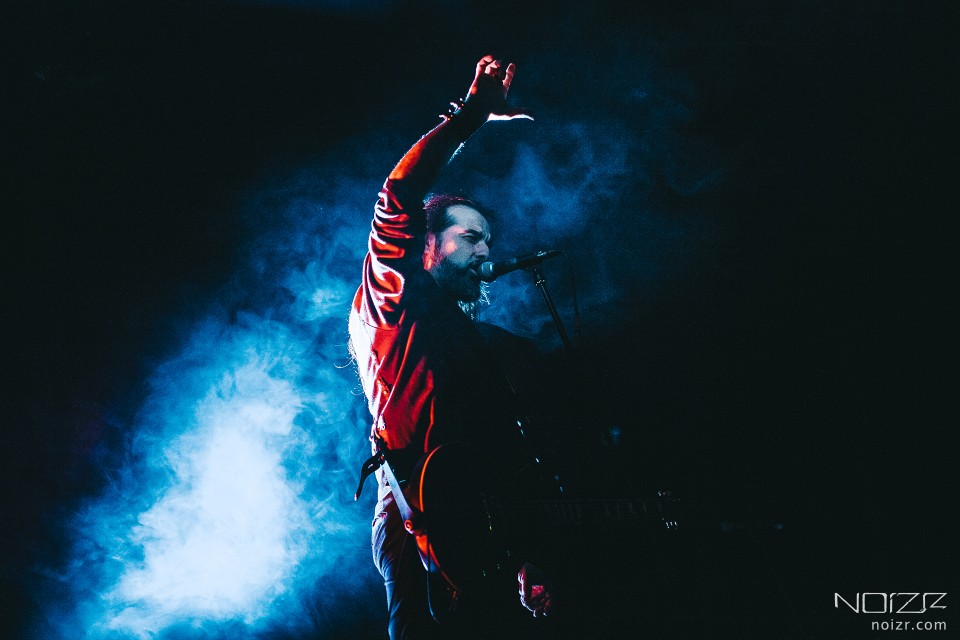 Last Saturday, on April 14, there was a new show in Kyiv of Rotting Christ — the Greek metal act, which became one of a few brave enough bands, agreeing to come to Ukraine in 2014 to support their listeners despite the height of the military conflict. Adhering to the motto "Non Serviam", the musicians, according to their frontman Sakis Tolis, "would play everywhere under any conditions", and besides in Ukraine, where they performed repeatedly, they feel like home.
Initially, it was planned that the event will include three sets — Rotting Christ, Odesa-based act White Ward, and Malta-based band MartYriuM, but the last one because of problems with luggage (the musicians' instruments were not delivered in time in Kyiv) eventually had to cancel their performance. Martyrium's comment, provided for Noizr Zine:
"Here is the full story in full detail about what happened last Saturday 14th April 2018 about our canceled show @ Bingo, Kiev Ukraine.

Saturday early morning, at 4 am we were at Malta International Airport and checked-in our flight. We had a connecting flight in Frankfurt, Germany and then to Kiev (Malta-Frankfurt-Kiev) since at this time of the year there are no direct flights from Malta to anywhere in Ukraine.
As soon as we arrived in Kiev, all our instruments did not arrive with the luggage. Oliver [Martyrium's bassist Oliver Grech — Noizr] went out to meet our driver Alex and reported this immediately and a search started to find us replacement instruments. In the meantime, the Airline discovered that our guitars were not transferred to Kiev and were stranded in Frankfurt. The Airline told us that the instruments can only arrive in Kiev after midnight, which would be too late for our show, so search for instruments continued.

We then started our way to the hotels, and we really wished to rest as it was already 15:00 and our soundcheck was planned to be at 17:00. As soon as we arrived at the hotel, one of the rooms allocated for MartYriuM was not found, and ended up wasting more valuable time. This error was caused by the Hotel, and not the organization since the room was then found as promised and booked.
We were notified around 16:00 that replacement guitars will be given by White Ward, We arrived at the club at 17:30, and as soon as we met the guys and we were discussing about the guitars we found out that we could not use White Ward's guitars due to intonation differences, tuning and some other technicalities, so then we realized that we have a big problem, as time was our biggest enemy.

Minds were heating up and hectic discussions and plans were being discussed, but to no avail, as replacement instruments were difficult to find at that time in such a short notice.
Time was passing really quick and to keep up with the schedule in respect of the other bands, organizers and the people waiting for the show to start, we decided with a heavy heart to cancel our show. This caused a lot of distress for our fans from Kiev and others that traveled from far cities and we are terribly sorry for this. This decision was very very hard to take but we had no other options, we traveled for 12 hours from Malta to Frankfurt to Kiev and then the same way back. We had no time to eat or shower in 30 hours since we were busy fixing our problems. We can say that we still really enjoyed having a few drinks with our Ukrainian friends and also watch Rotting Christ perform their amazing set!

As soon as we returned to Malta, and we recovered our instruments, we found one of the guitars badly damaged. We are currently disputing this issue with the Airline as this was solely their fault and no one else, so at this time we are not publishing their name in the media.
About the promoter that booked us, he had nothing to do with this problem. The problem started from the people working at the airport in Frankfurt because they did not transfer our instruments to our plane, as explained above.

Before I close this, MartYriuM would like to thank everyone that helped us and supported us, its always our great pleasure to be in Ukraine and meet our great friends that we made in the last two years from the CAMF and MHM festivals.
We will return very soon to Kiev and we'll plan a bigger show, that's a promise!"
And due to MartYriuM's canceled show, the concert starts with an hour and a half delay with the performance of the Ukrainian band.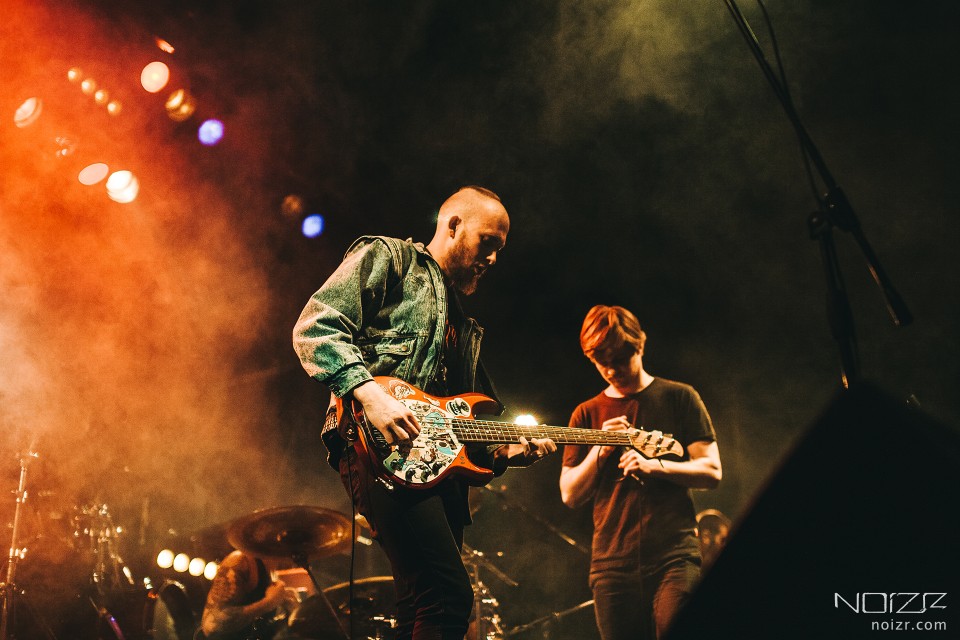 White Ward, whose debut album "Futility Report" has received positive reactions both among critics and listeners, last Saturday performed in Kyiv for the second time. Having played shows in Ukraine last year, the band also took the first steps to conquer European venues, giving two shows in Warsaw and Poznan, Poland.
This time White Ward performed without a saxophonist, nevertheless their set was so good and emotional as on their previous debut performance in Kyiv. Should be noted that the wide influence of various styles on the band's work becomes even more noticeable when White Ward play live. It becomes obvious why the group knowingly defines its genre as "Deviant Black Metal", as in its music clearly has not only black metal and jazz features but also, for example, deathcore elements. This mix significantly distinguishes the style of White Ward from Rotting Christ's music, which is why, judging by the audience, many visitors discovered this band for the first time, coming to the concert.
Yuriy Kazaryan, the guitarist and one of White Ward's founders, comments on the absence of saxophonist and the band's impressions of the past event [translated from Russian by Noizr]:
"The saxophonist did not come, because, unfortunately, he does not play with us anymore, but we are actively looking for his replacement, so the saxophone on future recordings won't go anywhere. Impressions [from the concert] are excellent, we're very glad that we supported the band of such a high level. As for organization, everyone is also pleased. Of course, there was a problem with [the show] of the Maltese band, it happens, but in general, it didn't spoil our impression."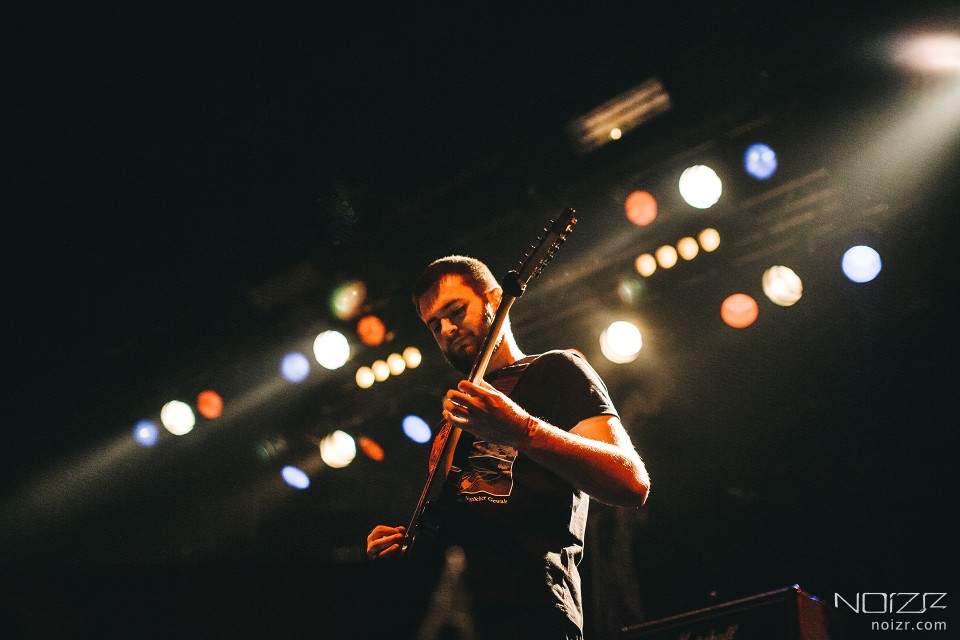 Yuriy Kazaryan (c) Mila Immortality
White Ward's setlist:
Black Silent Piers
When Gift Becomes Damnation
Homecoming
Stillborn Knowledge
Futility Report
Non Serviam!
In Ukraine, Rotting Christ arrived only two days after the arrest in Georgia. As it turned out later, the band's founders, Sakis and Themis Solis, were put in jail for a whole day at the airport in Tbilisi on a false suspicion of terrorism, but thanks to the well-coordinated work of local promoters, journalists and band's lawyers, the Tolis brothers were eventually released and they were able to play a concert with other Rotting Christ's musicians.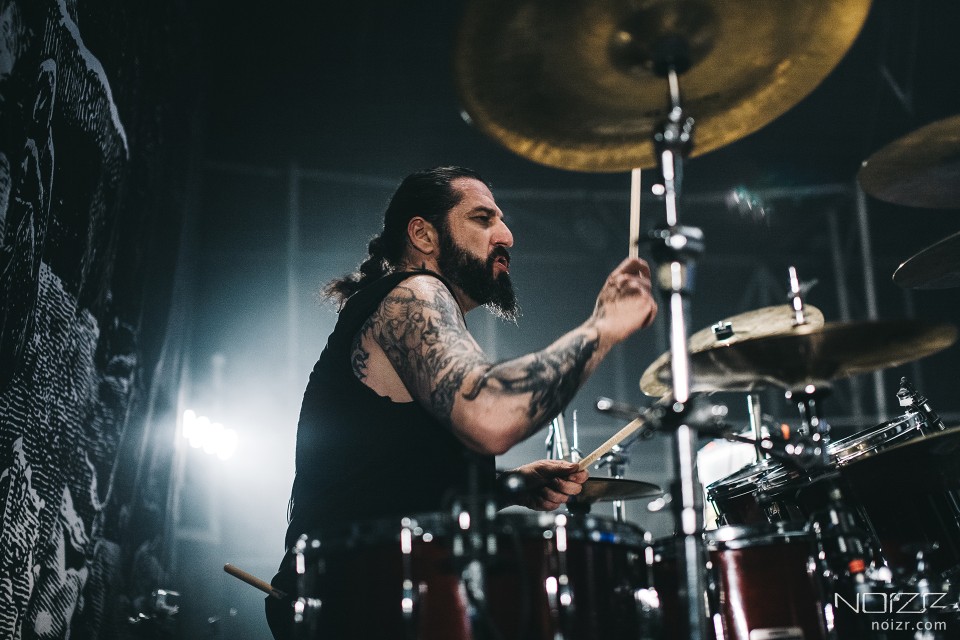 Themis Tolis (c) Mila Immortality
Lasting about an hour and a half the set of Rotting Christ expectedly caused a great tornado of emotions. The sound of the band, which had been evolved over the past three decades, turned Rotting Christ into one of the brightest representatives of the metal scene. Many critics and listeners have long defined the group's style as dark metal, recognizing the uniqueness and brand identity of extreme metal and ethnic elements combination.
Their wonderful album "Rituals", released in 2016, in my opinion, has become one of the best metal releases of recent years, successfully combining high-quality sound and production, catchy melodies with piercing metal riffs, numerous ethnic elements and cultural references (from Charles Baudelaire to Aphrodite's Child), which eventually resulted in a diverse and interesting material that one with a pleasure can listen to end-to-end.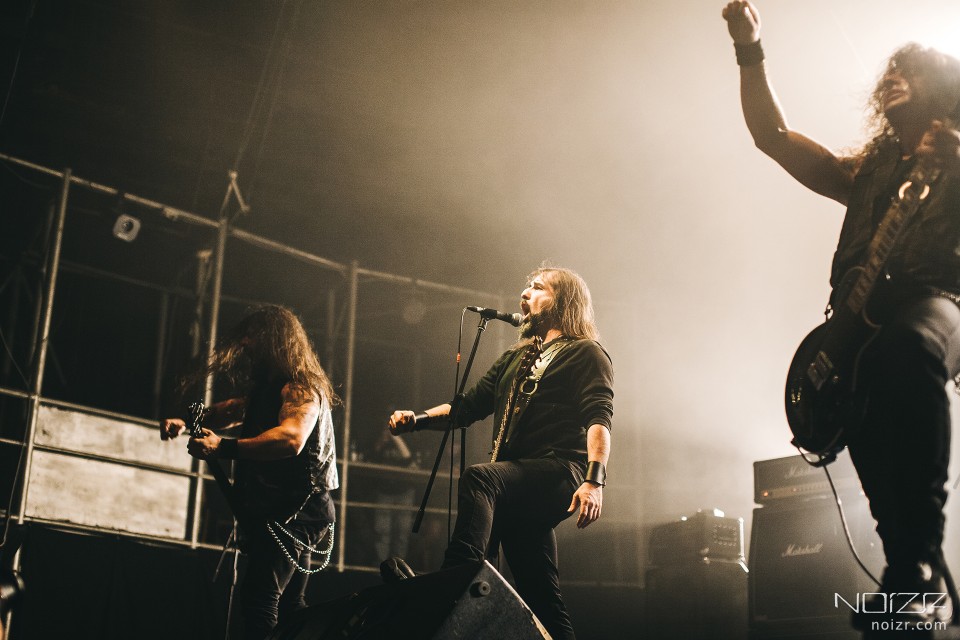 Renewed its line-up in 2014 with two charismatic musicians, the band looks on a stage grandly and monumentally. With every drumbeat, with every riff, with every vocalist's scream, you are more and more immersed in the real ritual atmosphere of their music. Constantly changing light, flooding the scene with bright scarlet or dark blue tones perfectly complemented and emphasized the mood of each performed composition.
The musicians' setlist was mostly based on the songs from the band's classic albums ("The Forest Of N'gai", "The Sign Of Evil Existence", "Transform All Suffering Into Plagues", "Societas Satanas", "Nemecic" and so on) and included just three songs from the new LP "Rituals" ("Apage Satana" performed on the red-filled stage, became my brightest impression of the concert). "Non Serviam" was traditionally left for an encore.
Later, judging by the photos in social networks, the evening ended with the band's members coming to fans for making photos and signing autographs.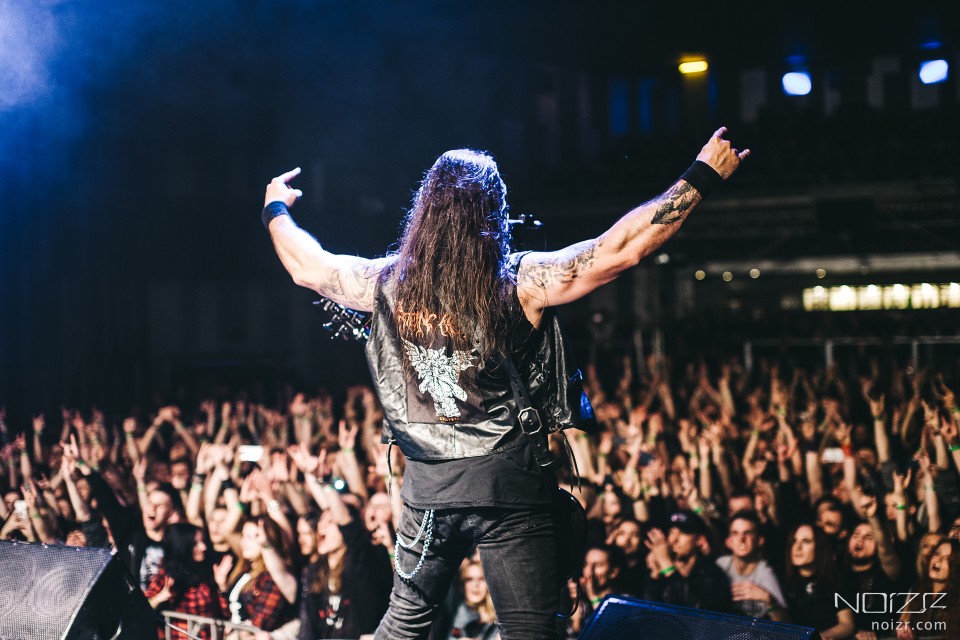 Rotting Christ's setlist:
Intro (300)
Ze Nigmar
Katá ton Daímona Eaf̱toú
Demonon Vrosis
Nemecic
Elthe Kyrie
Apage Satana
The Sign Of Evil Existence
Transform All Suffering Into Plagues
The Forest Of N'gai
Societas Satanas
Middle Intro
In Yumen-Xibalba
Grandis Spiritus Diavolos
King Of A Stellar War
Noctis Era
Encore:
Χ Ξ Σ
Non Serviam
Outro 300
Noizr Zine thanks VA concerts for the granted accreditation and assistance
Photos by Mila Immortality
Report by Anastezia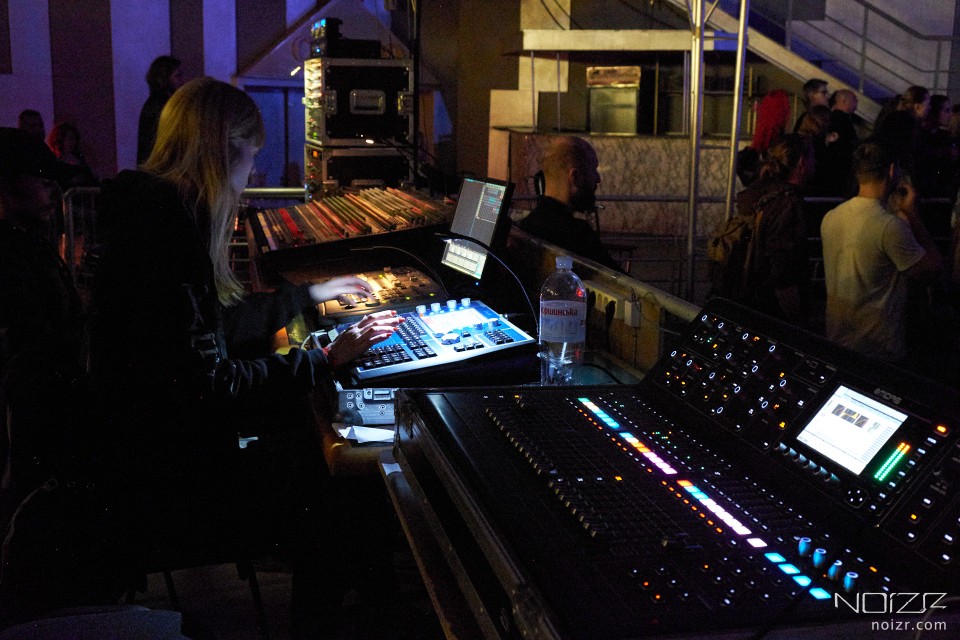 P.S. Despite the excellent musical atmosphere and the professional approach of the organizers, with whom our Noizr team had the pleasure of working in person, "Bingo" club, which hosted the event, once again left a bad aftertaste. More than once I heard that the owner doesn't want to invest money in repairs, new equipment or any other development of his venue, and last Saturday it was frankly unpleasant to observe the overall dirt and stench in the club, when one could easily find the restroom thanks to its horrible smell long before the event started. The backstage with shabby old sofas, on which the artist sits like in a hole, sticky and rocking tables, on which foreign guests had to put on their merchandise, and some drunken club's employee — all this deserve a separate discussion. The only good things about that night's concert venue were always a positive and communicative club guard and a bar which wasn't also a perfect place but still.