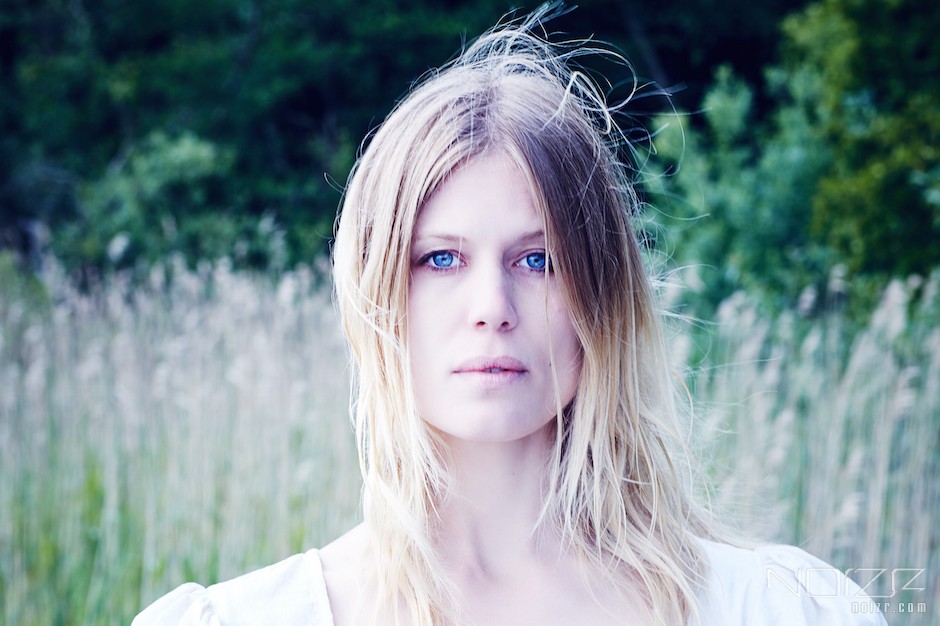 "I always dreamed about becoming a Huldra, an elf girl…", Amalie Bruun talks about Myrkur, originally known as "one-woman black metal project". When Amalie's incognito was revealed, at least several popular metal zines rushed to search for the singer, and the listeners were excited about the less-known EP. Years before, this dreamy, blue-eyed Danish girl was known as a pop singer. Her voice sounds on the indie/pop records by EXCops band, and the fashion photos were published in glossy magazines. Today, Amalie is an author, singer, guitarist, and producer of her own project Myrkur.
"I feel that nature is a big part of the reason black metal even exists and all types of pure music."
After Myrkur's very successful debut in 2014, Amalie, as the author and the only band's member, signed a contract with the record label Relapse Records. In a year, she announced the release of her first full-length album "M", set on August 21.
Skøgen Skulle Dø
Hævnen
Onde Børn
Vølvens Spådom
Jeg er Guden, I er Tjenerne
Nordlys
Mordet
Byssan Lull
Dybt i Skoven
Skadi
Norn
"The word "Myrkur" means "darkness" in Icelandic. The place where there are no boundaries where no one can hurt me."
The new record is an excellent result of Amalie's creative experiments. This is a palette of emotions, a game of tranquility and undisguised rage. On a par with the debut EP, "M" is an assured step towards the individual author's style. As for the genre, the performer agrees that black metal is not the best definition.
The album is full of typical, old school metal techniques and at the same time of different Scandinavian folk motives. It's a mix of lyrical piano and heavy, choppy guitar riffs. "M" covers a variety of musical genres, including death and black metal.
Sometimes, the upbeat rhythms remind the rough notes of viking metal. Today, Amalie admits her passion for heavy, aggressive motives and records of the Swedish band Bathory, who clearly influenced Myrkur's future works. The melodious choir and eerie effects are presented in this incredibly atmospheric material. Each composition involuntarily creates a picture of a dark fantasy saga. The innermost feelings are free now:
"I always dreamed about becoming a Huldra, an elf girl, a valkyrie or the goddess Freja. There are these powerful women in Norse Mythology that have both an element of beauty and mystery but they are also deadly."
Amalie is the author, singer, performer of piano and guitar parts. One of the project's peculiarities is an alternation of the crystal-clear and extreme aggressive vocals, emphasizing emotional play in the songs "Skøgen Skulle Dø", "Hævnen" and "Skadi".

"When I have sung the screams it physically hurts but it feels like something is leaving my body. I can't remember it afterwards."
The album was recorded in Oslo, featuring the guitarist Teloch from the Norwegian band Mayhem and the drummer Oyvind Myrvoll (Dodheimsgard, Nidingr). Some additional guitar parts of the track "Mordet" were performed by Christopher Amott and the leader of the black metal band Ulver, Kristoffer Rygg, became a co-producer. According to one of his ideas, the recording process took place in the different locations with extreme conditions, such as the Museum of the artist Emanuel Vigeland, for creating a special atmosphere of the album.
Amalie Bruun: "Kris suggested recording the quiet vocals in a mausoleum [in Emanuel Vigeland's Museum] which was perfect for the sound and the feeling of death in there. Cold. Very cold. Dark. And you can hear your own heartbeat."
For many listeners, the causes of Amalie's sharply changes of her creative direction are still unknown. But it seems that she is not so concerned about these definitions of genres and possible causes. "M" is a small inner world of one person, which is now opened for everyone.
By Yuri Somov