Check 'Em All: April's black metal releases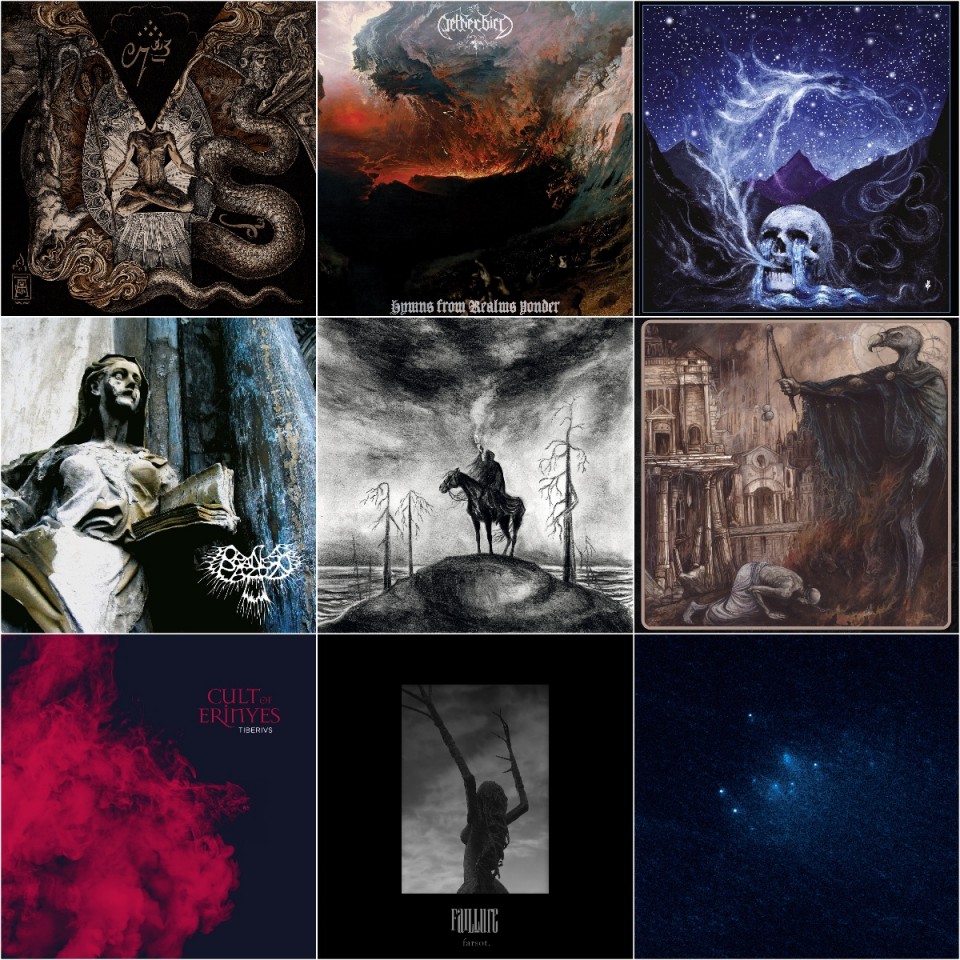 Since the beginning of the year, we've made 3 thematic selections including more than 40 new records released in 2017's January, February, and March. This time, for the April material, Noizr has chosen 13 black metal releases, featuring Inferno's and Ghost Bath's albums, the compilation from Netherbird (the band feat. Amon Amarth's ex-drummer), and the EPs and LPs, in which black metal is combined with thrash, death, and pagan metal, as well as with classical and electronic music.
Inferno — "Gnosis Kardias (Of Transcension and Involution)"
"Gnosis Kardias (Of Transcension and Involution)" is the seventh full-length of the Czech band Inferno. Comparing the new release with its 2013's predecessor "Omniabsence Filled By His Greatness", the group's leader Adramelech noted the new album "is subtler, more figurative, elaborated, cohesive and also more extreme and chaotic. The sounds, visuals, and words offer more ways of interpretation and explanation. "Gnosis Kardias" lives its own life and presents the desperate desire to step beyond the causality of this world to see its hollow nature".
"Starmourner" is the third album from the American depressive/post-black metal band Ghost Bath, which focuses on themes such as depression, loneliness, and death. The band's vocalist and mastermind Nameless said that "Starmourner" LP "explores joy (instead of sorrow), the cosmos (instead of earth), and paradise (instead of purgatory.) But most importantly, it explores ecstasy -instead of tragedy- as its basic human emotion. With over 72 minutes of heavy, melodic, and dramatic black metal, it is Ghost Bath's most ambitious undertaking yet".
Below, you can listen to 2 "Starmourner" tracks, "Thrones" and "Ambrosial". The full album stream available on iTunes, Spotify, Yandex.Music and Google Play Music.

Netherbird — "Hymns from Realms Yonder"

"Hymns from Realms Yonder" is a compilation of the Swedish melodic black metal band Netherbird, featuring Amon Amarth's ex-drummer Fredrik Andersson. The release includes tracks from EPs, B-sides, as well as songs previously available only in digital format. Also, "Hymns from Realms Yonder" has 5 covers on Paradise Lost, Sentenced, Annihilator, The Soundtrack of Our Lives, and Ordo Rosarius Equilibrio.
Farsot — "Fail·Lure"
"Fail·Lure" is a melodic release from the German band Farsot, produced by V. Santura (Dark Fortress, Triptykon, Arms of War). According to the description, "Fail·Lure" title is a blend between "failure" and "allure". This is a conceptual album which addresses the inevitable dilemma between fascination and mania, desire and disgust, power and weakness – the seeming rift between the sexes. It is an allegory of life as a not endless game that cannot be won".
"Tiberivs" is the third full-length release from the Belgian duo Cult of Erinyes, one of whose members is a musician Déhà, who plays in more than 20 different solo projects and groups, including Clouds and Yhdarl. Calling their music "ritualistic hymns", Cult of Erinyes pay attention to the themes of philosophy, history, and human nature.
Craven Idol — "The Shackles of Mammon"
The second full-length album "The Shackles of Mammon" of the British thrash/black metal band Craven Idol definitely should be recommended to the fans of Nifelheim and early Bathory. Dark Descent Records, which releases Craven Idol, also compares their music with Gospel Of The Horns, Manilla Road and Inquisition, calling the sources of the metalheads' inspiration such bands as Candlemass, Sortilege, Samael, Razor, Venom, and Poison (Germany).
"The Shackles of Mammon" was recorded and mixed by Greg Chandler (Esoteric, Lychgate, Nokturnal Mortum).

The debut self-titled release by the German band Ferndal which creates melodic black metal with classical music elements. According to the information on the band's official Facebook page, the group's members are inspired by the works of Bach, Dvořák, Beethoven, and Pärt. It is no wonder that such music tastes entrench the violoncello in Ferndal's tracks as an equally deployed instrument between two distorted guitars. Also, the quintet offers lyrics being far away from any occult, orthodox or whatever cliché topics. Instead, Sorathiel and Lestaya digged deep to find fitting metaphoric words about them (self-)reflecting man's relation to life, death, self-awareness or true individual freedom.
Hellripper — "Coagulating Darkness"
"Coagulating Darkness" is a great album from the British one-man band Hellripper. The project's creator, musician James McBain, plays an old school sounding blackened thrash metal with skillful guitar solos, speed drums, and harsh vocal parts. It's an aggressive punchy music with a noticeable influence of classic metal acts such as the previously mentioned Bathory and Venom.
"Kelle Surut Soi" is the Finnish pagan/black metal release with a tangible influence of classic heavy metal. The album is the second full-length record in the discography of the young Hausjärvi-based duo Havukruunu.
"Presence" is the second 2017's record, released by the Australian project Mesarthim after the January's compilation "The Great Filter / Type III". The project skillfully combines atmospheric black metal with electronic sound, that's why "Presence" EP will be interesting for the fans of avant-garde extreme music.
Enisum — "Seasons of Desolation"
"Seasons of Desolation" is the fifth atmospheric album from the Italian black metal band Enisum (previously, we've mentioned them reviewing their "Desperate Souls" video). The American sound engineer and producer Jack Shirley, known for work with Wiegedood and Oathbreaker, was handled the record mixing.
The Finnish quintet Oranssi Pazuzu's EP "Kevät / Värimyrsky", as well as previously mentioned Mesarthim project, can be also recommended to the listeners who prefer a non-standard approach in music. "Kevät / Värimyrsky" combine black metal with psychedelic and raise themes about space and abstract things.
"Souverain" is the debut album from the Spanish black metal band Atrexial. According to the description, the group "explores a modern perspective of black metal embracing darkness through razorblade melodies and sorrow atmospheres that entwine under mid-tempo and fast drumming beats crowned by a thunderous voice".