Interview with Spiral Skies about debut album, old school music, occultism, and Ghost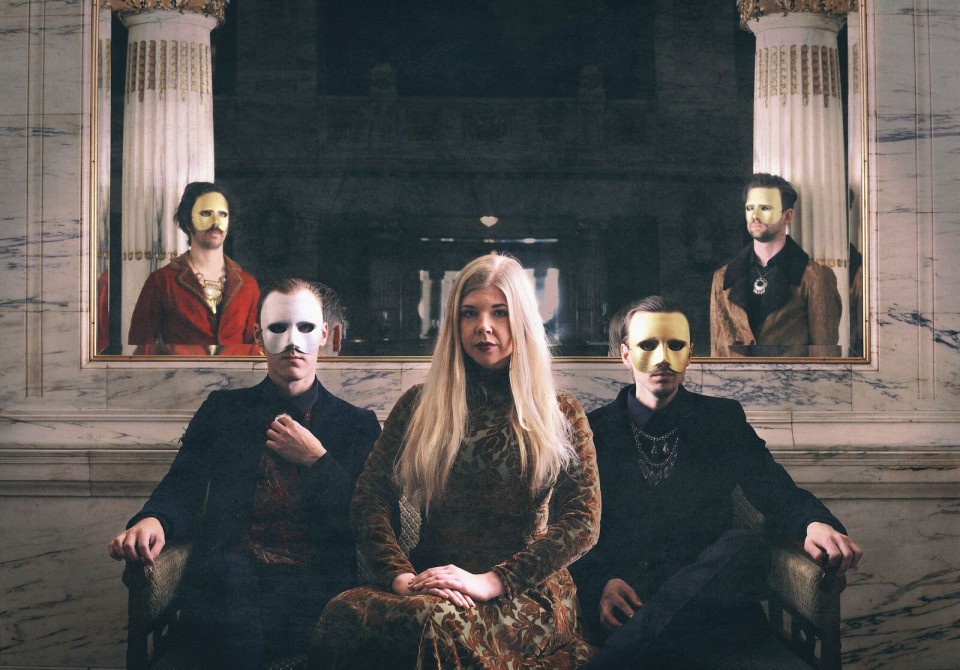 Fans of quality rock with noticeable old school influences can safely replenish their discography with a new name — the releases of a new-formed act Spiral Skies. The music of this Swedish quintet, founded in 2014, was described by Noizr's reviewer as "blues rock operetta with amazing female vocals". Catching music, beautiful vocal parts, and spectacular images that add a touch of theatricality to the group is what distinguish Spiral Skies among many other acts. In honor of the release of their debut album "Blues for a Dying Planet", issued on May 18, 2018, via the independent record label Art of Propaganda (Harakiri for the Sky, Anomalie), we've interviewed the band's vocalist Frida Eurenius, guitarists Dan Grim and Johnny Goldface, talking with them about old school music, occultism, cooperation with the Ukrainian artist Vadim Karasyov, plans for the future, and comparisons with Ghost.
The noticeable feature of Spiral Skies is a very believable retro sound. This concerns both guitar parts and vocals. While recording "Blues for a Dying Planet", did you use some vintage equipment – amplifiers, microphones or effects units?
Spiral Skies: For the recording of this album, we have used some vintage equipment, for example, a Marshall amp from 1971 but we are also using newer amps from Orange and Marshall which has that vintage sounding vibe, and fuzz pedals based on old circuits. Also, both vintage and new guitars were used.
We actually used old tape echo units on our EP ["A Queendom to Come" — Noizr], however, they were not serviced at the time for this recording session so using pedals that emulate the old tape echo was what we used for the album.
So where does this love of old school music come from?
Spiral Skies: It has followed us thru all our lives. Guess we all grew up with this type of music around us. The old school music has such an honesty in it. Not that overproduced kind of crap music you hear today on the radio most often.
In one of the interviews, you, Frida, said that earlier "that type of music was not my thing", because "back then I was singing mostly metal". Has your co-creativity in Spiral Skies affected somehow your own music tastes?
Spiral Skies: Yes, it has. Nowadays I listen to much Americana, singer/songwriter-stuff — mostly with female vocals. Back then I would have thought it was boring music, but nowadays that is mostly what I listen to. Lovely to listen to, and lovely to sing.
Occultism, magicians, witches, hiding in the gloom snakes... Are there any parallels with the world you created and the present time or it's just a tribute to the 60s and 70s when many bands and musicians were into occult themes like Arthur Brown, Black Sabbath, Jimmy Page or Alice Cooper?
Spiral Skies: We are interested in these kinds of themes, Frida's fav author is Stephen King. We all like dramatic themes and to be theatrical. But we don't do it as a tribute to anyone. We just like it.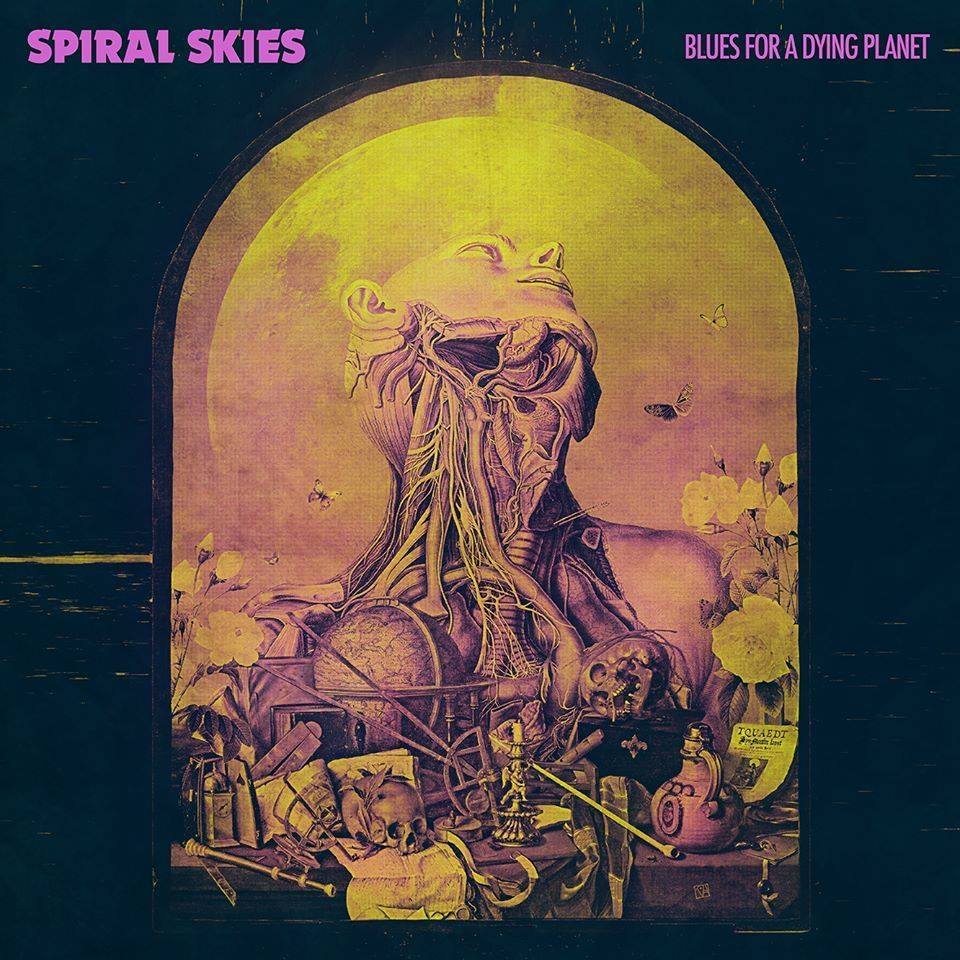 Tell us about your cooperation with the Ukrainian artist Vadim Karasyov and his work on the album's cover. How does the anatomical illustration resonate with the occult theme of "Blues for a Dying Planet"?
Spiral Skies: First of all, he did a superb job with the illustration, huge thanks for that. We actually had a small workshop at Daniel's house [Spiral Skies' drummer Daniel Bäckman — Noizr] when we were discussing the front cover, we all had different artist portfolios that we were watching thru and after a while, Vadim's work came up and we were like, "Fuck yeah, this is what we are looking for". We had another art cover proposal at first but then he sent this image and it fits so well, the darkness was there, so was the mysticism. And when it comes to the anatomy part it's like science, the deeper you dig the more you will find. The same thing goes with our music, there's more to seek than meets the eye.
Share your experience and your views on working with physical media, in particular, cassettes, on which your EP "Queendom to Come" was released in 2015. Why did you decide to abandon this physical format with the release of "Blues for a Dying Planet"?
Spiral Skies: We wanted to create something extra memorable with our first release so we went for the limited cassette edition. For this release, we always had the vinyl in the back of the head and we didn't want to overproduce everything. Sometimes less is more even though Mr. Malmsteen thinks otherwise.
And how do Spiral Skies' members prefer to listen to music – CDs, cassettes, vinyls or streaming?
Spiral Skies: I like to take a break in life and relax in the couch with a vinyl record spinning in the background. Listening to vinyls is more like reading a book from the beginning to the end. But sometimes life comes in between and then I just stream different chapters. There is something special to see the actual record spinning beautifully and watch the needle dance its way to the tunes.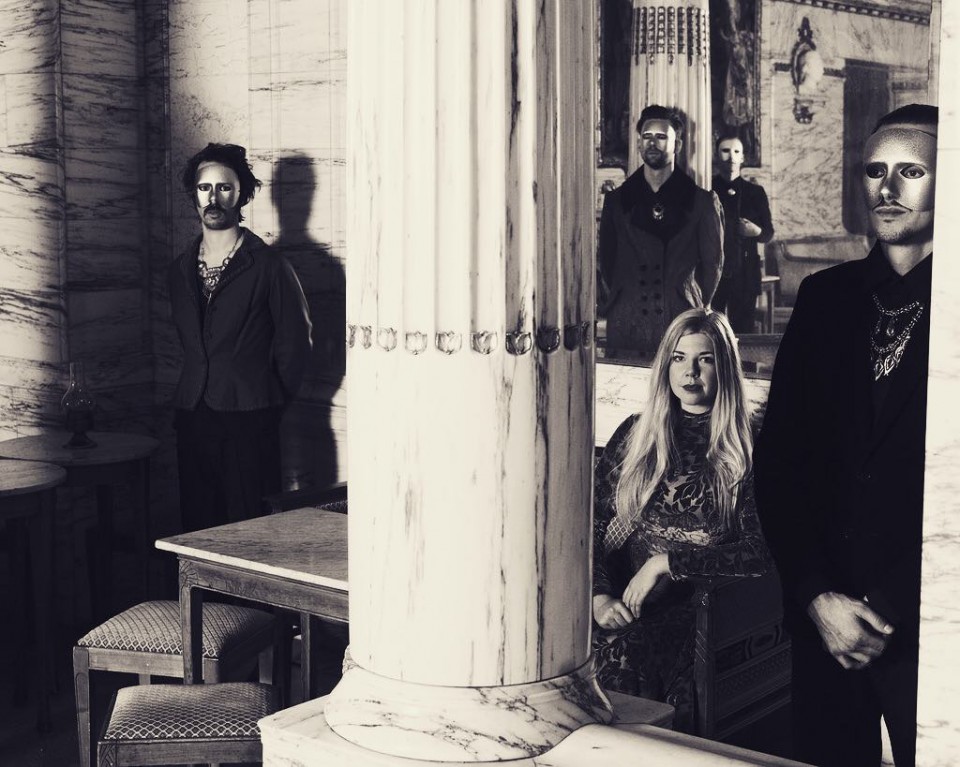 You've repeatedly explained the idea behind the masks, so we would like to ask you the following: how true are the assumptions of some of your listeners that one should expect changes in the band's images with the next album's release?
Spiral Skies: I'm sure there will be some sort of changes, we don't want to write a blues for a dying planet vol II. The music will grow somewhere and so will the image. But we love what we got so any major changes will not appear in the nearest future, you will not see us dressed as astronauts playing digital drums and MIDI guitars haha.
Masks, old-school sound, occult themes, Swedish origins... How do you feel about Ghost and the fact that sometimes you are compared to them?
Spiral Skies: We are honored, of course, people can say what they want about Ghost and especially "Prequelle" but the truth is, Ghost is a really good band, the entire concept is awesome, I mean — who doesn't like a dead Pope having a dark mass from the grave.
On Facebook you've named Space and Time your general inspiration sources. What exactly do you draw from these two, at first glance, intangible things?
Spiral Skies: Our lyrics are kind of wide. We talk about loads of things, and there is not on a particular theme in the songs, like for example occultism, or space. We play On other planets kinda Rock, which means there is no actual music style that we represented in general. And when we write music and lyrics, it just pops out of our souls. So everything that comes from Space and time is what we are inspired of.
Frida, you've said it was your dream to play at the Sweden Rock Festival. So how was your performance at this festival and what goals do you set for yourself now? Perhaps, to play at some other festival scenes?
Spiral Skies: This was one of our best performances, so we´re very happy about that. Great audience and the response was wonderful. You can see some video clips on YouTube :)
Yes, we will go to Budapest this August, and play with High on Fire. Will be great. Above that, some Swedish festivals. Think that next summer will provide even more festivals, the album has only been out a month.
Gathering your fans to a big party, what 3 records would you most likely put on a music player?
Spiral Skies: "Blues for a Dying Planet" (of course, haha), "Abbey Road" and "Opus Eponymous".
Read also: Review of Spiral Skies' "Blues for a Dying Planet" with full album stream
Order Spiral Skies' "Blues for a Dying Planet" via AOP Records in Europe and North America. Follow the band on Facebook.
Interviewed by Yurii Somov and Anastezia
Noizr Zine thanks Austin Griswold (Secret Service Publicity) for helping to organize the interview
All photos are taken from Spiral Skies' Facebook page