​The great and terrible: Three pioneers of shock rock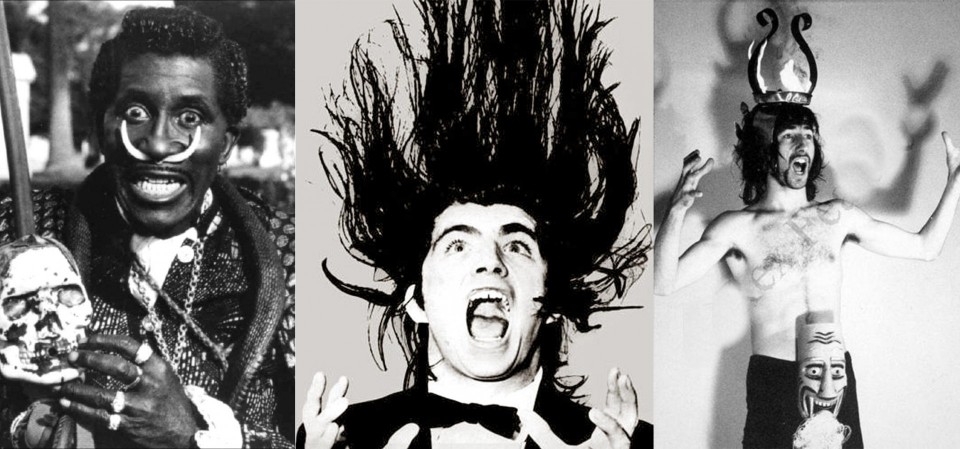 Most of music lovers know that shock rock, the main purpose of which is to impress and terrify the audience, emerged long before Marilyn Manson, Rob Zombie, and Gwar. In this article, you'll find out about three progenitors of such performance style who inspired many generations of musicians.
Shock rock was led off by none other than bluesman Screamin' Jay Hawkins. In 1956, the musician released the single "I Put a Spell on You", which later was covered by many artists, including Marilyn Manson. Originally the song was supposed to be a love blues ballad, but booze made its fateful adjustments:
"... [producer] brought in ribs and chicken and got everybody drunk, and we came out with this weird version... I don't even remember making the record. Before, I was just a normal blues singer. I was just Jay Hawkins. It all sort of just fell in place. I found out I could do more destroying a song and screaming it to death."
After the success of the song, Hawkins complemented the stage image with attributes of African shamans, making his performances looked like voodoo's sabbaths with a good portion of black humour.
While Americans were frightened by Screamin' Jay Hawkins, in Britain its own shock rock stage began to emerge. The progenitor of this style in Europe was Screaming Lord Sutch, who took his nickname imitating Jay Hawkins, later adding a "title", despite having no peerage.
Starting musical career at the dawn of the 1960s, Lord Sutch performed with his own band The Savages, opening each show by rising from a coffin as Jack the Ripper. Other props included knives and daggers, skulls and mannequins, also the musician often organised organised themed tours, for example, such as 'Sutch and the Roman Empire', during of which all the band members were dressed up as Roman soldiers.
Screaming Lord Sutch significantly influenced Alice Cooper and other shock-rockers, and later continued his satirical work in politics. In 1983, the musician founded the "Official Monster Raving Loony Party", one of which members were a cat of the chairman Screaming Alan Hope and Lord Sutch's dog. Despite the death of its founder in 1999, the party still exists and publishes manifestos, arranges meetings and stands in the elections.
Long before Rammstein, the Britisher Arthur Brown began to organize performances with fire, becoming one of the most prominent representative of theatrical rock. Calling himself "The God of Hellfire", the musician appeared on stage with corpse paint painted face and burning crown on his head. The band members also looked in Arthur's own image, dressed in robes and hiding their faces behind masks.
In 1968, there was a release of his debut and most successful album "The Crazy World of Arthur Brown", which included the cover for "I Put a Spell on You" and the song "Fire" that has become the artist's hallmark. Despite its venerable age (this summer, the musician turned 73 years) Arthur Brown continues to give concerts, preparing for the upcoming Halloween show.
Together with Lord Sutch and Screamin' Jay Hawkins, Arthur Brown has become one of three shock rock style pioneers, who have opened the door for Alice Cooper, King Diamond, Rob Zombie, W.A.S.P., Marilyn Manson, Gwar, Ghost, and many other artists.
By Anastezia