​Trailer of "Heavy Trip" movie about metal band's trip to festival in Norway
Check out the trailer of "Heavy Trip" movie, a comedy about a Finnish metal band, willing to perform at the festival in Norway. The film was directed by Jukka Vidgren, Juuso Laatio, who along with Aleksi Puranen and Jari Olavi Rantal also wrote a script for "Heavy Trip".

According to the description, the film tells about "a young man trying to overcome his fears by leading Finnish heavy metal band, Impaled Rektum, to the hottest metal festival of Norway. The journey includes heavy metal, grave robbing, vikings and an armed conflict between Finland and Norway".
The Finnish Film Catalog website reveals other details about the film — in the center of "Heavy Trip" story is a guy named Turo who is "stuck in a small village in Northern Finland. The only glimpses of light in his life are provided by his amateur metal band. He and his friends have played for 12 years without having a single gig. The guys get a surprise visitor from Norway: the head of Northern Damnation, a huge metal festival. They decide that it's now or never. After a miserable warm-up gig, Impaled Rektum breaks up just to get together again. They steal a van, a corpse, and a coffin from the local cemetery, a new drummer from the local mental hospital and flee to Norway. As they are escaping Finnish police, they have to face the Norwegian Army and its notorious vikings in order to get to play their first real gig".
Quote from the movie:
- What kind of music do you retards play?
- Symphonic Postapocalyptic ReinDeer-Grinding Christ-Abusing Extreme War Pagan Fennoscandian Metal.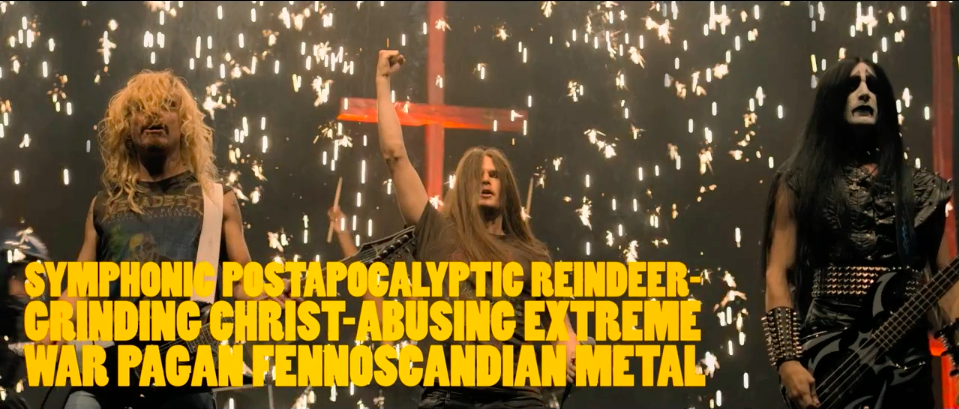 The film premiered on March 9 in Finland. "Heavy Trip" page on Facebook: https://www.facebook.com/heavytripmovie/
See also: