Deadly video premieres: Arsis, Sulphur Aeon, Chapel of Disease, and Demonical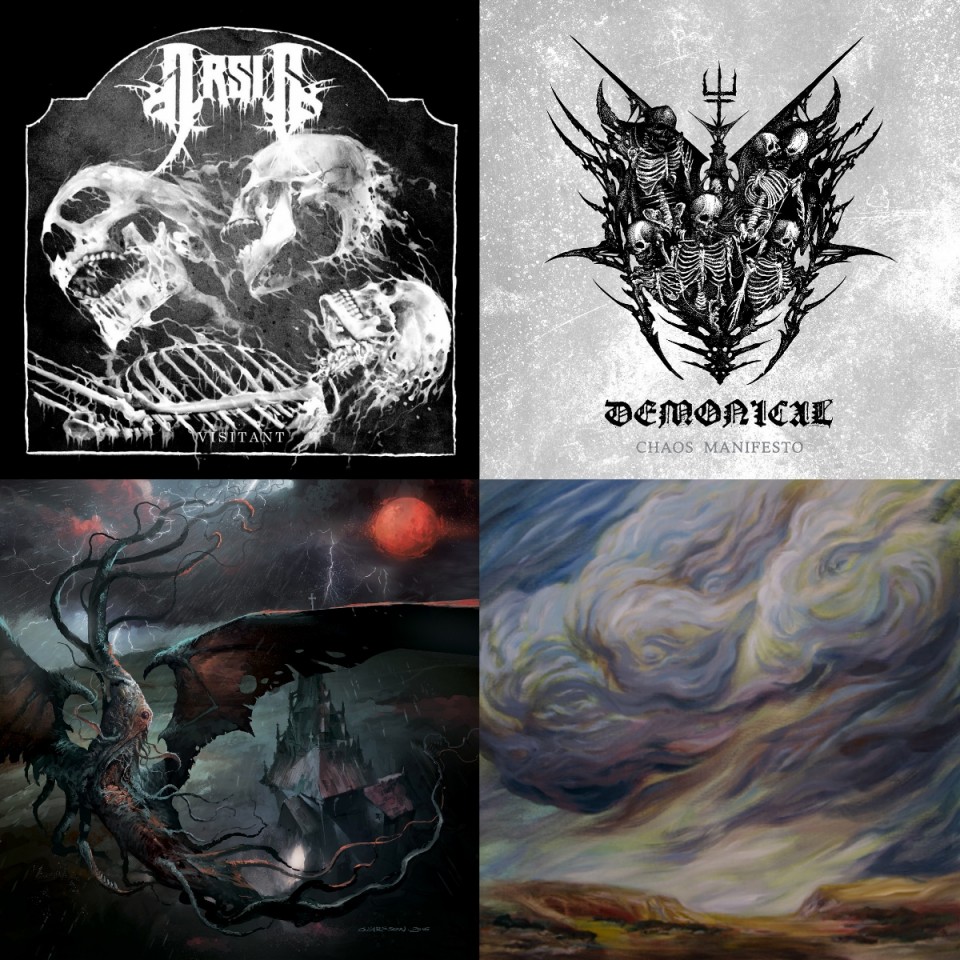 In this post, we've selected new music videos of death metal machines Arsis, Sulfur Aeon, Chapel of Disease, and Demonical. Enjoy!
Arsis' video "Fathoms" from newest album "Visitant"

The American death metallers Arsis unveiled a music video on the track "Fathoms" taken from the new album "Visitant", which was released on November 2 via Agonia Records (Europe, the rest of the world) and Nuclear Blast Records (North, South, and Central America).
According to a press release, Arsis shines as a standout in the technical, melodic death metal genre. The quartet derived its name from the musical term "arsis and thesis", in which "arsis" refers to the unaccented part of a measure. The name's origin comes as no surprise, considering co-founder's James Malone's classical education in music (James' a skilled violinist and a composition major), which in turn ads a whole new layer to the way in which Arsis sounds. And the sound is powerful. Arsis makes death metal that is righteously tinged with black & thrash influences but is completely dedicated to expanding the reaches of melodicism and technicality in the genre. "Visitant", the band's sixth studio album, offers a glimpse at a band in its peak form; the same band which recorded 2013's, Billboard-charting "Unwelcome", featuring The Black Dahlia Murder guitarist Brandon Ellis.
Arsis commented on "Visitant": "With a meticulous attention to detail and hooks, we feel as though we have created our most honest and dark record to date".

Guitarist & vocalist James Malone elaborates: "I wanted to do something different with the lyrical themes for this album and it was just a natural move to incorporate a passion for horror into Visitant. As I was doing my part of the writing I tried to capture the tone and atmosphere of some of my favorite films (Silver Bullet, From Beyond, Prince Of Darkness). It was a very satisfying and fun album to write and I think it might be what fans consider a 'worthy follow-up' to A Diamond For Disease".
See also: Arsis' lyric video "Hell Sworn"
"Visitant", the band's first new album in five years, was recorded, mixed and mastered at Audio Hammer Studio with famed metal producer Mark Lewis(Whitechapel, Devildriver, Cannibal Corpse). The album is replete with cover artwork and layout from Mark Riddick (Arch Enemy, Morbid Angel, Varathron) and features the guest appearance of Trevor Strand (The Black Dahlia Murder) and Malcolm Pugh (Inferi). Order "Visitant" here.
Album formats:
Jewelcase CD
Jewelcase CD with slipcase and patch
Gatefold Black Vinyl (with insert)
Gatefold Ultra Clear White / Gray Smoke Vinyl (with insert and double sided poster)
T-shirt (two versions)
Digital.
"Visitant" cover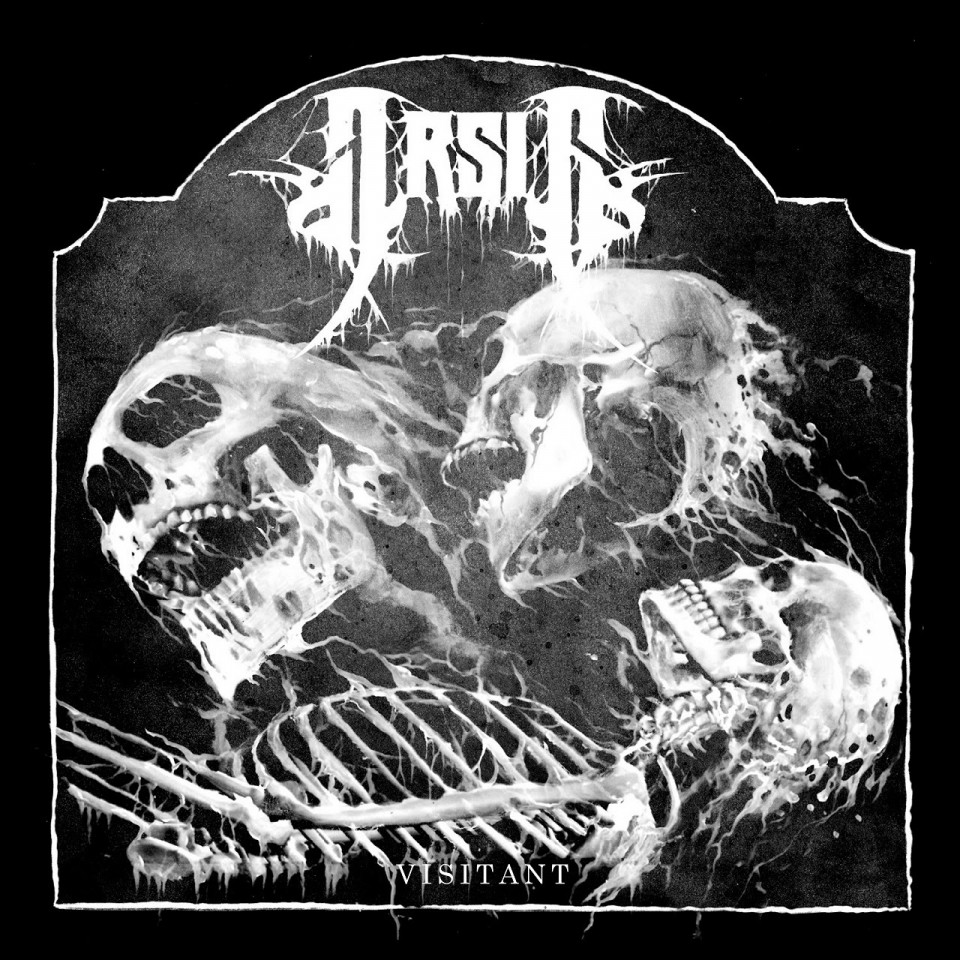 "Visitant" tracklist:
Tricking The Gods
Hell Sworn
Easy Prey
Fathoms
As Deep As Your Flesh
A Pulse Keeping Time With The Dark
Funeral Might
Death Vow
Dead Is Better
Unto The Knife
His Eyes (Pseudo Echo Cover)
In support of the new album, Arsis is co-headlining this year's "Bloodletting Tour" with Decrepit Birth in North America. European dates will be announced soon. Arsis are James Malone (vocals, guitars), Noah Martin (bass), Brandon Ellis (guitars), and Shawn Priest (drums).
Sulfur Aeon's "Yuggothian Spell" video from upcoming album "The Scythe Of Cosmic Chaos"

The German death metallers Sulfur Aeon announce their new album. "The Scythe Of Cosmic Chaos" is to be released during winter's solstice, on December 21, 2018 via Van Records, on double vinyl record, compact disc and via the known digital channels. Above, is its 1st appetizer.
"Yuggothian Spell" is the climax of Lovecraft's "Haunter of the Dark" set to music, as simple as that.
According to a press release, underlined by the song's constant change between storming riffs and an almost doomy pace, it represents the protagonist's descent into madness, in manic fear of what stares at him from the darkness of that ruined church, where he accidentally summoned the ancient evil, haunting him now.
Chapel of Disease's single "Song Of The Gods" from new album "...And We Have Embraced The Eye"
The German act Chapel of Disease have announced a new album "... And As We Have Seen The Storm, We Have Embraced The Eye" with the release of the single "Song Of The Gods". Video animation was handled by David Thelen.
"... And As We Have Seen The Storm, We Have Embraced The Eye" will come out on November 23 via Van Records. The LP is currently available for pre-order here.
According to a press release, starting in 2008 as a band dwelling in the raw death metal sounds from the late 80s, Chapel of Disease released their debut "Summoning Black Gods" in 2012. Three years later it would soon become obvious that strictly following a certain genre would eventually lose its attraction to the band. With their 2015 full-length "The Mysterious Ways Of Repetitive Art" the band would find their way of mixing up sounds to create something unique.
With "...And As We Have Seen The Storm, We Have Embraced The Eye" Chapel of Disease follow that path, yet disregarding any genre-specific expectations even more and putting all the effort in simply making diversified, enthralling heavy music. The outcome is a record somewhere between the atmosphere of black and death metal, including riffing from the golden days of the 70s and soundscapes of the synthie 80s. Chapel of Disease are Laurent T. (vocals, guitar), Cedric T. (guitar), Christian K. (bass), and David D. (drums).
Cover artwork by Timo Ketola, illustrations by Rebecca Waeik.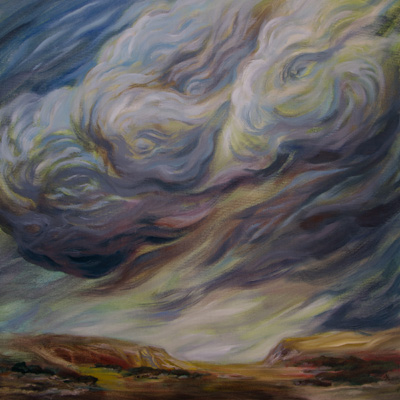 Tracklist:
Void Of Words
Oblivious — Obnoxious — Defiant
Song Of The Gods
Null
1.000 Different Paths
The Sound Of Shallow Grey
Chapel of Disease and Sulfur Aeon are to give an albums release show on December 22 at the Club Volta in Cologne, Germany. Pre-sale hardcover tickets for the gig for 15 euros (incl. shipping) are available here.
Demonical premiere VHS style music video for "Sung To Possess"

The Swedish melodic, brutal death metallists Demonical premiered an old-school VHS style music video for the track "Sung To Possess", taken from the band's latest album "Chaos Manifesto", out now via Agonia Records.
Demonical commented: "We are very much looking forward to November and our return to mainland Europe under the "Carnage Manifesto" banner. As we will be joined by our Swedish brothers in Lik and Of Fire this tour-package will be something special, a total slap of Stockholm-style old-school death metal and a wet dream for every worshipper of the buzzsaw HM-2 sound! Death metal darkness prevails… and then some!".
DEMONICAL + LIK + OF FIRE — Carnage Manifesto tour 2018
6.11 PL Poznan, Klub U Bazyla
7.11 CZ Praha, Modra Vopice
8.11 DE Mannheim, MS Connexion Complex
9.11 DE Bitterfeld, Festung
10.11 DE Hamburg, Bambi Galore
11.11 DE Osnabrück, Bastard Club
According to a press release, Demonical arose from the ashes of formerly disbanded Centinex in 2006, and in comparison to its older sibling, executes death metal in a far more impetuous and melodic manner. "Chaos Manifesto" is a testament to that statement. After nearly five years since the release of the last full-length album "Darkness Unbound" (2013), the Swede's — now led by a new prominent death growler Alexander Högbom (October Tide, Centinex) — continue the traditional Demonical path with fierce HM-2 driven death metal of utter brutality, yet return in a partially new, yet fully fit five-piece line-up. "Chaos Manifesto" was mixed and mastered by Karl Daniel Lidén (Terra Tenebrosa, Cult of Luna, Katatonia).