Blastfest: Who will perform at Norwegian festival next year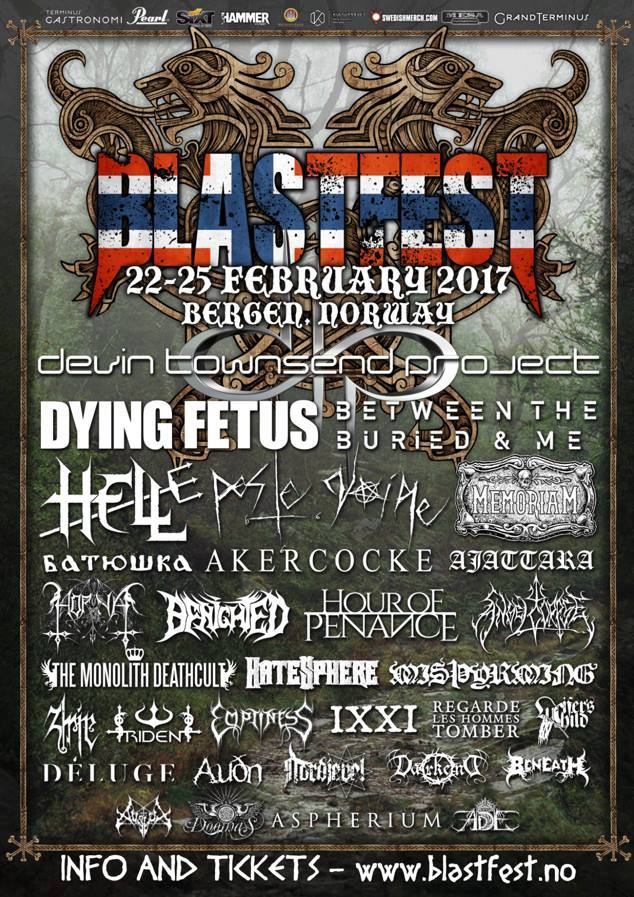 Blastfest is the European metal fest, held in Bergen, Norway. For three years after its foundation, the promoters have managed to establish their event as one of the best festivals with great line-up. At the moment, the organizers have announced the list of the bands and ticket prices for the upcoming Blastfest, which is to take place on February 22nd-25th, 2017.
Next Blastfest features Devin Townsend Project with exclusive "extra heavy set". Philip Anselmo's extreme metal project Scour with music created by Derek Engemann of Cattle Decapitation, John Jarvis of Pig Destroyer, as well as current and former members of Decrepit Birth and Agoraphobic Nosebleed.
The Japanese band Sigh, which has never before played in Bergen. The Swedish bands Katatonia — exclusive "Great Cold Distance" and Marduk — exclusive "Heaven Shall Burn..." . The new-formed British band Memoriam ft. members of Bolt Thrower & Benediction, and the Norwegian Bathory's tribute band — Elizabeth.
The fest's alphabetical line-up:
Ade (IT), Abyssic (NO), Ajattara (FIN), Akercocke (UK), Angelcorpse (USA), Aspherim (NO), Auðn (ISL), Avslut (SE), Batushka (PL), Benighted (FR), Between the Buried and Me (USA), Blood Red Throne (NO), Burning Hatred (NL), Cut Up (SE), Darkend (IT), Deluge (FR), Devin Townsend Project (CAN), Doomas (SLO), Dying Fetus (USA), Elizabeth (NO), Emptiness (BEL), Gehenna (NO), Hatesphere (DK), Hell (UK), Hour of Penance (IT), IXXI (SE), Katatonia (SE), Kronos ( FR), Leprous (NO), Lucifer's Child (GRC), Marduk (SE), Memoriam (UK), Monolith Deathcult (NL), Nordjevel (NO), Overoth (UK), Regarde Les Hommes Tomber (FR), Scour ( USA), Sigh (JAP), Torture Killer (FIN), Trident (SE) and Zhrine (IS).
Tickets and venue
Ticket prices are 666 NOK for 1 day inkl. fees, 1855 NOK for 3 days inkl. fees and 2160 NOK for the 4-day ticket inkl. fees. Buy tickets on Ticketmaster.no
The festival will last on February 22nd-25th in Bergen, Norway, at the Hulen (22nd) and USF Verftet (23rd — 25th). More info about Blastfest is available on the official festival website: http://blastfestnorway.no/