​12-year-old son of Metallica's bass player goes on tour with Korn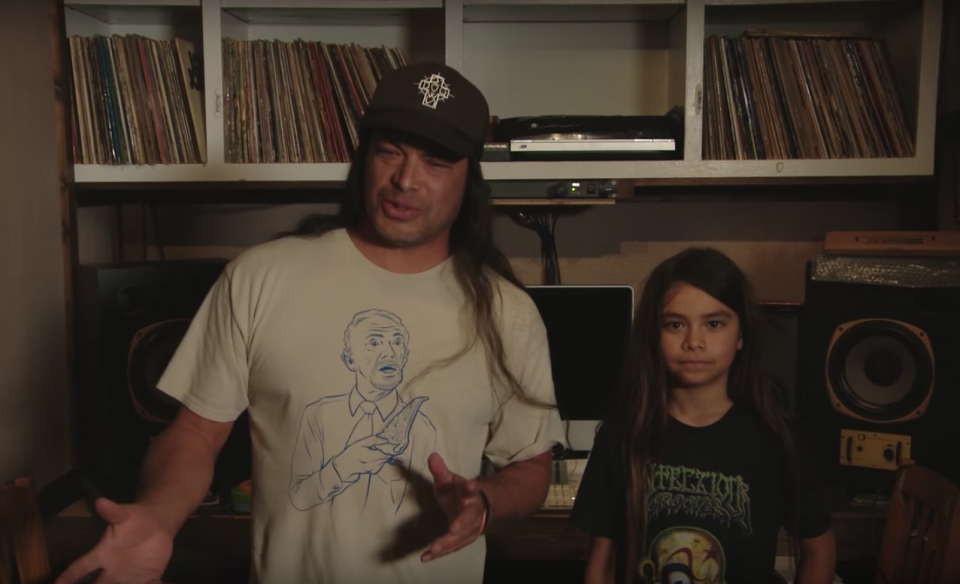 The American nu metallers Korn reported that "due to unforeseen circumstances", the bass player Reginald Quincy 'Fieldy' Arvizu will not be able to perform with the band in South America. His place will temporarily take the 12-year-old son of Metallica's bassist Robert Trujillo and member of The Helmets, Tye Trujillo.

The message from Korn, posted on Facebook:
On April 17 Korn is heading down to South America for a run of dates in Colombia, Brazil, Argentina, Chile and Peru. Due to unforeseen circumstances, Fieldy is unable to make the shows so the band will be joined by a special guest. Filling in for bass duties will be Tye Trujillo, the 12-year old son of Metallica's Robert Trujillo and member of NorCal group The Helmets. Says the band, "We are bummed Fieldy can't join us on this run but excited to do a few gigs with a young player like Tye. We look forward to welcoming our brother Fieldy back when we return to the States in May." Fieldy will resume Korn's 2017 tour at Carolina Rebellion on May 6.
The 52-year-old METALLICA bassist told The Huffington Post about Tye:
"My son is an amazing bass player and a really great writer. The bass lines that he's writing and the riffs, I'm like, 'Man, I wish I had written that.' He's coming up with stuff on his own, but he's also been influenced by players like Jaco Pastorius, but also Miles Davis or Black Sabbath or Led Zeppelin. We even listen to bands like Queens of the Stone Age and Tool. He's like a sponge. He loves funk. He loves James Brown, he's this little 12-year-old who's soaking up and embracing all this different music and I can tell that it's helping him creatively in what he's writing with his band."
Tye Trujillo will play the following shows with Korn:
April 17 — Gran Carpa de las Américas — Bogota, Colombia
April 19 — Espaço Das Américas — São Paulo, Brazil
April 21 — Live Curitiba — Curitiba, Brazil
April 23 — Pepsi On Stage — Porto Alegre, Brazil
April 25 — Estadio Malvinas Argentinas — Paternal, Argentina
April 27 — Teatro Caupolican — Santiago, Chile
Fieldy will rejoin his Korn bandmates at the Carolina Rebellion festival on May 6.
See also: