​Ragnard Reborn Nove Kolo, feat. Forgotten Tomb, Nokturnal Mortum, Horna, etc., to be held this June in Ukraine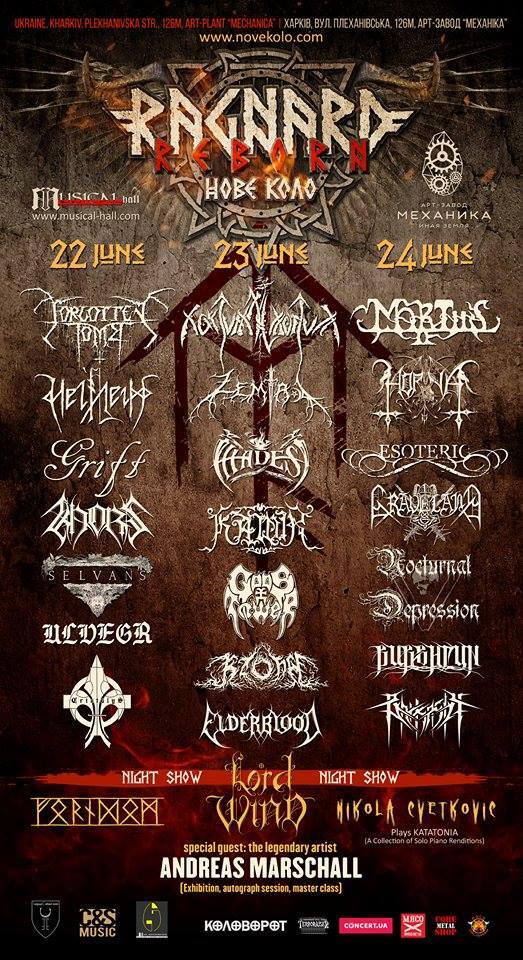 The international festival Ragnard Reborn Nove Kolo, featuring metal acts from Ukraine, Belarus, Poland, Italy, France, Finland, Norway, Sweden, Great Britain, Greece and the United States, will be held from June 22 to 24 in Kharkiv, Ukraine.

In all, the upcoming 3-day event will feature performances by 23 bands, as well as a night show from Serbian pianist Nikola Cvetkovic, who will perform Katatonia's songs.
In addition, the festival will host an art exhibition of the famous German artist, actor, director, and screenwriter Andreas Marshall, creator of album covers for Blind Guardian, Dimmu Borgir, HammerFall, In Flames, Kreator, Obituary, and other groups.
The full program of Ragnard Reborn Nove Kolo is available below.
June 22
FORGOTTEN TOMB (Italy)
HELHEIM (Norway)
GRIFT (Sweden)
KHORS (Ukraine)
SELVANS (Italy)
ULVEGR (Ukraine)
CRISTALYS (France)
FORNDOM (Sweden) night show*

June 23
NOKTURNAL MORTUM (Ukraine)
ZEMIAL feat. Proscriptor McGovern of ABSU (Greece/USA)
HADES ALMIGHTY (Norway)
KAWIR (Greece)
GODS TOWER (Belarus)
KZOHH (Ukraine)
ELDERBLOOD (Ukraine)
LORD WIND (Poland) night show*

June 24
MORTIIS with special set "Ånden som gjorde opprør" (Norway)
HORNA (Finland)
ESOTERIC (England)
GRAVELAND (Poland)
NOCTURNAL DEPRESSION (France)
BURSHTYN (Ukraine)
BARKASTH (Ukraine)
NIKOLA CVETKOVIC plays Katatonia (Serbia) night show*

Special guest:
ANDREAS MARSCHALL (Germany) art exhibition*

Tickets:
Pre-sale — 1300 UAH for 3 days
Pre-sale — 600 UAH for 1 day
Buy tickets: https://www.concert.ua/ru/eventpage/ragnard-reborn-nove-kolo
Venue: Art-Factory Mechanica. Plekhanovskaya street, 126M, Kharkiv, Ukraine
Event on Facebook