Moonspell in Kyiv: new album and another full house show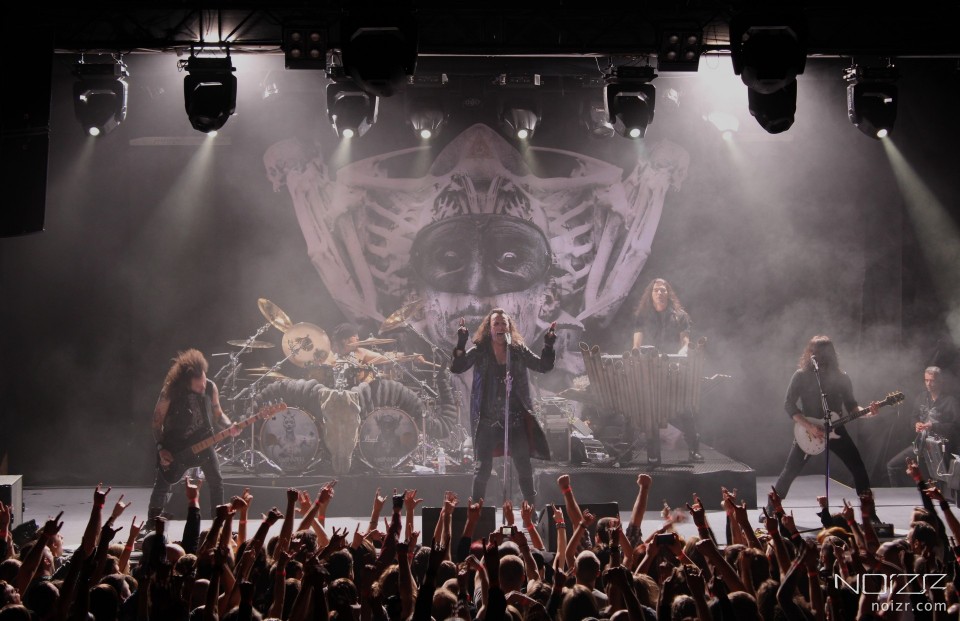 Last Friday, there was a show of the Portuguese metal band Moonspell at the Kyiv's Sentrum club. In March, the black metal and gothic rock legends started a new stage of the European shows in support of their latest album "Extinct". For today, the band's tour schedule is packed up to December. The first ten cities of the big Road To Extinction Tour 2016 include Kyiv, where the musicians have already held their fourth incredibly atmospheric evening.
Moonspell's coming on stage remembered as quite energetic. The musicians one-by-one appeared from behind the scenes accompanied by loud viewers' greeting. They returned to the already familiar audience, and it definitely inspired them. In turn, the Ukrainian fans, who ultimately filled the hall, enthusiastically welcomed Moonspell. In the fan zone's first rows, the people loudly screamed "welcome back to Kyiv".
Once, the band's mastermind Fernando Ribeiro shared his opinion: if the group doesn't include into the new setlist at least half of the tracks from the new album, so it means that its members don't believe in this album. Therefore, the band played for nearly two-hour concert, performing top five songs of their last record and time-tested hits.
The show was opened by powerful new tracks "Breathe (Until We Are No More)" and "Extinct" title track. Then Ribeiro welcomed the audience and thanked them for such warm greeting which the band always has in Ukraine. After adding a few more words about the evening, the musicians continued the show with the compositions from the previous albums. Especially, the audience passionately reacted to the songs from the early studio records "Wolfheart" and "Irreligious".
The stage, including a drum set and a small podium for the synthesizer, was decorated with themed props. Thoughtful light support added an atmosphere to the performance. The musicians were hiding in the dark, appearing in the bright light flashes and, during the hit "Vampiria", the hall was full of bloody colors and Fernando Ribeiro back to the stage in a wide crimson cloak. To "Ataegina" folk motifs, the band's members started dancing, that willingly repeated by die-hard fans in the first rows. The Portuguese guests' energy reigned supreme, from one song to another the audience sang along the verses and even the instrumental parts.
Before leaving the stage, the band once again sharing their emotions and gratitude for the audience's support. Of course, the show was not without an encore. The fans simply did not let guests leave on that note: the hall was filled with whispers and chants "Moonspell" and "We want more". Returning, the Portuguese metallers performed several compositions, completing a successful show with a grim "Fool Moon Madness". After the concert, the band willingly signed a set of posters, CDs, shook ands with their fans and said goodbye until the next visit to Kyiv.
Setlist:
Breathe (Until We Are No More)
Extinct
Night Eternal
Opium
Awake
Domina
The Last of Us
Ruin & Misery
Malignia
Em nome do medo
Vampiria
Mephisto
Ataegina
Alma Mater
Encore:
Everything Invaded
The Future Is Dark
Full Moon Madness
Text by Yuri Somov
Photo by Yuri Somov, Anastezia
Noizr Zine thanks the concert agency HMG for the accreditation