Metal East: Nove Kolo 2020 announces full line-up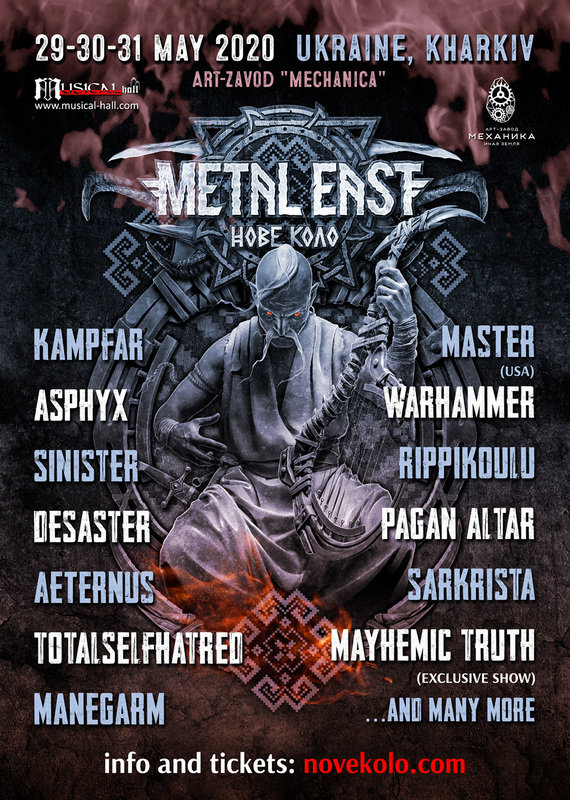 Ukrainian festival Metal East: Nove Kolo, which will be held from May 29 to May 31, 2020, announced the full lline-up. Among the headliners are Arkona, Asphyx, Kampfar, Primordial, and Nokturnal Mortum, who will perform at the event for the third time. The Kharkiv's black metallers are reported to perform a special set at the festival, playing 1996's demo "Lunar Poetry" in full.

Metal East: Nove Kolo 2020 line-up:
Primordial (Ireland)
Nokturnal Mortum (Ukraine) with an exclusive "Lunar Poetry" set
Kampfar (Norway)
Asphyx (Netherlands)
Sinister (Netherlands)
Desaster (Germany)
Master (USA)
Månegarm (Sweden)
Aeternus (Norway)
Warhammer (Germany)
Rippikoulu (Finland)
Pagan Altar (England)
Sarkrista (Germany)
Totalselfhatred (Finland)
Mayhemic Truth (Germany) with an exclusive show
Gehenna (Norway)
Arkona (Poland)
Colotyphus (Ukraine)
Desiderii Marginis (Sweden)
Violent Omen (Ukraine)
Stryvigor (Ukraine)
Orbstruct (Ukraine)
Lik (Sweden)
GreyAblaze (Ukraine)
Necrom (Ukraine)
Metal East will traditionally be held at the art factory "Mechanica" in Kharkiv, Ukraine. Tickets for the festival can be order on its official website for 1500-4000 UAH (appr. $62-167).
Reas also: