Editor's choice: 5 albums for BUMA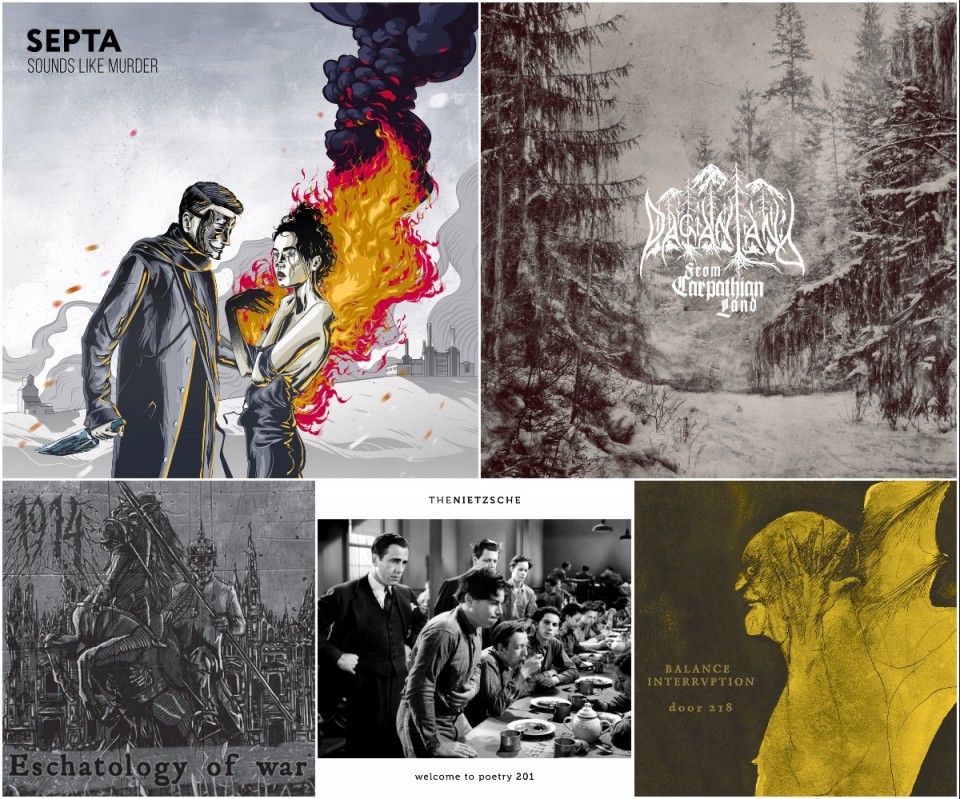 On Saturday, December 10, there was the 4th The Best Ukrainian Metal Act awards ceremony. This year's "Best Metal Band", chosen by the audience's vote, became the groove metallers Jinjer. Besides the main category, Jinjer also won the award for "Best Metal Video" for the clip "I Speak Astronomy", and Odessa-based band Septa with their fresh release "Sounds Like Murder" got the statuette for "Best Metal Album". These nominees were chosen by the jury, one of whom was Noizr Zine's editor. In this article, you will learn about 5 albums selected by our zine for BUMA and releases that were not included in this short list.
125 new releases

There were 125 LPs and EPs for "Best Metal Album" award, each of which I have listened to. The first thing I should mention is that not all Ukrainian metal releases, which came out between December 1, 2015, and December 1, 2016, were presented in the long list. For example, KZOHH's "Trilogy: Burn Out The Remains" and RobustFellow's albums were absent among the nominees, and instead there were a couple of releases, which couldn't be even described as "sort of soft heavy metal". One album was presented by the band defines itself as the Hungarian death metal band.
Another thing that should be noted is the quality of the music. Despite the fact that Noizr Zine's top 5 albums included two releases with hardcore, metalcore and mathcore tags, a huge percentage of "core" albums, which I have listened to, passed me like a faceless monotonous mass. Unfortunately, the same can be said about the majority of bands, no matter what they play — true raw black metal, the aforementioned hardcore/mathcore/metalcore, doom, sludge or post-metal. Most often, the groups didn't have any individual style, no interesting ideas, no high level of performing skills, which didn't help their music to become at least a little memorable. The one-man bands' things are in a really bad way, and the lack of ideas is the most common problem which they have.
In addition, many albums couldn't boast with a good production (even though I tried to check all the releases via their official streams on SoundCloud, Bandcamp or YouTube). One band even honestly informed on VK's page that its "energetic" release was recorded at home. So, my rhetorical question to them is why did they apply for "Best Metal Album" at all? Because they did it together with the groups who spent a tidy sum of money on recording and production. If such "home recording" bands were hoping for some extra PR, I can sincerely assure them that their names became forgotten almost immediately after checking their releases. So, most of boring and musically poor albums were dropped out right after the first listening.
5 albums for BUMA
Septa "Sounds Like Murder"
Paganland "From Carpathian Land"
1914 "Eschatology of War"
The Nietzsche "Welcome to Poetry 201"
Balance Interruption "Door 218"
"Sounds Like Murder" by Septa — for the diverse and interesting material, high-quality recording and production.
Septa is a project of, probably, one of the most funniest man in the Ukrainian metal community, who usually entertains his subscribers with witty jokes, self-irony and trolling.
"Sounds Like Murder" in a few words is a quality and well-recorded release, marked with metalcore, mathcore and post-hardcore tags, but doesn't overuse typical "core" features that commercial and not belonging to the them bands usually do. The album is full of common to these styles vivid energy, and isn't deprived of melody.
However, not only core styles can be found on "Sounds Like Murder". Album gives you the opportunity to fully experience the rich background of the musicians who probably prefer very diverse artists. While listening, "Sounds Like Murder" evokes references to a variety of genres and performers — here everyone can find so many "goodies" and can hold so many parallels, as far as his own music base will allow to do it. Honestly, I like these references on the album a lot.
As for the lyrics, it fully conveys the album's message, stated in "Sounds Like Murder" title: there are words and phrases with victim or violent message, such as "danger", "I can't breathe", "let me go", "murder", "death", "we cracked each other's skulls", "we broke each other bones", or such comparisons "like a caged rat I'm a prisoner".
Besides all of the above, the album stands out by the musician's skillfulness, which will please fans of technical passages. And, of course, it should be noted great work by Sergey Lubinsky on the record's mixing and mastering, and Eugene Tymchyk on its production.
In general, everyone will find something in "Sounds Like Murder" which will make you not only to listen to this album once again, but, as the experts advise, "to put on this release to your friends".
"From Carpathian Land" by Paganland — for the great atmosphere and Ukrainian flavor.
Paganland's new album is an atmospheric release straight "from the heart of the Carpathians". I think that's exactly why Ukrainian black metal, which brings to the genre a fraction of the national flavor, is so valuable. This is a melodic, epic, and soulful album which is listened to in one breath.

Listen to "From Carpathian Land" in full via Noizr Zine.
"Eschatology of War" by 1914 — for dipping into atmosphere of wartime and in-depth work on selected topic.
The sounds of snow storm's bluster, gunfire and explosions, screams and air-raid warnings, the records with the stories of war survivors and propaganda speeches, as well as the pre-war German music — using all of these on the debut album, the band 1914 tried to convey tense atmosphere of the First World War. The cheerful music, like from the old records, only steps up the general atmosphere, warning the listener that as soon as the melody ends, there will be something terrible. And then comes a wall of blast-beat, sharp riffs and a rough growl: heavy metal talks about hard times in world history.
Follow the link to read the detailed review for "Eschatology of War" by Yuri Somov.
"Welcome to Poetry 201" by The Nietzsche — for a new interpretation of the classics, skillfulness, and quality recording.
I really like new interpretations of classic poetry, so this release I have noticed foremost. Sergey Lubinsky did a good work on recording, mixing and mastering of the album, which is full of that wild hardcore energy peculiar to the projects of Odessa's musician Eugene Tymchyk. It's an interesting release which, despite its hyperemotionality, is easy to listen to, perhaps due to the fact that while it's playing you begin to take notice to familiar lines.
"Door 218" by Balance Interruption — for experimentation and energetics.
The Ukrainian metal, especially black metal, can not boast of special passion to experiments. When quantity prevails over quality, you can mainly observe the copying and imitation in the music, the desire to record a release with exact big bands' branded style. Therefore, "Door 218" becomes a kind of breath of fresh air. Crazy avant-garde album combining black metal with jazz, growling, screaming, and various samples with extracts from the Russian-language broadcasts, or just obscene remarks. It's not a mess of different genres, but a very interesting release that certainly will be more interesting than typical raw black metal albums, which I have listened to about a dozen while preparing for BUMA.
Do not miss also
"Circles" is a new release from Uzhgorod-based quartet Crucify Me Gently, who combines in their works doom metal with deathcore, black metal and post-metal. The album features typical hardcore syncopated riffs, accompanied by a wall of blast-beat and a rough growl, screaming "The best dream I have ever had, Is where humanity is already dead". The record is completed by the minor doom melodies, which fully allow you into the album's dark atmosphere. Lyrically, "Circles" stands out with the Ukrainian song "Bat'ku" [Father in Ukrainian — Noizr] which talks about the pain from the loss of a loved one. I hope that suicidal thoughts, raised in this composition, will remain solely with the lyrical hero.
"Black Snow Desert" by Nonsun is a slow and viscous as a resin doom, appreciated by many fans of the genre. For doom lovers, I would also recommend the new album "Ectoplasm" by ex-Kyiv's band Suffer Yourself which is now located in Sweden.
From black metal — April's re-release of Raventale's debut LP "На Хрустальных Качелях" first released in 2006. For the true black metal fans, I can recommend Akoman's "Spiritual Satanic Universe" with a raw underground sound typical for old school, and Morok's new LP "In The Dungeons Of Mind".
We also recommend you to listen to releases from the projects of Kharkiv-based musician Astargh: the new album "Messiah" of his symphonic black metal band Elderblood and GreyAblaze's debut post-black metal self-titled album, recorded by the bands' members from KZOHH, Ulvegr, and Khors.
Brutal death metal fans may appreciate new albums "Denial of the Scriptures" by Fleshgore and "Purification" by Hectic.
If you like sludge and post-metal, so you should check out Octopus Kraft's new album "Through a Thousand Woods". The detailed review for this release can be found here. From post-metal, you can also listen to the instrumental release "Keeper of the Groove" by The Soft Shades.
MegamasS is probably the most well-known hardcore band in Ukraine. Their new EP has all that the band's fans love so much: high-speed rhythms, typical for this style riffs and ferocious screaming, shouting "я буду тем, кем я сам захочу", "оставьте меня одного" ["I will be who I want to be", "leave me alone" — Noizr] which perfectly fits into adolescence world of MegamasS' listener. The icing on the cake is the song "Ромео должен умереть" ["Romeo Must Die" in Russian — Noizr] which will be definitely used as an accompaniment for a lot romantic heartbreaks. Also, "[Odin 3]" is another good release for those who want to let off steam in a slam.
The fans of groove and beautiful vocals, surely should check out the fresh release "King Of Everything" by probably the most touring Ukrainian metal band Jinjer. For those who like metalcore, listen to "Sin Eater" by The Paints Of Past Memories, the EP "Underlying Assumptions" by Every Second Every Day, and "Blackmail" by Space Of Variations. And jazzcore from Cthulhu Rise for the fans of the experiments.
By Anastezia