​Very tasty bait. Review of Spiral Skies' EP "Cult"
— 9/10
Old school is a very non-trivial and very demanding style for an artist. Especially today, in the age of social networks, when every second listener suddenly becomes a harsh critic, and having noticed any familiar riff, he immediately announces the verdict "plagiarists", "imitators" and with great eagerness sharpens his ax. "Hey, this is Zeppelin!", "Creedence knock-off!" Without any criticism towards the "fathers", but they created so much music back in the day, that now those, who want to try themselves in this area, are corny hard to hit the target, and at the same time remain original. One will surely object and say that many of them do not even try, while even managing to receive prestigious awards... and, alas, I also agree with that.

Therefore the good records of up and coming musicians I perceive with big interest, and sometimes even with genuine delight. And in this context, less than a year after the discussion of the gorgeous debut LP "Blues for a Dying Planet", we return to its authors — the band Spiral Skies. Impressively creative, at the same time full of audacity and charm, the five from Stockholm, as well as their latest EP.
To say that the band is about to release its new longplay is still too early. However, the fresh EP "Cult", released via AOP Records on the first day of spring, was an obvious hook with a very tasty bait. As in 2015, when Spiral Skies released the 2-track single "Event Horizon", the band presented only two new tracks, but now with a total run time of just over 11 minutes.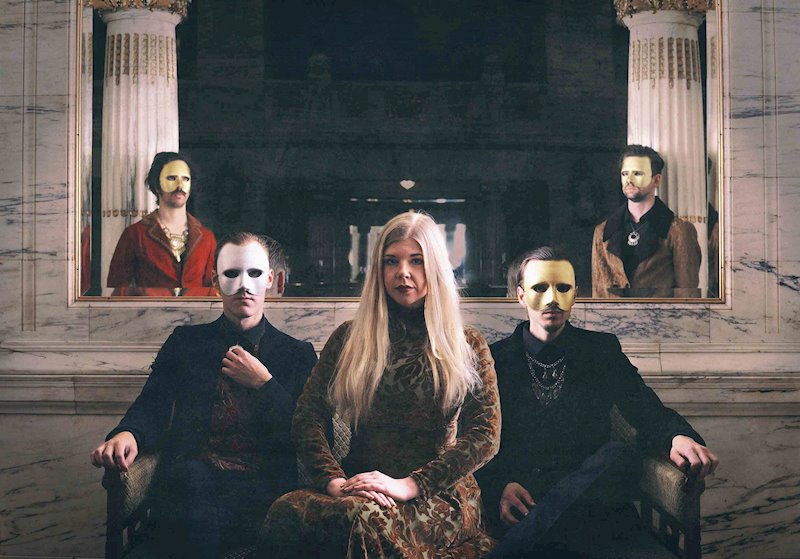 Read also: Interview with Spiral Skies about debut album, old school music, occultism, and Ghost

Both songs on the record are no worse and no better than what could have been expected from the band after the release of their debut album. In other words, this is the same delicious, stylish, sometimes blusterous and theatrically beautiful old school sounding music, that you really want to listen to on vinyl only. Well, if we talk about live presentation, then in a small country bar with wooden interior and some bikes, parked at the entrance.
The title track "Cult" is a cross between the songs "Awakening" and "Labyrinth of the Mind" from "Blues for a Dying Planet". An elegant mix, in which soft blues-rock wanders into hard rock direction and back. And again Frida Eurenius' vocal parts are just incredibly good...
Well, "The Final Set" is a hook like "Dark side of the Cross" which catches you already during its first seconds. The bold riff and swing grooving pace are complemented by skillful second guitar parts with a wah-wah effect, and without any frills. Moreover, it sounds so fresh and juicy that when it becomes quiet in the headphones, you have to struggle with a strong feeling of wanting a continuation. And at this stage, we return again to the question — when should we expect a follow-up?
On March 27, Spiral Skies are going on the European tour in support of "Cult" (order EP on vinyl via AOP Records). All tour dates can be found below.

Reviewed by Yurii Somov