Photos from Inquisition, Kaosophia, Do Skonu show in Kyiv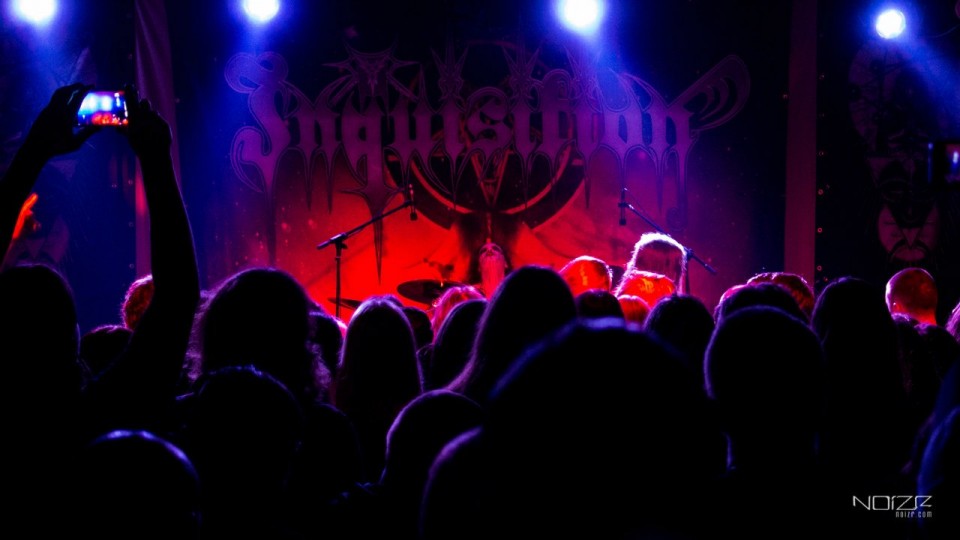 On Sunday, February 15, there was a concert of the American black metal band Inquisition in Kyiv.
Headliners and thematic support by Do Skonu and Kaosophia played their sets almost on the minute, without any delays and protracted soundchecks. During Inquisition's set, however, sound dropped out a few times, but all technical problems were quickly corrected by sound engineer. It should be noted that despite criticism of concert venue by some Internet users, however, it didn't prevent (and, perhaps, help) to create the right atmosphere of underground evening.
Inquisition presented in Kyiv an 1-hour concert program consisting of the songs from the band's all full-length albums. After the performance and a short break, there was held a Meet & Greet, where everyone could took a photo and got musicians' autographs. Some English-speaking visitors were able to talk personally with the band's drummer, who willingly left for a smoke break with metalheads.
Inquisition's setlist:
Force of the Floating Tomb
Ancient Monumental War Hymn
Dark Mutilation Rites
Master of the Cosmological Black Cauldron
Astral Path to Supreme Majesties
Where Darkness Is Lord and Death the Beginning
Embraced by the Unholy Powers of Death and Destruction
Command of the Dark Crown
Arrival of Eons After
Desolate Funeral Chant
The Realm of Shadows Shall Forever Reign
Infinite Interstellar Genocide