​Kerry King: "My goal was to write songs that fans could call hymns"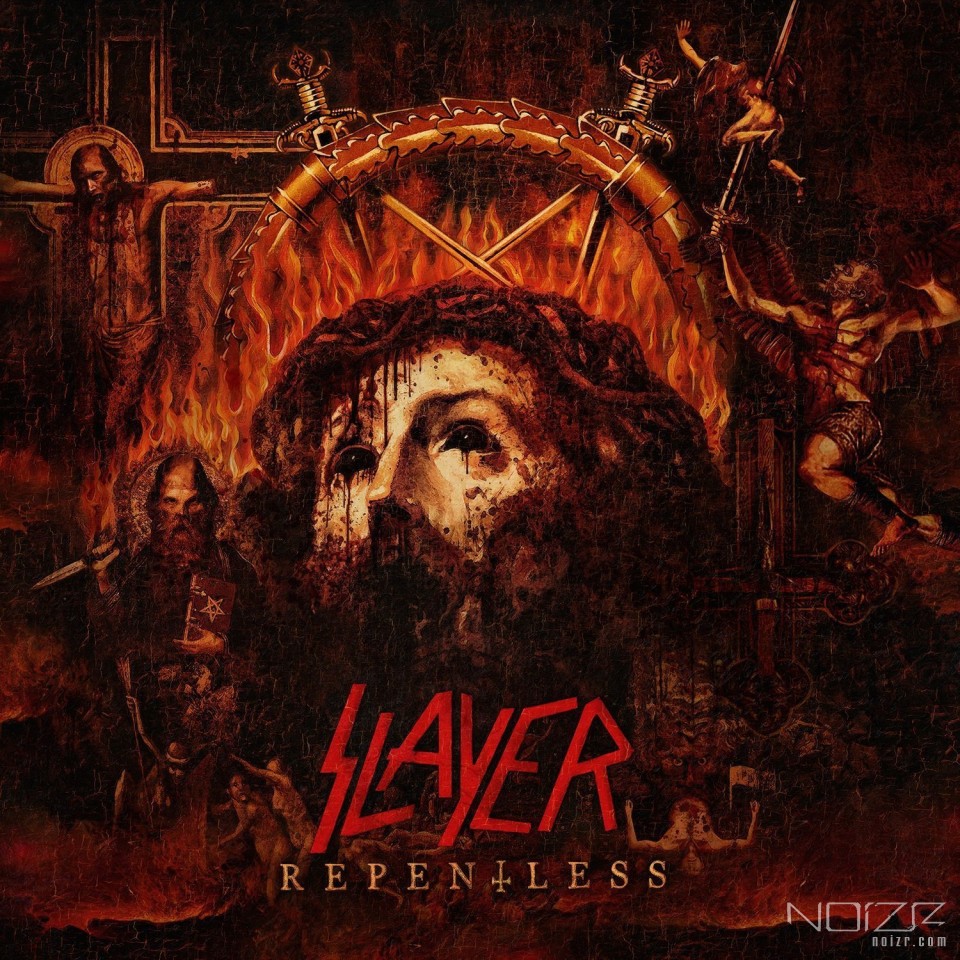 In the list of 30 Most Anticipated Rock/Metal Albums of 2015 according to Loudwire webzine, we can confidently put one more tick. On the 11th of September, the American thrash metallers Slayer rocked with heavy chords, representing their eleventh studio record "Repentless". It worth noting that the album release took place while the band was going through hard times. Nevertheless, the musicians promised their fans one of the hardest records in 34 years of career and they almost done it.

Kerry King: "All my friends who already heard the new material had just a simple "fuck" on their lips, which showed me that it's good."
"Repentless" is rather interesting album, there are a lot of intriguing facts around the record. One of those is the death of Slayer's legend guitarist Jeff Hanneman. It was really irreparable loss for the band and "Repentless" becomes the first album dedicated to the deceased musician. Certainly, the record is full of different emotions, expressed in the music and in the lyrics.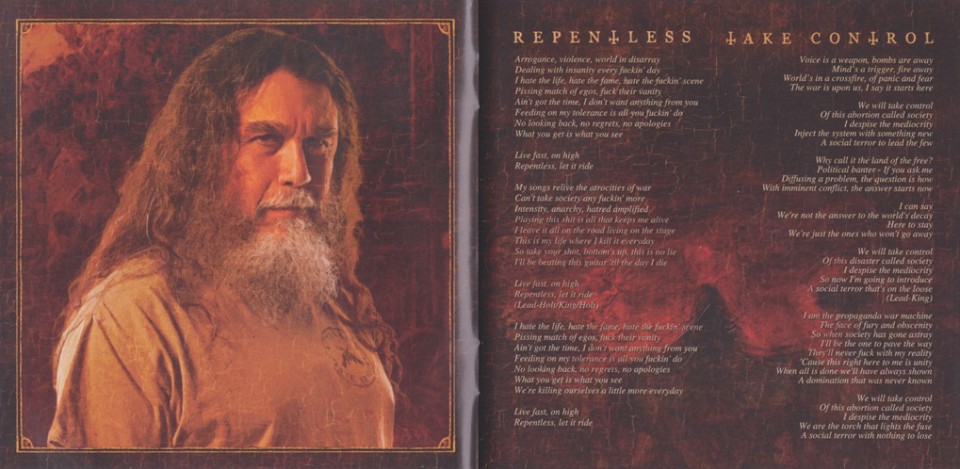 Today, we can say with bitterness that Slayer has lost two brilliant musicians. After the death of Hanneman the band was left by the famous drummer Dave Lombardo citing disagreements over contract. In this way, the album was recorded with two new metallers: Exodus' guitarist Gary Holt and close to Slayer Paul Bostaph (Exodus, Forbidden), who has ranked on Slayer's drums twice. The last album with Bostaph's participation "God Hates Us All" was recorded in 2011 and interestingly that it was also released on the 11th of September.
"Before I was in the band I was a fan and just because I'm the drummer doesn't mean I stop being a fan: it just means my tickets are cheaper" – Paul Bostaph says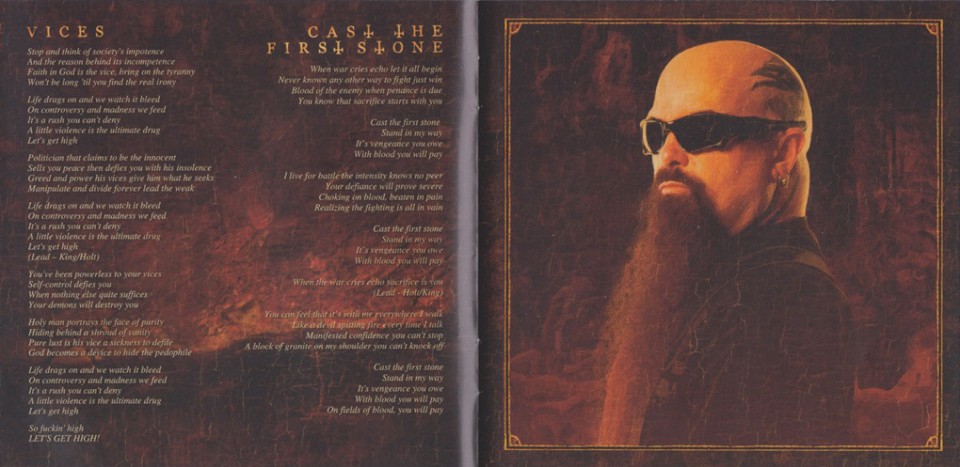 Tom Araya said that for the first records they managed to "steal" Greg Fidelman, soundman, who is famous for his working partnership with Metallica. However, the work on "Repentless" was finished by producer Terry Date, known for producing albums of such giants as Pantera, Slipknot, Dream Theater and other popular bands.
Kerry King: "At some point, Terry knew our new songs better than Tom and I — he gave then us important impulses! For us, it has been the right move forward, he has made a great job."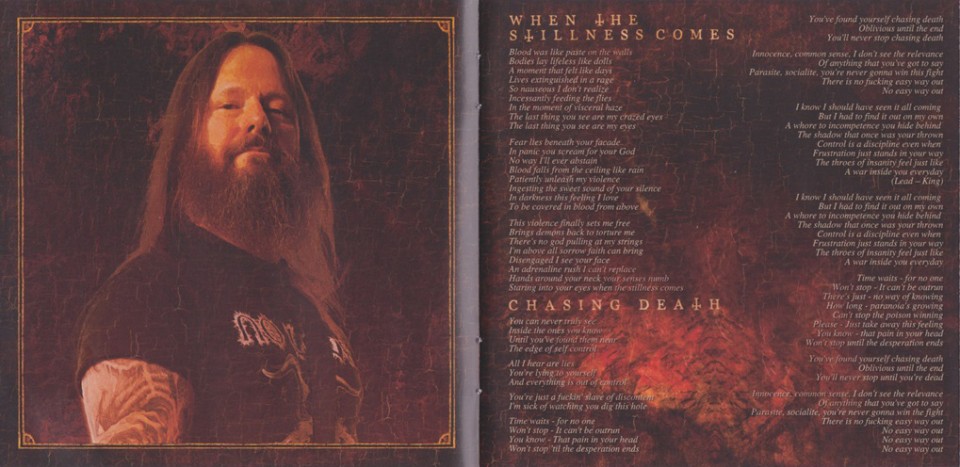 So, in April 2014, Slayer signed a contract with one of the heaviest labels Nuclear Blast and released the record via this brand name for the first time. The album consists of twelve compositions with the overall length near 42 minutes.
Delusions of Saviour
Repentless
Take Control
Vices
Cast the First Stone
When the Stillness Comes
Chasing Death
Implode
Piano Wire
Atrocity Vendor
You Against You
Pride in Prejudice
Kerry King: "We try to never look back, to never repeat ourselves, but to look forward. In the end, we took six years to complete this album and my goal was to write songs that fans could call hymns. If we play these tracks live and Tom sings them, our fans will shout along, because i'm convinced that they could identify themselves as a whole part of them."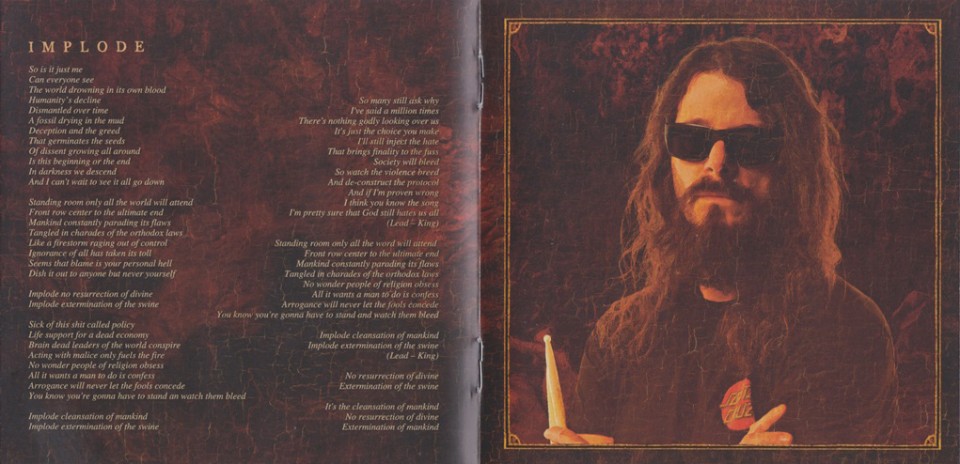 While Kerry King is reading reviews on the lips of his friends, let us examine the material closely. The sullen album starts with no less gloomy, but very uniform intro "Delusions Of Saviour" that absolutely is not transmitting musicians' wish to play the hardest record in their discography. The second title track "Repentless", however, as following "Take Control", breaks from the start like hellhounds, sounding like classic Slayer. Not the other way as the real thrash. We can enjoy berserk hard guitar riffs and Paul Bostaph's battering the drums. Araya's vocals is still afterworld paranoid cry which elaborately sounds with general crazy rhythm.
After the second and the third tracks the metalheads take a time-out for the nearest "Vices", "Cast The First Stone" and "When The Stillness Comes", playing pretty mixed riffs and erratic rhythms which can't get ahead of monotonous routine. Swinging, Slayer spit out rather quick and mighty "Chaising Death" with crazy Araya's cries of despair and filled with exploding solo "Implode". The ninth track "Piano Wire" becomes one more feature of the album, it's unfinished song by Jeff Hanneman. Not a bad start, but, considering that the song was finished by Kerry King, "Piano Wire" doesn't escape from its predecessors, getting lost in its monotony with the chorus. "Atrocity Vendor" sounds in mad thrash rhythm and meet more powerful and really furious "You Against You". The lengthy and tiresome motive of "Pride In Prejudice" finishes the record.
All in all, the disc is listened to at one's easy, so how different in character songs alternate and don't collide in the same motive. Worth mentioning that "Repentless", despite the presence of hard, quick and really quality compositions, does not surprise listener with such hits as "Angel Of Death" or "Raining Blood". "Repentless" takes its honorable rank in the band's discography, but its extraordinary release may be challenged. The author of most of the song is Kerry King and this fact had an influence on the general record's characteristic. Even so, Slayer still retains classic image and remains devoted to its style over the years.
By Yuri Somov
Quotes from the interviews: 1, 2
Loudwire's toplist