Sectorial begins recording third album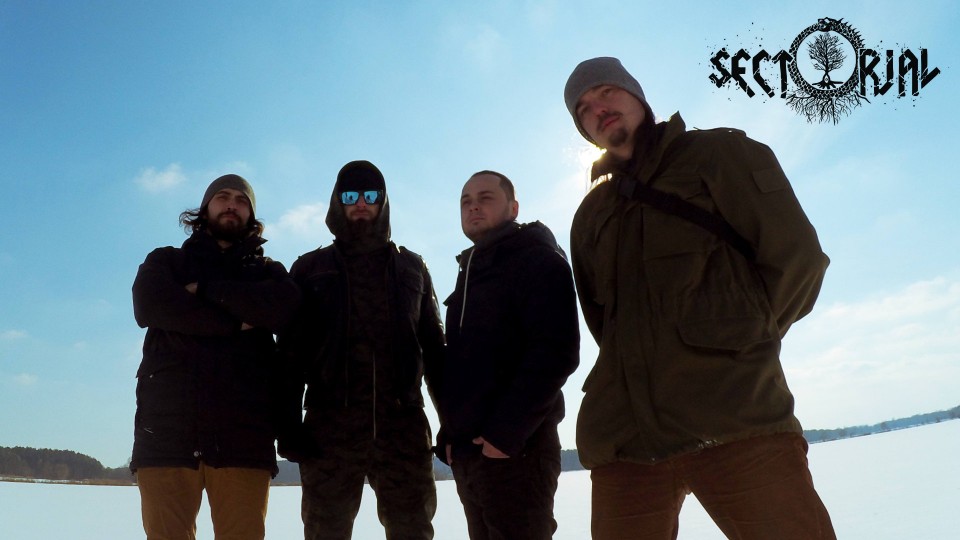 The Ukrainian metallers Sectorial have announced the beginning of recording a new album, which will be the third full-length release in the band's discography. The recording process will take place at the Tyrant Studio in Kyiv, Ukraine. The release of the album will approximately take place until the end of 2018 via Noizr Productions. Check out the interview with Sectorial's musicians below.

Hi! We have not talked with you for a long time, and now we have a good reason for it — you are to enter the studio, ready to start recording a new album. Where are you planning to record and why did you make such a decision?
Ivan (vocals/folk instruments): Hi, I'm glad to talk again on interesting topics. So, we are planning to record a new album at the Tyrant Studio in Kyiv. This is a studio of our good friend Sergei, we have known him for a long time, first of all because of his band Nabaath, in which he breaks guitar strings and screams into the microphone, besides, at the moment he is our live sound engineer, we are satisfied with his work, that's why we decided to try ourselves with a new one material on a new studio.
What should the listeners expect from the new full-length album?
Ivan: We responsibly approached to writing new tracks, honing and remaking weak, in our opinion, moments. In general, the album will be diverse — from slow, viscous and melodic to typical for Sectorial blast beat material. With this full-length album, we decided not to limit ourselves to genre, absolutely — freedom and openness to experiments.

Dmytro (guitars): Definitely, there will be some surprises, an acoustic guitar and more groove.
One album in 3 years — is this such a plan or circumstances happened so?
Ivan: As with the previous album, we came to the conclusion that it's not worth hurrying in these matters, everything has its time, and, as it happened, our pace in writing and recording is one album in three years. Our hands aren't tied by any contracts and obligations, so we work in a pleasant creative atmosphere.

Dmytro: Unfortunately (or fortunately), we, as a group, are a little bit perfectionists, and, before recording directly in the studio, we record the album 2-3 times in demo versions, hence 3 years is still a small interval :)
You record all the instruments live, tell us a few words about it — how the process is going on, it's especially interesting for percussion — how much does the recording of drum kitchen differ from recording a standard drum set? Is the live sound fundamental to you? Because nowadays the synthetic instruments have no worse sound.
Igor (drums): Nobody cancel live dynamics. Moreover — this time we have access to several completely different rooms, where we will record exactly the drums. More options, more nuances — respectively, a new sound, because there is plenty to choose from. Also new drums and a new setup — it's very interesting for me how all this will influence the new concept of our material. A large piece of work is done at the stage of arranging the tracks. We all were pleased with the pre-listening of demos, so we have to do our best and put a bit of ourselves into our songs at the studio. Perhaps, this is exactly what is missing from the "synthetic" records — emotions. I really like the current fervor of the guys — with every new stage of songs editing, we get at such small details about which we never thought. And now I'm confident that the new material will be a worthy continuation of our history.

Ivan: Yes, live sound is one of the basic requirements for recording. In my understanding, the recording and the next process of listening are some kind of magic, the transfer of strength and mood to listeners, so for me, it is important not to abuse the synthetic sound and "MIDI" parts of instruments. As for the new album and ethnic instruments, then, as with the recording of "W.A.T.R.A.", I will continue to move in this direction and try something new.
Your band has considerable experience of working in studios. Are you planning to change something this time?
Dmytro: I plan to record most parts on Esp Horizon guitar, I do not cheat on her for the last 10 years, and also add a few acoustic parts. The choice of amplifier for tracking is currently relevant. Orange performed quite well during the preproduction of the album and at the rehearsals, so I'll definitely give him a chance at the studio.
Boris (bass): For tracking, I plan to use my faithful Warwick Thumb BO 5 Bubinga/Wenge. Recording of the last album "W.A.T.R.A." occurred in 2 stages — the tracking of DI signal (pure sound), which was then re-amped through various amp heads and effect pedals. What equipment and algorithm will be used for the record session this time — that will become known a bit later, in the process, but I already know for sure — the fuzz pedal will be required!
When do you plan to release the album?
Ivan: I hope that the stars will align in the right combination, and the album will be released before the end of 2018, we, for our part, will do everything necessary for this.
Sectorial's currently LP "We Are the Titan's Rising Ashes" came out in 2015 via Noizr Productions. In the same year, the band released a debut video for one of the album's songs "Tree Eater". In December 2015, the video and LP were recognized as "Best Metal Video" and "Best Metal Album" by BUMA.
Sectorial's nearest shows will take place on May 4 and 5 in Vilnius and Kaunas, Lithuania, as a part of Infinite Agony Ritual 3 festival.