​"The main thing is freedom and opportunity to say everything that excites you": Interview with Nokturnal Mortum's leader Varggoth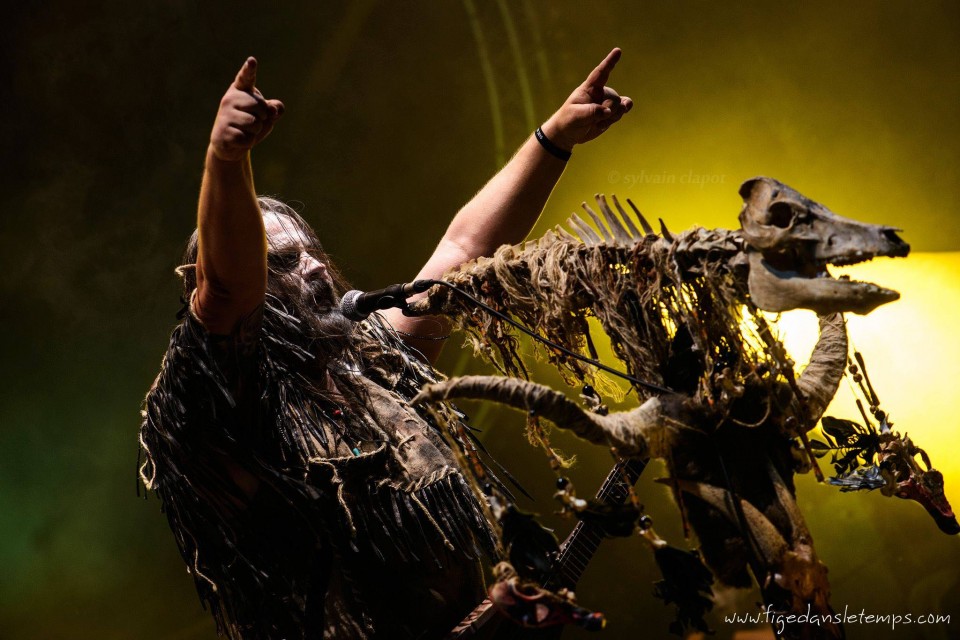 The members of the black metal act Nokturnal Mortum, whose seventh LP "Verity" became a bestseller on Bandcamp already on its release day and was recognized as 2017's best metal album according to BUMA, are not concerned about communication with the media. At the same time, the Kharkiv-based metallers always have enough to tell about.
Having made an exception, the group's frontman Varggoth told Noizr Zine about latest changes in the group's lineup and cooperation with session musicians. Shared his opinion on criticism, the influence of early work on the number of the band's performances in Europe, and also explained why Nokturnal Mortum doesn't need any rewards and will never release its branded beer.
The interview was translated from original Russian version by Noizr Zine.

A part of "Verity" physical copies is sold out, also on the first day of sales, it became a bestseller on Bandcamp. Did you expect such a positive reaction?
Varggoth: Yes, we did. NM is the mouthpiece of the Gods. There could not be another way. So it's destined!
In addition to the excitement among listeners, Nokturnal Mortum has become one of the few black metal bands in Ukraine which attracted the attention of well-known non-metal media (BBC Ukraine, for instance). How do you feel about their attention?
Varggoth: It proves to us that with this album we cried loudly and were heard. It pleases because what has been said must reach the ears. The more of them, the more valuable the result is!
Inferno's leader, commenting on the band's nomination for Czech Grammy, said that "black metal does not need such superficial awards from outsiders". Nevertheless, many cult acts, such as Satyricon, Watain, etc., were awarded back in the day. Do you think that such awards are necessary in Ukraine or do you share the opinion of your Czech colleague?
Varggoth: I would refuse such [award], but without commenting on anything. I do not need praise to move on.
Nokturnal Mortum is very good at selecting the session musicians for albums recording. "Verity" is no exception. Do you plan to continue collaborating with the musicians who have worked with you on this LP?
Varggoth: Yes, sure. Recently, the cymbalist and keyboardist Surm, who recorded all the parts of the cymbals and arranged all the folk string instruments on the album, has joined Nokturnal Mortum as a permanent member.
I'm very grateful to everyone who helped us to realize our ideas. These are people who understood us, they are real professionals who played a huge role in the action of Verity!
I was always curious about the fact that you announce the next album with the release of the current one. Usually, an album's title reflects its main message. So how can you name a release if you haven't even begun to work on it?
Varggoth: The name of the album comes to me as insight. Someone whispers it in my ear. I have repeatedly said that my merit in creating our albums is small. I know that this is done by more serious forces, and I am only a guide.
I am myself amazed when everything converges at one point and turns out in what we hear. I can compare it with the birth of a child and his parents' work on this.
You've named your next album "The Amulet". Thematically, it will be again linked with the Ukrainian folklore and ancient beliefs?
Varggoth: I won't say anything since I'm in the process. And if I say something, I will draw a path for myself, according to which I'll have to go. So let it all go its course. It will be as it should be!
This year you are to perform at the Ragnard Reborn Nove Kolo Festival in Kharkiv, Ukraine. Apparently, this will be a truly large-scale event not only for the city but for Ukraine as well, won't it?
Varggoth: Ragnard Reborn Nove Kolo is conceived in a big way. I want everything to go perfectly well. I hope that the festival will be able to avoid mistakes and shortcomings of Ukrainian metal festivals and this will be a real milestone in the cultural sphere. We, in turn, are working on our performance and preparing several surprises for our loyal listeners. And Ukrainian fans will be able to show that supporting the scene and the movement are not empty words for them!
Do you have any regrets about the fact that due to your early work, Nokturnal Mortum is banned by many European festivals?
Varggoth: It's meaningless to regret about the past. What is done, remains with us. We are not ashamed of any of our steps in the past. And the fact that someone has a problem with NM is the trouble of our time. When obscurantism, totalitarianism and just human's silliness conceal under the mask of progress. Domestic order, Sharia — all this is presented as a cultural diversity. In fact, Europe renounces what made it great — freedom of speech, science, and humanism.
A musician's interests and hobbies often influence his lyrical themes, for example, books about the Second World War affected the songs of Asphyx, and Portuguese poetry inspired Moonspell's leader, etc. And what about Nokturnal Mortum? How much its lyrical themes (paganism, Ukrainian folklore, in particular) related to your personal interests or is it kind of tribute to the pagan metal genre?
Varggoth: First of all, NM never paid a tribute to anyone! We created our albums when many [people] did not even think about paganism and Ukraine. It is wrong to call it an interest. This is my life. It has been in me from birth. And my hobbies and interests can vary from one to another, whereas the theme of our albums is the core, the worldview, the inside, the development.
I wonder your attitude to the estimates of "true" behavior of black metal musicians. For example, some people criticize Behemoth's frontman for his too "rock-and-roll" image, others, on the contrary, speak negatively about modern "true" BM bands, saying that they are irrelevant and just copy the old school groups. What do you think about this, is there some golden mean for you?
Varggoth: Today I revised the attitude to many things. Basically, it's all children's games. And it doesn't matter for high purposes. In any case, it's wrong to look into someone else's dish, if only because at that time someone will take everything you need from you. On the other hand, people, who come in black metal, they are people of a certain character, so why will you go there if you want something else? There is a share of hypocrisy, and I hate hypocrisy!
Metal fans often sharply criticize pop stars who wear metal merch. Musicians themselves mostly treat this with irony. And how do you perceive that your merch is worn by atypical fans of metal, for example, by the young Russian rapper Pharaoh?
Varggoth: I don't mind. We produce our merch for one to wear it. To be honest, I do not really follow the pop scene and do not know what they prefer to wear. If someone puts on our T-shirts, it's good. If they like it, then they have the right to buy and to wear it. And even more, if they are interested in NM and our message, they thereby carry it to the people. And, perhaps, they have the right seeds for development.
Some bands, including black metal acts, expand their line of merchandise, producing alcoholic beverages and unusual souvenirs. Have you ever thought of releasing Nokturnal Mortum's branded beer or wine, for example?
Varggoth: Of course not. This cannot be attributed to NM in any way... What a stupidity!
How do you feel about the statements of some musicians who say that foreign acts are doing much better than Ukrainian bands? As an example, we have this quote, "Here [in Ukraine] even the orgs of metal fests and metal labels can take money from their own bands for performances or releasing. Can you believe in that?". As a musician who has repeatedly performed abroad, worked with foreign bands, labels, and promoters, do you think such statements really reflect the problems of the modern Ukrainian metal scene?
Varggoth: The fact is that we've never been in the "Ukrainian underground". We always had our own circle, which we referred to the world scene. Of course, I always knew what was going on here, and knowing that, I always avoided it. The fact that the orgs take money for a concert is one problem, but the fact that a band pays for a concert is even more disgusting. You should have no respect for yourself and be really hungry for success, fame and so on [if you do such things]. THE MAIN THING IS WHAT YOU DO. All the rest is just garbage! Music is not a job! At least for me. Glory? Glory is dust, from which allergies happen. The main thing is Freedom and the Opportunity to say everything that excites you.
Interviewed by Anastezia and Yuri Somov
Translated from Russian by Anastezia