​Inside the Producers' Studio. Studio set-up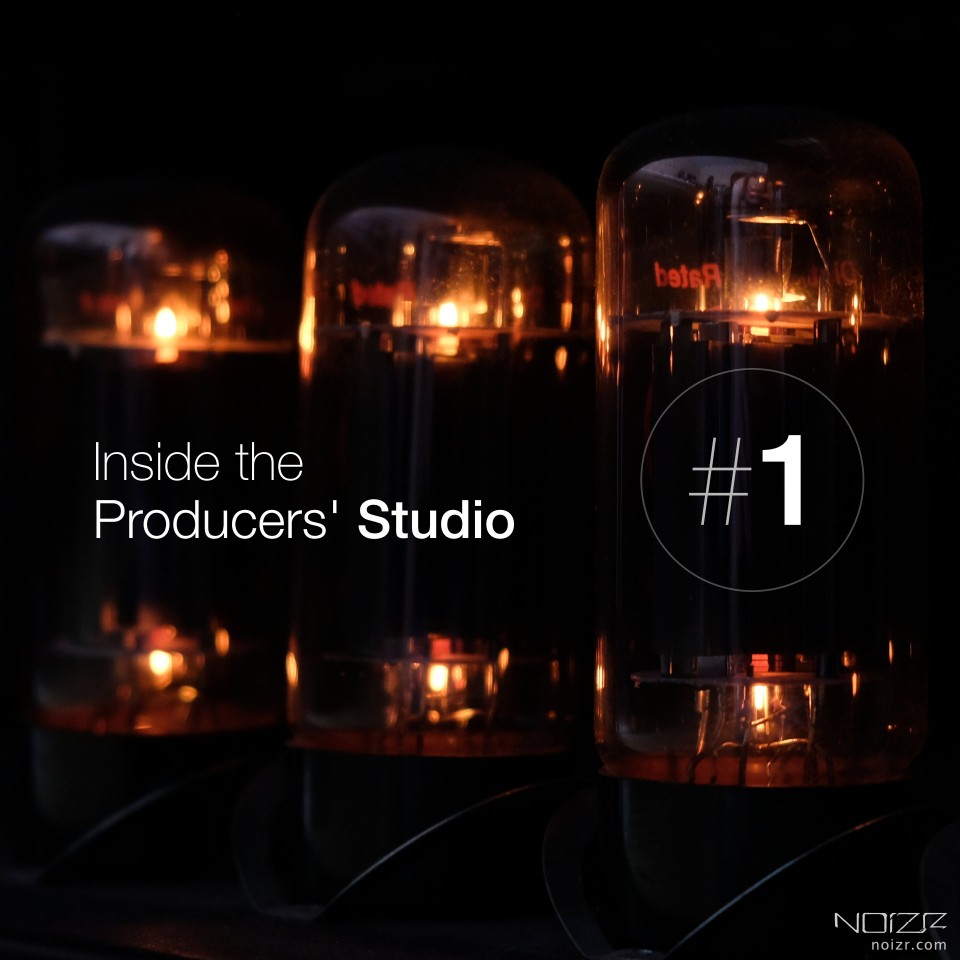 Welcome to a new series for Noizr — Inside the Producers Studio. In this extreme metal mixing guide, top producers from across extreme metal will share their knowledge and wisdom about recording and production. We've hand-picked some of the best and most interesting producers; some from large studios others from more niche circles, whatever their situation, you'll be sure to pick up tips and get an insight into the minds that are shaping metal in the current era. This first article is focused on how different producers have their studios set-up, to help you get an idea about what it takes to produce your own great records.
Experts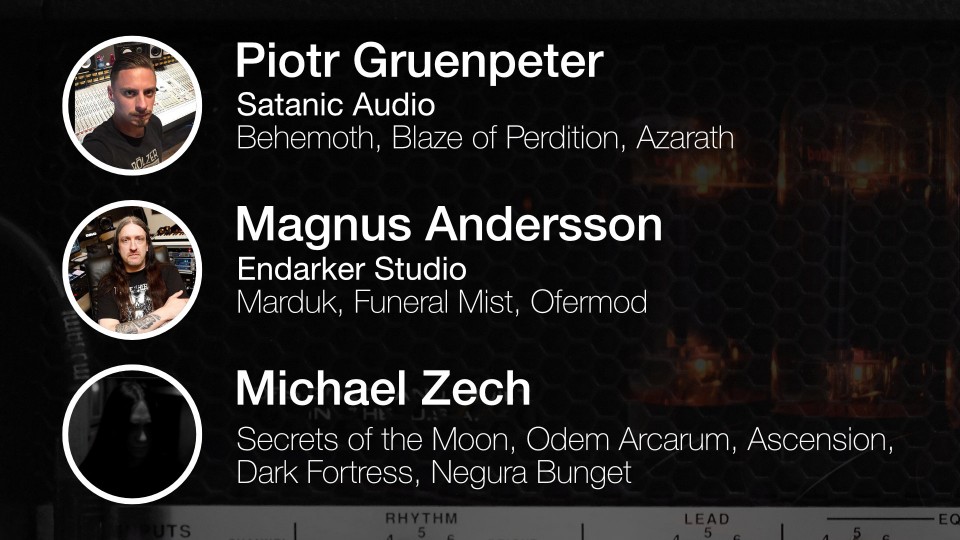 Piotr Gruenpeter is the owner of Satanic Audio in Poland, despite being heavily involved in the black/noise project Thaw, Piotr has also produced acts such as Blaze of Perdition, Behemoth and Azarath. Contact: https://www.facebook.com/satanicaudio/
Magnus 'Devo' Andersson is the mastermind of Endarker Studio in Sweden, having worked on genre-defining records with bands like Ofermod, Funeral Mist, and Marduk, with whom he also plays bass. Contact: http://www.endarker.com/ and https://www.facebook.com/endarkerstudio/
Michael Zech is a multi-instrumentalist playing in bands such as Secrets of the Moon, Odem Arcarum as well as having been involved with mixing and producing such esteemed acts as Ascension, Triptykon, Dark Fortress, and Negura Bunget. Contact: https://www.facebook.com/sourceofsoundscape
Studio Set-Up
Could you give a brief overview of how your studio is set-up?
Satanic Audio: I don't actually own a recording studio. I have my small home/personal space that right now is digital, but I work in different studios. Every project and budget is different, so I can mix on my computer set-up or on a console (for example Audient in MAQ Records or SSL 4000 in Tall Pine Records). Digital is good because you have a super fast recall, recalls in analog take a long time so you end up paying extra money for that session. However, if the band says, "Ok, the mix is done", you can mix in analog; it's super fun and the results are fantastic if you use high-end gear.
Endarker Studios: In my studio, I have a 28 channel input via RME interfaces such as Fireface 802, 2x ADI 8 DS and Octamic II. I also have a Phoenix Audio DRS-8 mk2 microphone preamp and an Empirical Labs Mike-E mic preamp. Some of the outboard gear that I have are Empirical Labs EL7 Fatso JR and the Empirical Labs LIL FREQ. I mostly use two guitar amps a Mesa Boogie Dual Rectifier and an Orange TH-30, however, I also use a Kemper Profiler Rack, as well as Two Notes Torpedo Live, Two Notes Le Lead and Reamping equipment from Radial Engineering. I've also got a LOT of synthesizers:
Yamaha Montage 6
Moog SUB37
Moog Minitaur
Moog Mother 32
Elektron Analog Keys
Elektron Analog Rytm
Korg Electribe Sampler
Dave Smith Instruments Mopho Keyboard
Dave Smith Instruments Tetra
Waldorf Streichfett
Arturia Matrixbrute
Michael Zech: I work out of one studio permanently for about 1 year now. Through the prior years, I took on bookings into a variety of studios within Germany as well as Los Angeles. I particularly enjoy working in studios that I'm not completely familiar with, that put me out of my comfort zone. I believe that this inspires me to experiment and not stick to a workflow one could become too used to.
Nevertheless, I have a new home base since 2017 called Q7 Studios. It's located outside of my hometown Munich. We have an approx 40 square meters live room, an additional vocal booth, plus 2 more rooms that can be used as separated booths for live recordings. The studio was built in the 90s — beautifully built room in room, speakers in the walls etc., what nobody does these days anymore. I feel very fortunate to have achieved such a place.
Behemoth's "God=Dog". Co-recorded by Satanic Audio
How much of your studio is analog or digital?
Satanic Audio: My home studio is a MacBook Pro, universal audio interface and Me Geithain monitors, that's for the records with tight budgets. What's essential for me is to have quality microphones, preamps, and outboards on the way in, and of course good sounding instruments and good studio acoustics — that's most important.
Endarker Studios: I don't use or own an analog mixing desk or any multi-channel tape reel machines. However, I have some analog gear like a couple of 1/4 inch stereo tape machines, one Revox and a Studer, a tape cassette deck and a couple of turntables. As previously mentioned I also have the Empirical Labs EL7 Fatso JR and Empirical Labs LIL FREQ, and of course, some analog synths and drum machines. The rest of it is digital more or less.
Michael Zech: As it became quite common these days, I use analogue preamps, but record on Pro Tools. I also mix and master completely in-the-box. I love the sound of tape, unfortunately, I never learned to use it. Mixing on a nice analogue console is really sexy. Unfortunately, a contemporary mix requests an amount of automation etc. that is hardly manageable in a purely analog environment. Going hybrid in mixing can easily become a momentum-killer as, by the time you connect your outboard compressor to be on your drum bus, you might already lose the tone you wanted to go for.
There are more and smarter solutions to connect both worlds in a senseful way, like SSL's Duality. Still, I haven't found a system for a reasonable cost.
Which DAW software do you use?
Satanic Audio: I use Pro Tools because it's everywhere and it's enough for me!
Endarker Studios: I'm currently using Cubase 8.5. I've used Cubase since 1994, at that time only for programming synthesizers. Later when Cubase for PC came out I continued to use it.
So I'm so used to the workflow in Cubase. I've tried Pro Tools but I think the audio editing functions in Cubase are better, it looks better and the MIDI functions are the best!
Michael Zech: I work on Pro Tools HDX. Although quite pricey, it's the only zero latency solution that allows you to work in one program — At least that I know of. I use Pro Tools since the very beginning, so I'm comfortable with it. It's superior in some aspects yet sometimes disappointing in other — like all serious DAW's. I suppose one can develop their own way to work around the quirks of the DAW of their choice after a while.
Marduk's "Frontschwein". Recorded at Endarker Studio Sweden
How has your studio's set-up evolved in the time since you've started?
Satanic Audio: I actually used to have a console but couldn't use it because it needed servicing and it didn't have a recall. I choose different studios for different projects now and mix itb (In The Box); digital sounds really good right now.
Endarker Studios: I started the studio in 1998, at that time I had a D&R Avalon mixing console and a Fostex D-160 16 channel digital recorder, dbx compressors, and some reverb hardware — Yamaha and Roland.
Then I switched to an Alesis HD24, more channels, and higher bit rate, when computers got a bit more powerful I moved onto work in Cubase in full and I got rid of the mixing console, so instead of the Alesis HD24 I got the RME-interfaces.
So now I only use good quality microphone preamps and do all the mix in the box. I believe that if you capture the sound from the amp, drums and try not to process it too much, you will get a great sound. I usually use an eq for cutting frequencies only and try not to use too many plugins on my tracks — Metal music should sound organic and aggressive, not hyped and overproduced!
Michael Zech: My first studio was in a vintage farmhouse in the middle of the woods outside of Munich. That place had a lot of charm but was also at times presenting obstacles. I started with a Digi 002 mix and an additional PreSonus interface (to be able to record 16 tracks at the same time) on native Pro Tools (7, I think). Over the years I bought a Yamaha 02R, to work around latency and more mics. It wasn't a pro setup at all, still, I recorded a lot of great albums there. I believe it is much less about the equipment you use when compared to the person who is using it (until a certain point of course). By 2014, I started to work out of different studios until I found Q7 Studios in 2018. While I continue to be open for engineering recordings in other studios based on the logistics of the projects, I am doing pretty much all my mixing at Q7 now.
What drum kit(s) do you have in your studio?
Satanic Audio: If the drummer doesn't have a quality drum kit, then I hire one. I really love vintage Yamaha recording custom and Ludwig drums, but you can get great sounds with DW, Tama or Pearl. Have fresh skins, tune it good and it will work.
Endarker Studios: Currently I'm using a Mapex Pro M series — 8,10,12,14,16 2x 22 kick drums.
Michael Zech: We have a mid-priced Sonor Kit in the studio, which actually belongs to my colleague V. Santura (he uses Q7 Studios for drum recordings as well). That kit sounds surprisingly great, and you can hear it on some of my productions. Additionally, V. Santura and I bought a Ludwig Black Beauty for the studio. Meanwhile, I encourage drummers to bring their own kits (or rent what they prefer), for it's a lot more about the player than the gear. It's best to put drummers in their comfort zone, work around them, having them sound like them. Good drummers are aware of the gear that compliments their style.
Triptykon's "Aurorae". Co-recorded, co-engineered, co-produced, co-mixed by Michael Zech
Do you have a preference for a particular snare or set of cymbals?
Satanic Audio: Yeah! I love Ludwig snares. Supraphonics, Acrolite always do their job. Paiste cymbals are fantastic. 2002, Giant Beats, it's impossible to make them sound bad. If you need something cheaper, Turkish should do the job!
Endarker Studios: Tama SPL BLACK BRASS is my favorite snare and I think that the Zildjian cymbals sound best overall!
Michael Zech: Although I've my own preferences, there is no particular 1 snare that could guarantee a good tone for each individual project or drummer. I love Black Beauties or Supraphonics, but with a drummer that doesn't play consistent, hard hits those would sometimes not be the right choice. It's also very dependent on the band's style. Generally, I like loud snares, I love when the snare is the loudest part of the kit.
Cymbals are very dependent on the context of the kit. Those must fit together. One cheap sounding cymbal among a nice set could ruin your overheads and room signals. In those cases, I'd encourage the drummer to remove it or to replace it. For (extreme) metal, I prefer rather quiet cymbals as to not overpower / mess up the overheads or room signals during fast, intense parts.
By Dan Thaumitan
Cover photo by Dmythro
All photos are provided by respondents