Marilyn Manson hospitalized after stage prop fall [Video]
On Saturday, September 30, Marilyn Manson was injured by the falling stage prop. It happened during the Marilyn Manson band's concert in New York.

The incident happened about 45 minutes into Manson's set as he was performing a cover of Eurythmics' "Sweet Dreams (Are Made of This)".
In the fan-filmed video above, you can see how Manson climbing the prop, consisting of two huge fake pistols, which was almost double his height. At 2:14 the huge prop toppled and knocked Manson to the stage. Later it became known that the musician was hospitalized, and his current tour was suspended.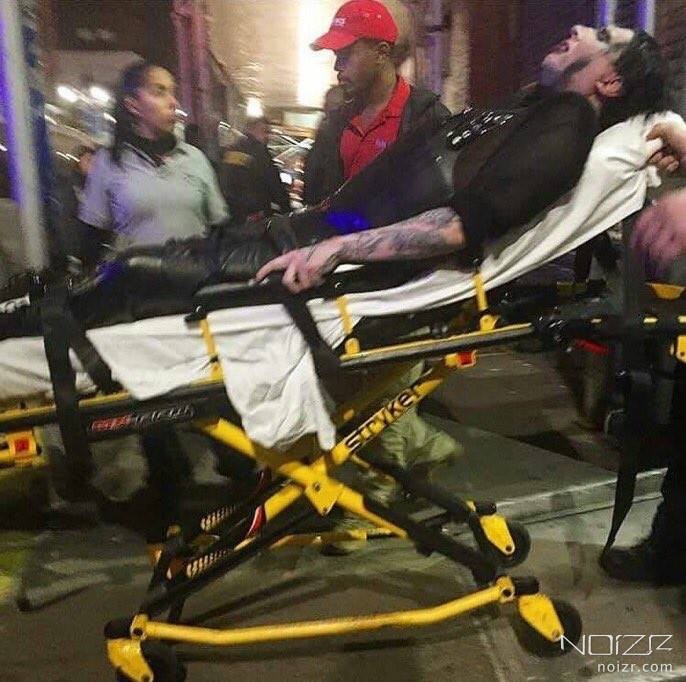 First picture of Marilyn Manson on his way to the hospital (c) Pop Crave

On Sunday morning, Manson's bandmate, producer and film composer Tyler Bates, who plays guitar and keyboards in Marilyn's group, shared updated information about the singer's condition on Instagram:
"Well, the Marilyn Manson 'Heaven Upside Down' tour is on pause for a minute. Heading home. Manson will be back in action soon. 'Heaven Upside Down' is released October 6th, with an insane video to stoke the fire. See you soon!"
The day before the incident, on September 29, Marilyn Manson broke his ankle during a concert in Pittsburgh, Pennsylvania. In the video below you can see the musician dipping offstage, and then after returning, calling his tour manager "a fascist" at 2:48:
"I just broke my ankle, but it's okay because [opening act] Alice Glass is going to fill in for me. Come on, you can do it. I told you I'd break my ankle because the tour manager is a fascist."
Marilyn Manson's upcoming album "Heaven Upside Down" to be released on October 6, 2017. Follow the link to watch the video for the single "We Know Where You F**king Live" taken from this LP.